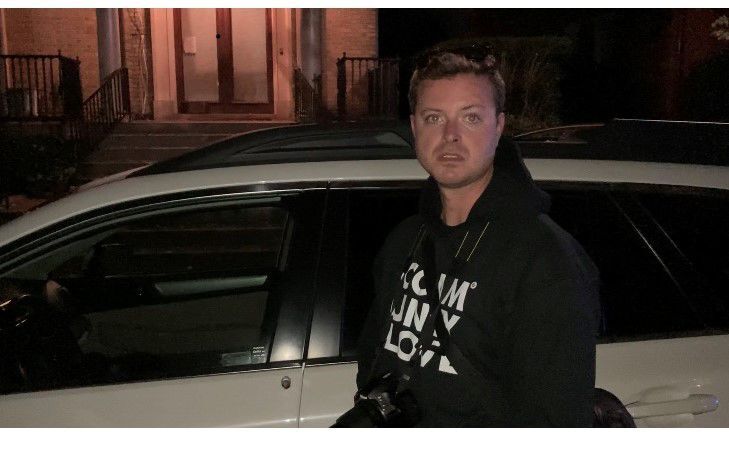 Tempers flared Sunday as a "Trump train" of cars tried to pass Lee Circle along Monument Avenue and clashed with opposing protesters, drawing a police presence that blocked off the area to traffic.
Witnesses said gunshots were fired during the encounter on Sunday afternoon two days before the presidential election, and one man showed a reporter a bullet hole in his car where it was parked on Monument Avenue near Lee Circle, which has been the site of racial justice protests for several months.
Several other witnesses said one or more of the supporters of President Donald Trump in the train of cars was spraying chemical irritants at an opposing crowd that was trying to block the cars from passing. One man said he narrowly avoided being run over by jumping onto the hood of a car. Another man said he ducked just in time as someone fired a gun at him from a truck, after someone else had pulled a Trump flag off one of the vehicles.
Richmond police said a woman reported at 4:18 p.m. that she had been pepper-sprayed by someone from one of the vehicles. A few minutes later, officers responded to Lee Circle to investigate a report of an unoccupied vehicle that had been struck once by gunfire.
"No other injuries were reported to the Richmond Police Department," the RPD said in a statement late Sunday evening. "Officers responded to clear the area and investigate the assault."
Police closed off traffic to several intersections surrounding the circle and said that officers would be monitoring conditions in the area throughout the night.
One of the Trump supporters blamed the opposing protesters for inflaming the situation, and others said the Trump supporters were the aggressors.
Gary Fogel said in an interview that he was trying to cross Monument Avenue on foot in the circle when a car, he believes, tried to hit him. If he had not jumped on its hood, he said, "I'd be dead right now."
"He stopped and I flew off the car and he took off around me," said Fogel, adding that his only injuries were bloody knees.
Fogel and other witnesses said both sides were yelling at each other and hurling insults.
Jody Adams said he came to the Lee statue on Sunday because he had heard the Trump supporters would be passing through and he wanted to record video. Some footage he captured shows a man pulling a Trump flag off of one of the pickup trucks.
"The guys in the cars got upset," said Adams, adding that he heard one gunshot.
He later found a bullet hole in the side of his white Subaru.
Another man, Given Talor, said he was with a man who had grabbed one of the Trump flags off a passing vehicle. After that, he said someone in a truck opened a window and started shooting at Talor, who said he was holding a flag that he had picked up. He said he ducked as gunshots were fired.
Lawrence West, another opponent of the Trump supporters, said someone in one of the trucks pepper-sprayed a woman. West said he started yelling at someone in one of the vehicles for having a child in the backseat.
"They came down here to instigate a confrontation," West said.
Mike Dickinson, who was riding in a pickup at the front of the caravan of Trump supporters, blamed the crowds for getting out in the road and trying to stop the caravan. He said people were beating on cars and that one person punched and broke a Trump supporter's car window.
"Seven or eight people jumped out in the road in front of us," said Dickinson, adding that someone threw a liquor bottle toward him during the clash. "They were walking out into traffic and sitting down."
"If anybody was hit, it was their own fault," said Dickinson, who is running for the 1st District seat on the Richmond City Council.
Asked about gunshots, Dickinson said he "heard something like a firecracker" and that he "could not confirm or deny" if there was gunfire.
He said he did not believe that the Trump supporters were antagonizing anyone by driving past Lee Circle, which has been dubbed Marcus-David Peters Circle by demonstrators. Peters was unarmed and charging toward a Richmond police officer during a mental health crisis along Interstate 95 in 2018 when he was shot and killed by police.
"I'm a taxpayer and I can go anywhere I want in the city anytime," Dickinson said. "Monument Avenue is owned by 'We the People.' How is it aggressive to fly an American flag?"
Dickinson said Sunday's event was called "Trump Train 2," marking the second consecutive weekend that such a caravan had passed Lee Circle.
He said the train of cars started at the Henrico County courthouse complex and drove through parts of western Henrico before heading east along Monument Avenue. He said as many as 350 cars were in the train and that many of them were flying American flags or Trump flags. Other witnesses at the circle said they saw from 15 to as many as 40 cars.
Richmond police are asking anyone who has information about injuries or has video or photos "of individuals and vehicles involved in any assault" to call Crime Stoppers at (804) 780-1000.