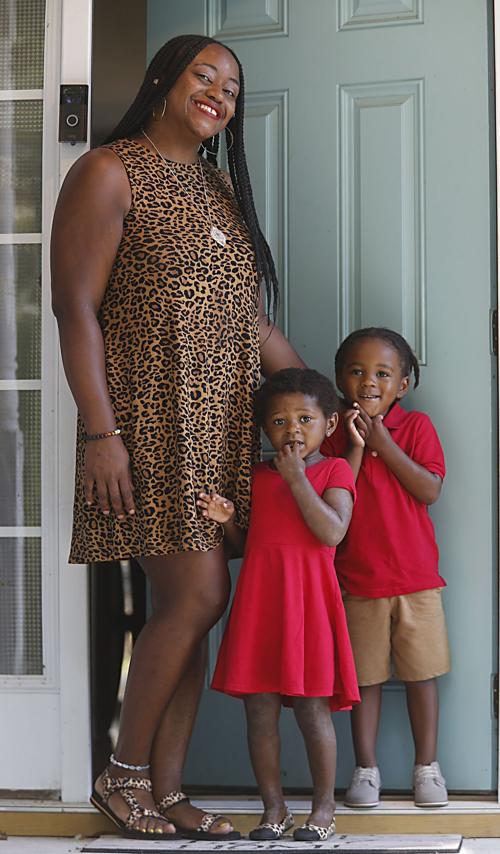 Last year was a difficult one for working women.
During the pandemic, nearly 2 million women dropped out of the workforce, due to child care needs when schools and day cares shut down, leading many experts to call it the first female recession or a "she-cession."
More recently, the economy has been recovering. In July, 943,000 jobs were added, with women accounting for 649,000 of them, according to the Bureau of Labor Statistics.
The growth in July helped drive down the unemployment rate for women from 5.5% to 5%, compared to 5.4% for men during the same period.
But unemployment rates continue to be high for women of color, especially Black and Latina women. Black women have an unemployment rate of 7.6%, and Latinas have an unemployment rate of 6.7%, compared to an unemployment rate for white women of 4.9%.
A new local scholarship from the United Way of Greater Richmond & Petersburg is looking to help alleviate some of those pressures upon women, especially single mothers.
"As we've gone through this pandemic, we've observed the effects of how the pandemic has affected the intersection of the workforce and child care and mothers the most," said Audrey Trussell, a spokesperson for the United Way. "That's where the idea for the WomenRise scholarship came from."
Henrico County resident Sheryl Harvey, 29, has dreamed of being a nurse her entire life. But being a single mom of two young children and holding a part-time job, that goal has always felt out of reach.
She has worked as a nursing assistant on an acute illness floor at VCU Medical Center for the past several years, including during the pandemic, even though she was frightened of contracting COVID-19 and bringing it home to her children, ages 4 and 2.
"It was very scary in the beginning and hard to leave my children," Harvey said. "But I knew it was important."
She has slowly started taking classes again to become a registered nurse. In Virginia, a certified nursing assistant makes $11 to $16 an hour to start. But as a registered nurse, Harvey will almost double the income of a starting CNA. Over the summer, she woke up early before the kids got up and stayed up late after putting them to sleep to complete a virtual anatomy course.
But now, Harvey is one of six local women who were awarded a WomenRise scholarship from the United Way that will cover her preschool and child care expenses while she returns to school to become a registered nurse. Harvey was awarded a $14,040 scholarship.
United Way dispersed a total of $65,000 in scholarships to the six recipients to cover their child care expenses while they go to school or a training program.
"My mother is a nurse. I've always wanted to be a nurse, ever since high school [at Highland Springs] where I took classes to be a certified nursing assistant," Harvey said, a job she's held since the 10th grade. "It's like a dream," she said of winning the scholarship.
She hopes to attend the nursing program at J. Sargeant Reynolds Community College in the spring, after finishing up some microbiology coursework this fall.
Having access to child care is a huge barrier for women, especially single mothers. The cost of child care in the Richmond region is often more than $1,000 a month, according to Child Care Aware of America.
"The cost of child care is so high, it's one of the biggest barriers to single mothers continuing their education and finding a job with a living wage that supports their entire family," said Trussell of the United Way.
Up until now, Harvey's mother and the children's other grandmother have helped watch the kids while Harvey worked. But now, her 4-year-old son will be able to enter preschool and her 2-year-old daughter can be in day care while she works and goes to school.
"Single mothers often sacrifice financial stability while advancing their education or career training goals. This challenge has only worsened in the face of a pandemic that has disproportionately impacted women of color," said James Taylor, president and CEO of the local United Way, in a statement. "We know a reliable, good-paying job is the most effective way for a single mother to achieve financial stability for herself and her family."
The other recipients of the WomenRise scholarship are E'moni Johnson of Henrico, Jasmine Phanelson of Henrico, Titilayo Sampson of Richmond, Kaytie Whyte of Chesterfield County and Kristen Williamson of Colonial Heights.
Single mothers are particularly disadvantaged, as they experience poverty at a higher rate. In the Richmond and Petersburg area, the poverty rate for single-mother families is 29.7% compared to 12.2% for single-father families and 3.7% for married-couple families, according to the United Way.
"In Virginia, there are 39,000 single-mother families. Over 12,000 live below the poverty level," Trussell said. "That means over 12,000 families struggle to meet basic needs like a roof over their head or putting food on the table."
(804) 649-6151
Twitter: @collcurran