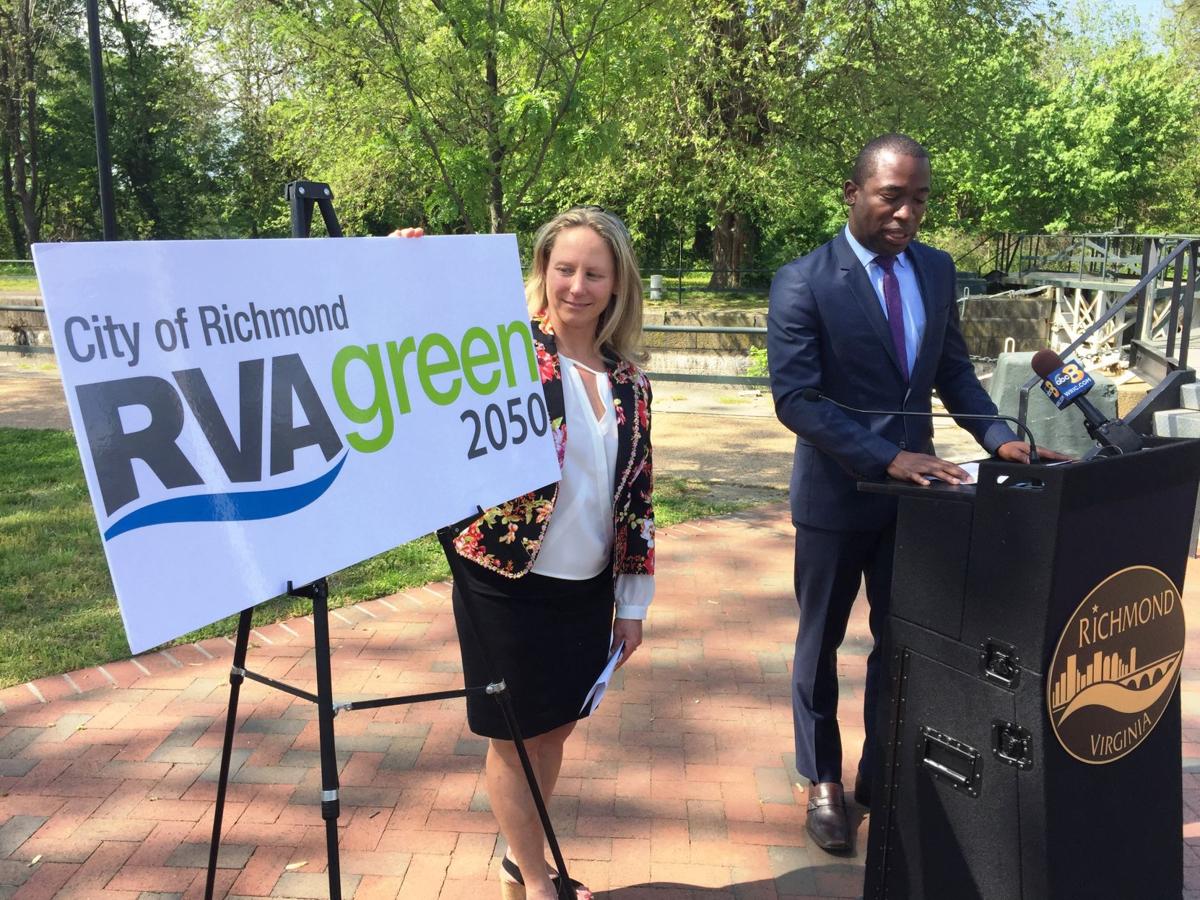 This summer, Richmond Mayor Levar Stoney will convene a "summit" aimed at reducing greenhouse gas emissions in the city by 80 percent by 2050, building on initiatives the city government has pushed since 2010, when Stoney's predecessor hired the city's first sustainability manager.
The new plan, RVA Green 2050, was rolled out at a news conference Monday morning at Great Shiplock Park that was light on details but promises what Stoney called "a healthier, more vibrant, economically competitive and resilient community." 
Alicia Zatcoff, who was hired by then-Mayor Dwight C. Jones for the sustainability job and has held the position since it was created, said the initiative will involve a yearlong process that will deliver a plan that is "both realistic for our city and community and also one that challenges us to go further than where we are today."
The city says the program is the next evolution of the RVA Green sustainability plan, which was adopted by the City Council in 2012 and includes goals on open space, energy use, alternative energy sources, air quality, green jobs and water quality, among others.
Stoney said Monday that 10 of those 13 indicators are "tracking positively." Recycling rates are up, community energy use is down, and renewable energy capacity has increased massively — more than 44,000 percent — since 2008, the mayor said. As of the end of 2015, city government emissions were down 11 percent and the community as a whole was down 15 percent over that time.
Zatcoff said her office has worked on improving energy efficiency and reducing power use in city buildings — including new HVAC systems, automated controls and new energy-efficient lighting — and has installed software that tracks city buildings' use of power and water.
The 2050 initiative will add more of a communitywide focus.
"Our city government is only 6 percent of greenhouse gas emissions of the entire community," Zatcoff said. We're really just a small sliver. But we have control over that sliver so that's still very important. We need to do what we can for our own house. 
"We look at everything from a systems perspective and try to figure out where can we reduce greenhouse gas emissions. What are the biggest sectors that are creating those emissions and taking a look at the energy use there?"
The sustainability office says that over the past seven years, it has generated $3.8 million in savings and $1.7 million in annualized savings going forward, and recaptured $390,850 in cash for the city. The program has reduced 15,533 metric tons of carbon dioxide emissions and 30 million kilowatt hours of energy.
But what specific incentives or penalties the city might create to achieve the 2050 goal remain to be seen. There were also few details provided Monday about who will serve on the panel the mayor will convene to develop the plan. City officials said it will include representatives from business, government and elsewhere.
"I can't really say right now what's going to be a part of it," Zatcoff said. "The first step is assessing and measuring. ... We want to target where do we get the biggest impact for our time, resources and effort."
Climate action and emissions reduction plans have been adopted by hundreds of cities, and though they can "achieve a great deal," what remains an open question is whether setting targets generates any extra benefit, said Adam Millard-Ball, an assistant professor of environmental studies at the University of California-Santa Cruz who has studied the effects of such plans.
"Part of the reason for that is the cities that are most likely to develop a sustainability plan are the ones who are already doing these types of things already," he said.
Though the goal of reducing emissions in environmentally conscious cities may not be controversial, policies necessary to achieve the ambitious targets can be, Millard-Ball said. Boulder, Colo., for example, has set the same goal as Richmond, reducing overall emissions by 80 percent by 2050. But in 2007, Boulder passed what it says was the nation's first voter-approved tax dedicated to addressing climate change. The tax, based on how much electricity is consumed by residents and businesses, generates about $1.8 million a year.
"Anytime you increase the cost to drive or consume electricity or water, that's less popular than planting trees," he said. "It's hard to get to 80 percent without doing something that's controversial."
Stoney's political mentor, Gov. Terry McAuliffe, has his own climate working group, one that is tasked with delivering a report to his desk next month on "concrete steps to reduce carbon pollution from Virginia's power plants."