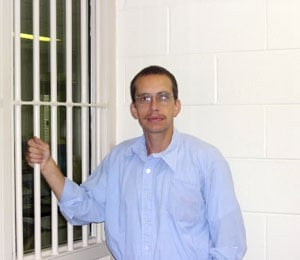 Jens Soering, a former University of Virginia student convicted of the 1985 murders of his girlfriend's parents, may be headed to prison in Germany, where he could apply for parole after two years.
Gov. Timothy M. Kaine agreed this week to ask the U.S. Department of Justice to approve the transfer under an international treaty, Kaine spokesman Gordon Hickey said yesterday.
Soering was given two consecutive life sentences for the first-degree murders of Derek and Nancy Haysom, who were stabbed in their Bedford County home. The son of a West German diplomat, he has been eligible for parole in Virginia since 2003 but has been turned down.
Evidence at the trial showed that Soering, angry because girlfriend Elizabeth Haysom's parents wanted him to stop seeing their daughter, killed the couple after an argument at dinner.
The development does not sit well with the family of Nancy Haysom.
"It is incredible that this governor would take that on himself without letting the family of the deceased know. I don't get it," said Risque Benedict of Edgewater, Md., Nancy Haysom's brother. "I am fit to be tied."
Another brother, Louis Benedict of Phoenix, said: "I think the governor has pulled a fast one on us." The two said they learned of the effort Thursday but would not say how.
The announcement of Kaine's action took place on his last full day in office.
In a statement released yesterday, Attorney General-elect Ken Cuccinelli said: "While Governor Kaine appears to have the authority to take this action, I am disappointed that he would exercise that authority in this way. We hope the Department of Justice will not approve the transfer and Soering will serve his sentence in the commonwealth."
Soering's supporters, including former Virginia Deputy Attorney General Gail S. Marshall, are pleased with the development.
"This is fantastic news," said Marshall, who once represented Soering and now is in private practice in Rapidan. "I submitted a letter to Governor Kaine on his behalf asking for the repatriation," she said.
She said the treaty can work both ways and that the United States sometimes wants its citizens who are incarcerated in other countries returned here, she said.
When Soering was sentenced, his parents asked that their son be allowed to serve all or part of his sentence in a West German prison, a request the judge ignored and then-Bedford Commonwealth's Attorney Jim Updike said he would oppose. Soering was a West German national at the time.
The Haysoms were murdered at their Bedford home, known as Loose Chippings, on March 30, 1985. Derek Haysom, 72, was a retired Nova Scotia steel executive. Nancy Haysom, 54, was an artist and related to Nancy, Lady Astor, a Virginia native who became the first woman to take a seat in Britain's Parliament.
The two apparently had just finished dinner when Soering attacked by hacking at their necks and stabbing their torsos with a knife. Both victims nearly were decapitated.
Soering and Elizabeth Haysom took off for Europe eight months after the murders and were arrested by British authorities on check-fraud charges. Soering confessed in detail but later recanted and maintains that he is innocent.
The couple had held prestigious scholarships at U.Va.: Soering was a Jefferson scholar, and Elizabeth Haysom was an Echols scholar.
Hickey said that although Soering can apply for parole in Germany after two years, it does not mean he will be released. "They have the same parole issues we do," he said.
Parole was abolished in Virginia for crimes committed on or after Jan. 1, 1995. Those convicted of crimes committed before that date are eligible for parole.
Elizabeth Haysom pleaded guilty to being an accessory to the murders and is serving a 90-year sentence. According to the Virginia Department of Corrections, she is being held at the Fluvanna Correctional Center for Women.
Hickey said Soering's lawyers sought the transfer. His current lawyer, with the high-profile Washington law firm Hogan & Hartson that has offices in Germany, referred questions yesterday to the firm's media-relations office. It did not return calls or e-mail.
Since he went behind bars, Soering has written a great deal about prisons and inmate issues and gained many supporters.
His first book details his spiritual journey through "centering prayer," an ancient form of Christian meditation. His second is critical of long prison sentences and the warehousing of prisoners.
At Soering's sentencing hearing in 1990, Risque Benedict read a statement: "My appeal is that in any future parole hearing, neither my niece, Elizabeth Haysom, nor Jens Soering ever should be paroled. Elizabeth Haysom has been called a pathological liar and I think she is exactly that. It is my belief that Jens Soering is a psychotic and a psychopathic killer."
---