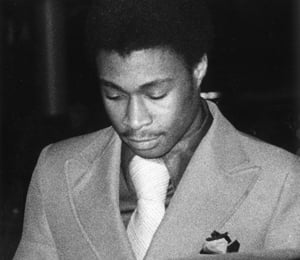 Thirty years after Richmond's bloodiest, perhaps cruelest murder rampage, key prosecutors and a lead detective in the case say they are seeking the prison release of a man who helped begin and end the killings.
"Sometimes you have to make a deal with the devil," said Robert J. Rice, one of two prosecutors who put the infamous Briley brothers gang, suspected in as many as 20 murders, behind bars. Two of the three brothers were executed.
Rice and veteran prosecutor Warren Von Schuch now say they are miffed that Duncan Eric Meekins, the key witness who brought down the Brileys, remains behind bars.
In a reversal of roles for both, Rice and Von Schuch are set to meet next month with Virginia Parole Board officials to plead for Meekins' release, a promise made to Meekins and his family when he agreed to testify against the Brileys decades ago.
They will be joined by retired Richmond police detective Norman Harding, a gruff veteran of at least 50 homicide investigations who personally arrested Meekins in 1979 in a traffic stop.
The arrest ended the Brileys' reign of terror in Richmond.
"Without Duncan Meekins, none of this happens and more people die," Von Schuch said of the prosecutions.. . .
Meekins, a neighbor of the Briley family on Fourth Avenue in Highland Park, was taken under the Briley brothers' wing and ordered to kill. He is believed to have personally killed two of the Briley victims and raped another, a pregnant woman murdered by James Briley.
Meekins participated in, or was present for, most of the 11 killings that could be verified, according to Von Schuch, Harding and Rice.
"He was 16 at the time, and he was easily led and manipulated," Von Schuch said of Meekins, who sang in his church choir and attended John Marshall High School.
Von Schuch, Harding and Rice said Meekins, under pressure from his family and promises of leniency from prosecutors, was singularly responsible for convictions of the Brileys and their death sentences.
In hours of interviews shortly after his arrest, Meekins gave investigators details of butchery, rape and murder that took the lives of an unpatterned spectrum of people: from a 5-year-old boy and his parents in North Side; to a nurse who lived alone in Keswick Gardens in Henrico County and whose head was battered beyond recognition; to a popular DJ named Johnny Gallaher, whose body turned up in the James River at Mayo Island.
The effort to free Meekins, who is now in his mid 40s, comes 25 years after James Briley and his brother Linwood orchestrated the largest successful escape from death row in U.S. history.
The May 31, 1984, escape froze Richmond-area residents in fear and hinged on years of lax conditions on death row within the state's Mecklenburg Correctional Center near the North Carolina border, a facility once heralded as escape-proof.
Six death-row inmates, including the two Brileys, escaped after overpowering guards and exiting the prison by staging a bomb hoax.
In fact, the bomb was a television set carried on a stretcher and covered with a sheet. One of the escapees "cooled" the device with blasts from a fire extinguisher.
All of the escapees were caught and eventually executed. A third Briley brother, Anthony, was incarcerated in another prison at the time and is serving a sentence of life plus 139 years.
Rice and Von Schuch said Meekins has been held for 30 years at undisclosed prisons outside Virginia for his safety under an assumed name. They refused to provide other details, saying to do so would jeopardize his life.
"He's not just a snitch -- he put people in the electric chair," said Von Schuch, one of the state's most dogged prosecutors. Eleven men in Virginia have been executed based on convictions won by Von Schuch, who still works as a special prosecutor for the Chesterfield County commonwealth's attorney's office.
"But the commonwealth must live up to its promises," he said.
Meekins was spared death in exchange for his testimony and received a sentence in Richmond -- life plus 80 years -- fashioned by prosecutors to assure his eligibility for parole in 12 to 15 years.
At the time of sentencing, Meekins was subject to laws that allowed consideration of parole for convicted murderers after about 15 years. Later, parole was abolished for crimes that occurred on or after Jan 1, 1995.
Rice and Harding spoke with a state Parole Board representative a year ago but were stunned, they said, that there seemed to be no acknowledgment of the mitigating circumstances of Meekins' case. It could not be determined yesterday whether Meekins had been formally considered for parole prior to last year.
"There was just this sense that no one really had any idea of the role that Meekins played," said Rice, who now works as a defense attorney.
Now Rice and Von Schuch will meet with parole officials next month to press Meekins' case again. Harding is arranging a meeting as well.
They describe Meekins as having a trouble-free prison record; he has gained a high school equivalency degree and has learned multiple trades.
Family members declined requests to talk with reporters from the Richmond Times-Dispatch.
Rice said he took up Meekins' case after Meekins' lawyer, Ralph Robertson, who later became a judge, died in March 2006.
He received a call from a relative of Meekins asking for help and said he was shocked to learn that Meekins hadn't been released.
Meekins already has served twice the amount of time prosecutors expected, Rice said. He said Meekins apparently has been short-changed by no-parole laws enacted a decade ago and an unwillingness by the Parole Board to be swayed by pleas for leniency.
"There could not be a graver injustice," Von Schuch said, "than to have Duncan Meekins serve the same amount of time as Anthony Briley."
---
---
March, April, July 1979: Two attempted murders and three murders in Richmond and Henrico County are linked to one or more of the Brileys, but prosecutors decline to bring the cases to trial.
Sept. 14, 1979: Disc jockey John Harvey Gallaher is shot to death in South Richmond.
Sept. 30, 1979: Mary J. Wilfong, 62, is beaten to death near the Shops at Willow Lawn.
Oct. 6, 1979: Blanche Page, 75, and Charles Garner, 59, are killed at their home in 3100 block of Fifth Avenue in Richmond.
Oct. 19, 1979: Harvey Wilkerson, 26, Judith Barton, 25, and their son, 5, are killed in their home in 2300 block of Barton Avenue.
Oct. 22, 1979: All three Brileys and Meekins are arrested in the Barton Avenue killings.
May 31, 1984: James and Linwood Briley lead the breakout of themselves and four other inmates from Mecklenburg Correctional Center's death row.
June 19, 1984: Brileys are captured in Philadelphia.
Oct. 12, 1984: Linwood Briley, 30, is executed in Richmond.
April 18, 1985: James D. Briley, 28, is executed in Richmond.
June 2008: Former Richmond prosecutor Robert J. Rice and Richmond detective Norman Harding ask a state Parole Board representative to consider Meekins' release. He has been serving a sentence of life plus 80 years for three murders and a robbery.
May 2009: Anthony Briley, now 51, continues serving life plus 139 years at Powhatan Correctional Center.
June 2009: Rice, Harding and special prosecutor Warren Von Schuch are scheduled to ask the Parole Board for Meekins' release.