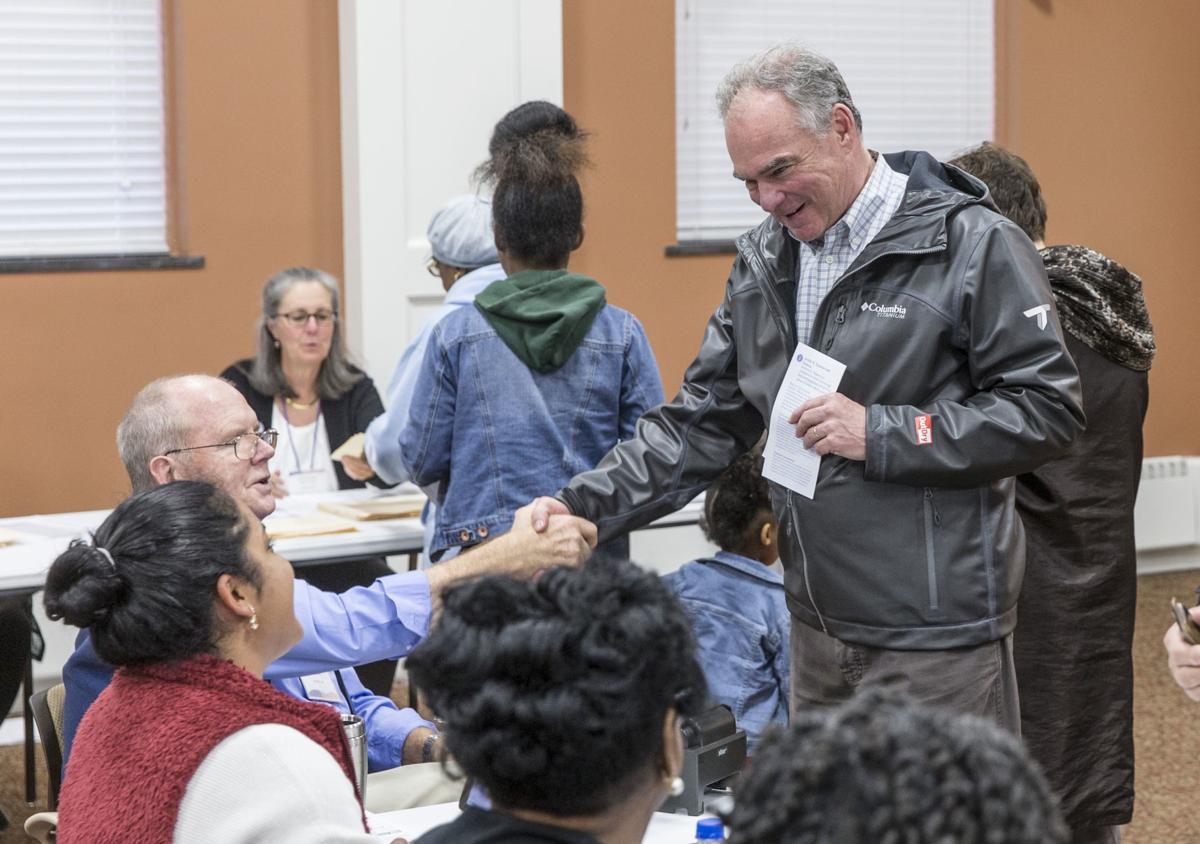 Behind U.S. Sen. Tim Kaine's lopsided victory for a second term and the pickup of three congressional seats, including one in the Richmond area that four years ago was held by a prospective Republican speaker, Democrats strengthened their hold on the bustling eastern crescent that drives Virginia's politics. They also extended their reach into areas where Republican dominance had been an article of faith.
With a huge advantage in money and organization, Kaine easily defeated Corey Stewart, carrying all 10 of the counties and cities with populations ranging from 200,000 to 1.2 million that are the bulwark of the continuing Democratic ascendancy. For nearly a decade, the party has controlled all offices decided by statewide vote — governor, lieutenant governor, attorney general and the two Senate seats.
Republicans, having lost House seats in Northern Virginia, Hampton Roads and the Richmond suburbs, head into the crucial 2019 legislative elections reduced to a largely rural presence, protected — for now — by partisan gerrymandering that could be undone by a federal court and swelling Democratic ranks in the House of Delegates and Virginia Senate. Their bench for statewide office was deeply depleted Tuesday.
"With Tim Kaine's big win now secured, and no statewide contest until 2020, the VA GOP will go at least 11 years without victory in a state they dominated not long ago," tweeted University of Virginia political analyst Larry Sabato. "Plus, the last time the VA GOP went 11 years without a win was before 1969. Ya think there's a problem there?"
In the 7th District, anchored by Chesterfield and Henrico counties, Democratic challenger Abigail Spanberger defeated two-termer Dave Brat, the face of the anti-Establishment revolt that brought down House Republican Majority Leader Eric Cantor in a 2014 primary. A Spanberger victory signals a sweeping shift in the district's representation over four years — from Main Street Republican to insurrectionist Republican, to center-left Democrat.
On Virginia's Atlantic coast, in the 2nd District, Elaine Luria beat freshman Republican Scott Taylor, harnessing a robust minority vote in such cities as Hampton and Norfolk and surging ahead in Taylor's hometown, Virginia Beach, where this year's prized voters — affluent, well-educated women who dislike President Donald Trump — are abundant.
Spanberger and Luria got a lift from Kaine — as did Jennifer Wexton in defeating Republican Barbara Comstock in the 10th District in Northern Virginia. Comstock, having run against Trump in 2016 and surviving a Clinton wave, could not separate herself from a president with an approval rating here of about 35 percent.
The Spanberger, Wexton and Luria victories pushed the Democrats' numbers in the state's House delegation to seven, giving them a majority for the first time in a decade. Before the 2016 election, Democrats held only three seats to the Republicans' eight.
For Kaine, his nearly 16-percentage-point win over Stewart is a redemption, of sorts, for his national defeat two years ago as Hillary Clinton's vice presidential running mate. In this Clinton-carried state — the only one in the South that she won — Kaine easily dispatched Stewart, a Trump devotee who attempted to run against Kaine as Trump did Clinton: by belittling his opponent with tart invective, some of which was untrue.
The new map sketched out by Kaine included victories in the Washington exurb of Stafford County, home of former House of Delegates Speaker Bill Howell, a Republican, and rural counties including Fluvanna; Nelson, seat of an anti-pipeline movement; Montgomery, an increasingly reliable Democratic locality; and sparsely populated counties in the eastern Tidewater. He also was competitive in the usually Republican rural northwest and Southside.
Stewart's loss — his third for statewide office, following defeats for the GOP nominations for lieutenant governor and governor in 2013 and 2017, respectively — likely eliminates him as a force in the Republican Party, which closes the 2018 campaign with a dilemma: Find a message that registers in the Democratic-dominated suburbs without alienating its core vote of older, conservative white males, many of whom live in the countryside.
Illustrative of the scale of Stewart's defeat — and the challenge facing Republicans — was the result in his home, Prince William County, where he serves on the local governing body, the board of supervisors. Kaine's majority there was nearly 2-to-1, a reflection of the county's dramatic change from a heavily white, thinly populated rural fringe of Washington to a teeming, majority-minority commuter suburb.
Stewart had been an early voice for a crackdown on the county's booming immigrant population, blaming it for a spike in crime and a spiral in the cost of local services. But in a locality where most of its residents are black, brown and yellow — and speak foreign languages — Stewart's nativist themes fell on few accepting ears, except in rural Virginia, already beset by the loss of such traditional industries as manufacturing to overseas competitors.