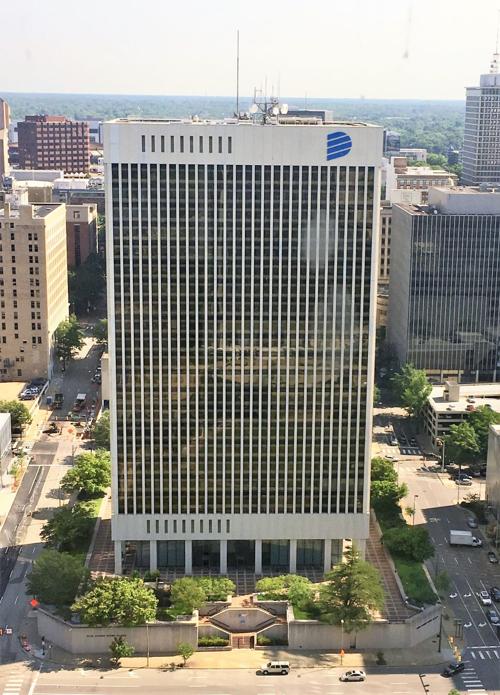 As the State Corporation Commission considers a request by Dominion Energy Virginia to raise its allowed profit margin, opponents want regulators to move in the opposite direction.
A rally outside Dominion Energy's Richmond offices on Monday will call on the utility to return excess earnings as refunds to Virginia ratepayers and call on regulators to lower the company's profit rate.
The rally, organized by nine environmental and consumer advocacy groups, will take place a day ahead of a hearing before the State Corporation Commission on the profit margin Dominion collects from ratepayers through some of its projects.
Last year, Dominion collected $277.3 million in excess profits, a return of 13.47%, topping the 9.2% approved by regulators for most of Dominion's spending. Combined overearnings from 2017 and 2018 that would qualify for customer refunds amount to $379.7 million — the figure rally organizers hope will end up back in ratepayers' pockets.
But Dominion has indicated it doesn't plan to issue refunds, and will instead on Tuesday ask regulators to boost its rate of return from 9.2% to 10.75% — a move opposed by commission staff, the Attorney General's Office, some lawmakers and the groups rallying Monday.
Dominion has indicated it plans to use flexibility granted by the General Assembly to divert excess earnings into projects to improve Virginia's grid and move away from fossil fuels. In asking for a higher rate of return on its capital projects, Dominion is arguing that the increase is necessary to attract investment to support the billions in capital projects it plans through 2021.
Monopoly utilities are limited in their profit margins. Utilities require a return on investment in order to raise capital to pay for projects that regulators or Virginia law deem in the public interest.
A consultant for the utility, Robert V. Hevert, told the commission in the spring that the company's "above average" capital expenditure program will put pressure on its cash flows, "making regulatory support more important" toward the company's ability to finance the projects and "earn a reasonable return" on those projects.
Opposing the increase in the case is the Attorney General's Office Division of Consumer Counsel, the Virginia Poverty Law Center and State Corporation Commission staff. The list also includes the U.S. Navy, which called it "excessive, unnecessary, and burdensome," and Walmart, a large energy user in the state.
"To the extent that rates are unnecessarily high, it's like a tax on people that can least afford it," said William T. Reisinger, an attorney representing the Virginia Poverty Law Center in the case. "Say your bills are $20 a month higher than they should be, there are people in Virginia that might not even notice, or feel that, but for low-income people, that really makes a difference."
A group of 36 Democrats in the House of Delegates echoed those findings in a letter to the commission, arguing that lowering — never mind raising the rate — is "crucial to protect ratepayers from unnecessary financial burden."
The letter was signed by four Richmond-area lawmakers: Dels. Lashrecse Aird, Betsy Carr, Debra Rodman and Schuyler VanValkenburg.
Clean Virginia, a group that lobbies to end Dominion's monopoly, is one of the organizers of Monday's rally, along with the Sierra Club, Service Employees International Union — Virginia and others.
Cassady Craighill, a spokeswoman for Clean Virginia, said the group has been campaigning since August for people to submit comments to the commission on the rate case, and saw more enthusiasm following the commission's Aug. 29 report on excess earnings.
"To think that we're having a hearing on Tuesday to raise the level even more is mind boggling to Virginians already paying more than they should," Craighill said.
Dominion spokesman Rayhan Daudani said in a statement: "We've already identified more than $750 million to spend on our offshore wind pilot and smart meters for Virginia customers at no rate increase."
Any increase to the profit rate would immediately apply to so-called "rate adjustment clauses" tacked onto ratepayer bills as the commission approves Dominion's capital projects. For a typical residential customer using 1,000 kilowatts per month, the clauses make up $19 of the total $114 they pay per month.
The increase would also apply to all profits Dominion reports in its first three-year SCC review under the Grid Transformation and Security Act that lawmakers and Gov. Ralph Northam approved last year.
The initial review in 2021 will cover 2017 through 2020. Dominion's excess profits will be seen through the light of the rate the commission approves in the case that will be heard Tuesday.
(804) 649-6254
Twitter: @MelLeonor_