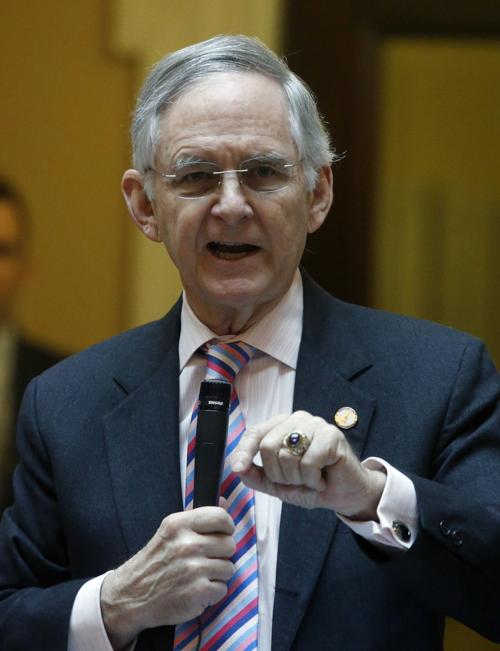 Frustration with the legislative process is a bipartisan issue in the Virginia Senate.
It boiled over on Wednesday, about 12 hours after the end of a marathon floor session that ended at 12:48 a.m., technically beyond the deadline for completing work on all Senate legislation at crossover of the 60-day session.
It was one long "legislative day" — as Lt. Gov. Justin Fairfax called it — that had begun 14 hours earlier.
"I think we can do extraordinarily better in the process," Senate Minority Leader Tommy Norment, R-James City, admonished the Senate in a midday floor speech Wednesday.
Norment urged his 39 colleagues to "exercise some individual discipline" in the number of bills they introduce, improve the way subcommittees and committees decide policy disputes, and arrive promptly in the Senate chamber for the daily floor session instead of 20 minutes late.
Concern about the legislative process already had been building among the leaders of the Senate's new Democratic majority over a glut of bills that had been followed by a flood of thick "amendments in the nature of a substitute" that have clogged subcommittee and committee meetings, only to spill onto the chamber floor.
The number of bills filed in the Senate — 1,095, according to the Legislative Information System — is about 10% higher than in 2018, the last 60-day session, and 40% higher than four years ago after the last Senate elections.
"We must limit the number of bills people put in next year," Senate Finance and Appropriations Chairwoman Janet Howell, D-Fairfax, fumed in an interview almost two weeks ago. "This is an outrageous number. The committees are swamped."
Senate Rules Chairwoman Mamie Locke, D-Hampton, agreed.
"It's just overwhelming the system," Locke said in an interview on Monday. "It's overwhelming the staff."
"At some point, you have to put a stop to it," she said.
The House of Delegates introduced 1,734 bills, an increase of about 8% since 2018, when Democrats came within one seat of parity in a chamber that had been two-thirds Republican a year earlier. The number of bills introduced in the House has increased about 25% since 2016.
But the 100-member House completed work on its calendar and crossed over at 3:49 p.m. on crossover Tuesday, almost exactly nine hours before the 40-member Senate.
"The speaker and our new majority are delivering on the voters' mandate to pass long-overdue legislation to make our commonwealth safer and more prosperous," said Jake Rubenstein, spokesman for new House Speaker Eileen Filler-Corn, D-Fairfax. "There is lots of work to do, and we will do all of it."
For Democrats, in control of both chambers of the General Assembly for the first time in almost 20 years, the flood of bills is a result of pent-up demand for legislative action on issues that Republican majorities have blocked in committees and, in the House, subcommittees.
"It's a generational power shift and 20 years of backlog on policies that we're getting pressure to move on," said Sen. Jennifer McClellan, D-Richmond, who submitted 42 bills this year, according to the Virginia Public Access Project.
(The VPAP count of legislation lawmakers introduced does not include resolutions or joint resolutions, which have declined substantially.)
Democrats now have a 21-19 edge in the Senate, the same margin of power the Republicans held last year.
"All these 21-19 votes wouldn't have occurred last year because the bills never would have made it out of committee," Senate Majority Leader Dick Saslaw, D-Fairfax, said Wednesday in response to Norment.
However, Saslaw acknowledged, "There's room for improvement, no doubt about it."
Sen. Scott Surovell, D-Fairfax, who led the General Assembly with 60 bills filed this year, defended the Senate's practices and deliberative pace as appropriate for the weighty issues it tackled this year — driving privileges for undocumented immigrants, decriminalizing marijuana, raising the minimum wage and legalizing casino gambling, to name a few.
"We're doing so much big stuff this session," he said after his seatmates, Sens. Chap Petersen, D-Fairfax City, and Jeremy McPike, D-Prince William, pointed to him during Norment's scolding as the prime culprit.
Surovell, a former member of the House, said the Senate does things differently than the other chamber.
"We actually debate in this chamber," he said.
Nowhere is the stress of the bill overload more apparent than at the Division of Legislative Services. It is operating without three attorneys who drafted legislation, including one on medical leave and another who retired in the middle of a House committee meeting last month after a delegate complained about the wording of a bill.
A fourth staffer, a redistricting specialist, also retired, leaving the division with 23 employees and an acting director after Mark Vucci resigned as director in December to become deputy clerk under new House Clerk Suzette Denslow.
Howell has proposed a budget amendment of $750,000 to help the division hire more staff to keep up with the increasing workload.
"They're being pummeled," said Senate Clerk Susan Clarke Schaar, who has served in the Senate since 1974, including 30 years as clerk.
Schaar said the new General Assembly removed a recent cap on the number of bills that each member could ask legislative services to draft during the period for pre-filing legislation that began Nov. 18 and ended with the beginning of the session on Jan. 8. After the session begins, procedural rules limit each delegate to five bills and joint resolutions and each senator to eight bills and joint resolutions.
"I hope this opens their eyes and they realize the importance of having that cap," Schaar said.
She and Norment said they never had seen as many requests for substitute bills — some of them 50 to 100 pages. "That's like drafting a whole new bill," Schaar said.
With crossover behind, the Senate now must deal with more than 800 bills coming from the House for deliberation and ultimately reconciliation with similar bills senators already have adopted.
"I suspect there's a tsunami of bills out there from the House," Norment said.