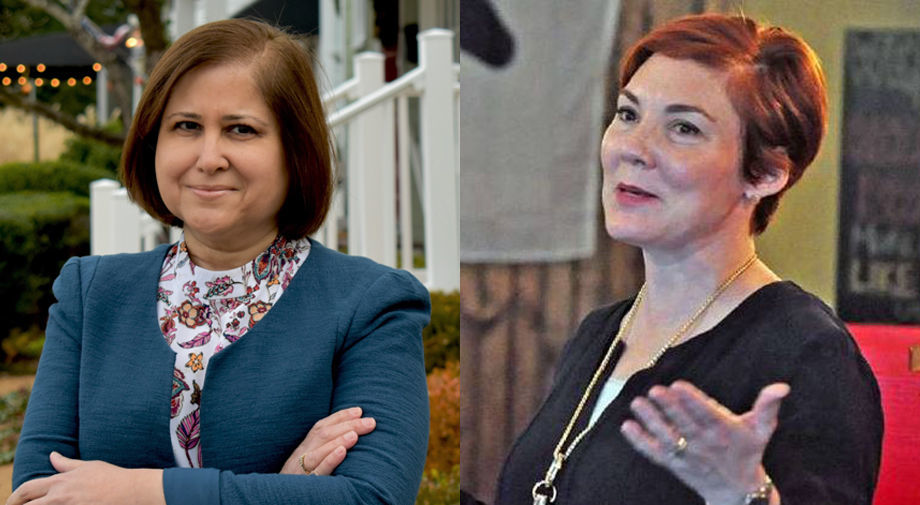 All 140 seats in the Virginia General Assembly are up for election in November, with control of the House and Senate at stake, but before that happens a number of candidates will face challengers from their own party to determine who makes the fall ballot.
Since 1999, only two Democratic state senators have faced primary challengers, but this year five will, according to the nonpartisan Virginia Public Access Project. Three Republican senators face primary challengers. Senators are up for election every four years, delegates every two years.
Virginia's primary elections will be Tuesday, June 11. The primaries are open to all voters. Some districts will hold a party process, such as a convention, to choose a candidate.
Here's a glance at some key nomination contests to watch in the Richmond region and across the state:
In the 10th Senate District, which stretches from Richmond to Powhatan County, lawyer Eileen Bedell and college professor and administrator Ghazala Hashmi are seeking the Democratic nomination to take on Sen. Glen Sturtevant, R-Richmond, who is seeking a second term.
Hashmi would become the first Muslim woman in the Virginia Senate. Bedell lost a congressional race in 2016 to then-Rep. Dave Brat, R-7th. She began running for Congress again in 2017 but suspended her campaign and in September announced a run for state Senate. Democrat Abigail Spanberger beat Brat in November and endorsed Bedell for state Senate later that month.
Zachary Brown, a law student at the University of Richmond, also is running as a Democrat.
In the 12th Senate District, Del. Debra Rodman, D-Henrico, and immigration lawyer Veena Lothe are vying for the Democratic nomination to challenge Sen. Siobhan Dunnavant, R-Henrico. Rodman has the backing of Gov. Ralph Northam's political team; Lothe is trying to get ground-level support from the growing number of active progressives in suburban Richmond following the 2016 election of President Donald Trump.
In Hanover County, Republican Del. Chris Peace is being challenged for the GOP nomination in the 97th House District by county Supervisor Scott Wyatt, who cited Peace's vote in favor of Medicaid expansion under the federal Affordable Care Act as a reason for his run. They will face off in a May 4 convention.
Two Republicans want to challenge Del. Dawn Adams, D-Richmond, in the 68th House District, which includes parts of Richmond, Chesterfield and Henrico counties.
Garrison Coward is a former aide to U.S. Rep. Rob Wittman, R-1st; also competing is Lori Losi, a certified public accountant. Coward, who was born and raised in Henrico County, recently moved to the district from Richmond to run for the seat, while Losi emphasizes in her biography that her children were born in local hospitals.
Senate Minority Leader Dick Saslaw, D-Fairfax, wants to reverse his party's 21-19 deficit in the chamber and become majority leader. But first he has to clear a hurdle from his left. Democratic primary challenger Yasmine Taeb is a human rights lawyer and the first Muslim woman elected to the Democratic National Committee.
She is attacking Saslaw, a member of the legislature since 1976, over his long-standing allegiance to and his campaign donations from the state's most potent corporate political entity, Dominion Energy. Karen Torrent, an energy lawyer, also is running.
Scrutiny of Dominion Energy's sway with the legislature affected other Northern Virginia Democratic incumbents who have primary challengers.
Sen. Barbara Favola, D-Arlington, faces an intraparty challenge from Nicole Merlene, the policy director for the trade association Invest in the USA. Merlene is among a growing number of Democrats who take a pledge from Activate Virginia that they will not accept money from Dominion Energy or Appalachian Power Co. In March, Favola announced she, too, would no longer accept money from Dominion, while noting that her contributions from the utility were minimal in comparison to her overall fundraising.
In Loudoun-based Senate District 13, the retirement of conservative GOP Sen. Dick Black resulted in three Republicans seeking their party's nomination to challenge Del. John Bell, D-Loudoun. County Supervisors Geary Higgins and Ron Meyer are seeking the GOP nomination, as is former CIA officer Mike Buscher.
South of the suburbs that hug the nation's capital, Del. Bob Thomas, R-Stafford, faces a GOP primary challenge from former Stafford Supervisor Paul Milde. He has criticized Thomas for being among Republicans who voted to expand Medicaid coverage under the Affordable Care Act.
And in Manassas-based House District 50, Del. Lee Carter, a member of the Democratic Socialists of America, faces a Democratic primary challenge from Manassas City Councilman Mark Wolfe, a former Republican who switched to the Democratic Party in 2016.
Hampton Roads and Peninsula
There's a scramble on each side for the open seat in the Virginia Beach-focused 7th Senate District, where Sen. Frank Wagner, a Republican, did not seek re-election.
Running on the GOP side are Virginia Beach School Board member Carolyn Weems and former Navy helicopter pilot Jen Kiggans. Weems has the backing of the GOP establishment, but Del. Glenn Davis, R-Virginia Beach, a former candidate for lieutenant governor, is assisting Kiggans.
Three Democrats want their party's nomination: Del. Cheryl Turpin, who won a seat in the House of Delegates in 2017 by defeating incumbent Republican Rocky Holcomb; Kim Howard, a former Navy commander making her first run for office; and Susan Hippen, a Democratic activist and retired Navy master chief who has run for office previously.
Sen. Lynwood Lewis, D-Accomack, faces a nomination challenge from Willie Randall, a former member of the Northampton County Board of Supervisors on the Eastern Shore. Randall has made several unsuccessful runs for the House of Delegates and this year decided to challenge Lewis, who is seeking a second term in the Senate seat once held by Gov. Ralph Northam. Sixty percent of voters in the district are in Norfolk.
Two Republicans are running for a solidly GOP seat being vacated by Del. Brenda Pogge, R-James City. House District 96 includes parts of James City and York counties.
Former Del. Melanie Rapp Beale wants her old seat back; also running is Pogge's legislative assistant, Amanda Batten, who is the eastern vice chairwoman for the Republican Party of Virginia.
Southwest Virginia and Shenandoah Valley
In Southwest Virginia, Del. Todd Pillion, R-Washington County, is running for an open Senate seat following the retirement of Sen. Bill Carrico, R-Grayson.
Two Republicans want the nomination to run for Pillion's House seat in District 4. David Eaton is a member of the Russell County Board of Supervisors and the owner of a cable, phone and internet company. Will Wampler is the son of a former state senator of the same name and the grandson of a former congressman of the same name. He is a lawyer who worked at McGuireWoods Consulting in Richmond from 2016 to 2018.
Sen. Emmett Hanger, R-Augusta, co-chairman of the Senate Finance Committee, faces a primary challenge from Tina Freitas, whose husband, Nick Freitas, is a Republican delegate from Culpeper and a former GOP U.S. Senate candidate.
Tina Freitas, 40, recently posted a Facebook photo of herself at age 4, around the time Hanger was first elected.
The decision by Del. Steve Landes, R-Augusta, to run for his county's circuit court clerk job opened a three-person nomination battle for the solidly GOP seat in House District 25. This nomination will be decided in a party process dubbed a "firehouse primary."
Each of the three GOP candidates comes from one of the localities in the district: Richard Fox is a farmer from Albemarle County, Marshall Pattie is a member of the Augusta County Board of Supervisors, and Christopher Runion is a Republican activist from Rockingham County.