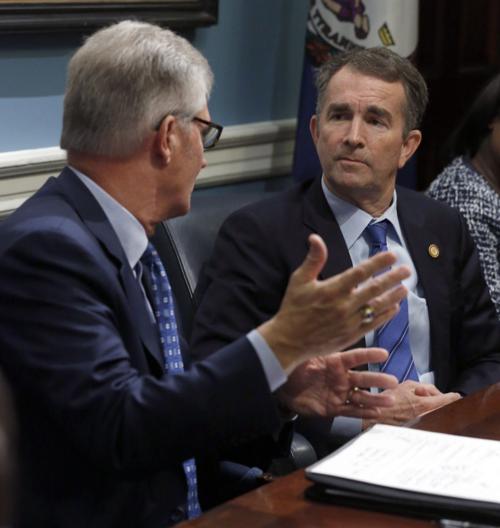 Virginia revenues continue to outpace the state's expectations, rising 8.7% in January compared with the same month a year ago, and raising the possibility of additional money for the General Assembly to spend as it revises the current and next two-year state budgets.
With the assembly's money committees preparing to release their own versions of the budgets on Sunday, Gov. Ralph Northam and his staff are undertaking a mid-session revenue forecast to gauge how much more money might be available at the end of the fiscal year on June 30.
"Our strong economy is generating growing revenues to fund services that Virginians expect, from public schools to salaries for public workers and much more," Northam said. "This growth is encouraging, and we need to continue the economic momentum that enables investments in Virginia's future."
Northam does not plan to change the economic outlook adopted last fall for the two-year, $135 billion budget he introduced in mid-December.
"We don't think the future is going to be any different," Secretary of Finance Aubrey Layne said Wednesday.
But the state had about $700 million more in the bank at the end of January than it had expected, thanks primarily to sustained income tax collections and steady growth in internet sales taxes.
Total state revenues are up 8.4% for the first seven months of the fiscal year, well ahead of the annual forecast of 1.9%, although state finance officials expect final tax payments to drop and refunds to rise when state taxes come due on May 1, two months before the end of the fiscal year.
Income taxes withheld from paychecks, which account for almost two-thirds of the state general fund revenues that pay for core government services such as education and public safety, grew by 5.2% in January and 5.7% for the fiscal year to date. The current budget assumes annual growth in withholding taxes of 4.7%.
The biggest question was collection of income taxes not withheld from paychecks, but instead through estimated payments by business professionals, people who are self-employed or who have income gains from stock sales. Those revenues soared last year in large part because of federal tax changes in the Tax Cuts and Jobs Act, but state officials expect them to drop this year.
Six years ago, after federal tax law changes had produced a similar surge in estimated tax payments, Virginia saw a big drop in the revenues in January, the first sign of a revenue shortfall that ultimately exceeded $2 billion and prompted deep spending cuts.
So far this year, it hasn't happened. Nonwithholding taxes increased by 15.2% in January, when the final estimated tax payment was due. For the fiscal year, those tax revenues have increased 18.1%, even though the budget assumes a 7.7% decline by the time the fiscal year ends.
"No canaries in the coal mine," Layne said.
The state expects the nonwithholding payments to drop when Virginians file their tax returns. It also expects a big increase in money refunded to taxpayers compared with last year, when tax season began in late February because of uncertainty over state tax law changes being made by the General Assembly.
Sales tax collections remained strong in January, up 9.9%, based on December sales. Since the fiscal year began on July 1, sales tax revenues increased 8.4% through the end of January. State finance officials attribute the increase to taxes on internet sales that Virginia began collecting last year because of a 2018 decision by the U.S. Supreme Court.
"It's all related to internet sales taxes," said Layne, who estimates sales tax growth of about $150 million for the year.
He said revenues could decline by 5.5% for the rest of the fiscal year and the state still would have enough money to support this year's budget.
"Given that national and state economic outlooks have not significantly changed since December, the basis of the midsession forecast will analyze 'money in the bank' from various sources," Layne said.