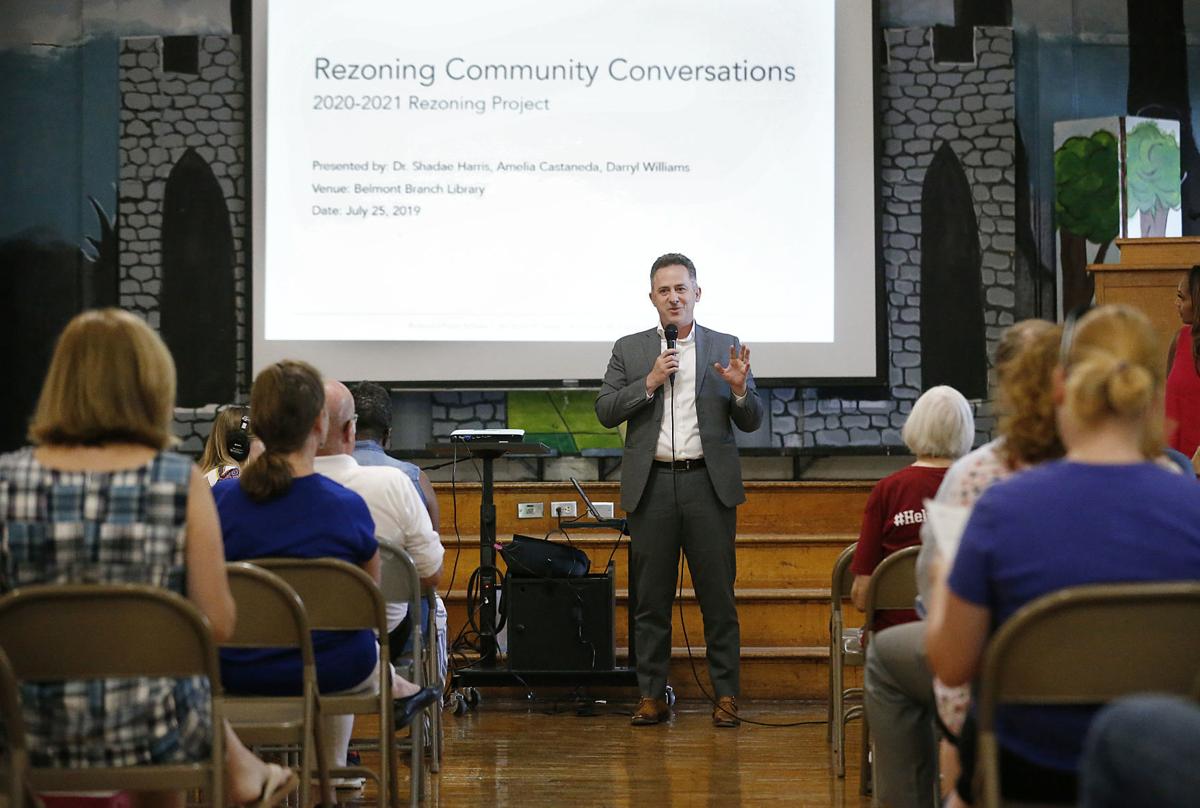 As a special committee inches closer to making recommendations on new school zones, Richmond Public Schools wants to shake up how open enrollment is done.
Superintendent Jason Kamras' administration recommended this week to the Richmond School Board that, starting next year, the school system have a weighted lottery for its open enrollment students, helping students from low-income families get into schools that aren't in their neighborhood zones.
The idea is one that has been discussed frequently throughout a rezoning process that has proved controversial with school leaders unsure of how to best diversify the city's schools.
"It's a way to promote equity," Kamras said Monday, when the proposal was made official for the first time. "If you think of inequity as the deck being stacked against some kids, if we can flip that and stack it in their favor, I think that's a good thing to do."
Richmond's current open enrollment process is unweighted, giving every family in the city the same opportunity to transfer out of their zoned school and into another if there's space. About 1,000 families currently use the system, which does not include Franklin Military Academy or the International Baccalaureate program.
Details on the plan for a weighted lottery are still vague — the proposal came as the board was receiving an update on this year's open enrollment process, which will still have an unweighted lottery and is scheduled to start Dec. 16, and less than two months before the School Board is to meet its self-imposed deadline for a decision on new school zones.
A committee of School Board appointees tasked with reviewing new zone options met again Wednesday, trying to finalize a set of three to five plans to recommend to the School Board, which ultimately has the power to set new zones. The committee, which was originally scheduled to make its recommendations last week, is going to meet again before signing off; a specific day was not decided.
The committee did not talk much about open enrollment Wednesday, but the few mentions of a weighted lottery were positive.
One of the School Board's goals for the rezoning process is to improve the diversity of Richmond's schools, nearly 3 in 4 of which are what researchers define as "intensely segregated," meaning less than 10% of the student body is white.
The most controversial proposal has involved combining school zones, a process known as pairing, in which students go to one school for certain grades and a different school for the rest. Two of the three remaining options created by Ohio-based consultant Cropper GIS involve pairing and specifically target William Fox and Mary Munford elementary schools — which are home to the city's whitest and wealthiest school populations.
Opponents to pairing, mostly from the Munford and Fox communities, have pushed for a weighted lottery to diversify schools throughout the process. It was one of the ideas proposed by the main advocacy group against pairing, Revitalize RPS, which specifically requested that transportation for open enrollment students be included.
"Choice without transportation isn't choice," he said.
School Board member Scott Barlow, whose 2nd District includes Fox, said he supports a weighted lottery.
"Although I'd prefer to start discussions sooner rather than later, I'm glad that we'll be digging into our open enrollment policies next year," he said Wednesday. "If nothing else, the rezoning process has highlighted an overdue need to update our open enrollment practices to increase equity and efficiency of student placement."
This isn't the first time changes to the open enrollment policy have been proposed.
Jonathan Young, who represents the 4th District on the School Board, unveiled a plan in August that calls for citywide open enrollment, in which students would be assigned to a school through a lottery. That lottery wouldn't factor in where a family lives, their academic achievement, or demographics. Families would go through the process for kindergarten, sixth grade and ninth grade — choosing up to 10 elementary schools and up to six middle schools and six high schools.
"Families in Richmond need more choice, not less," he said Wednesday. "My colleagues, along with the administration, seemingly want to pick winners and losers instead of allowing everyone to participate in open enrollment."
Young's proposal has not gained traction with the rest of the School Board or the rezoning committee.
(804) 649-6012
Twitter: @jmattingly306