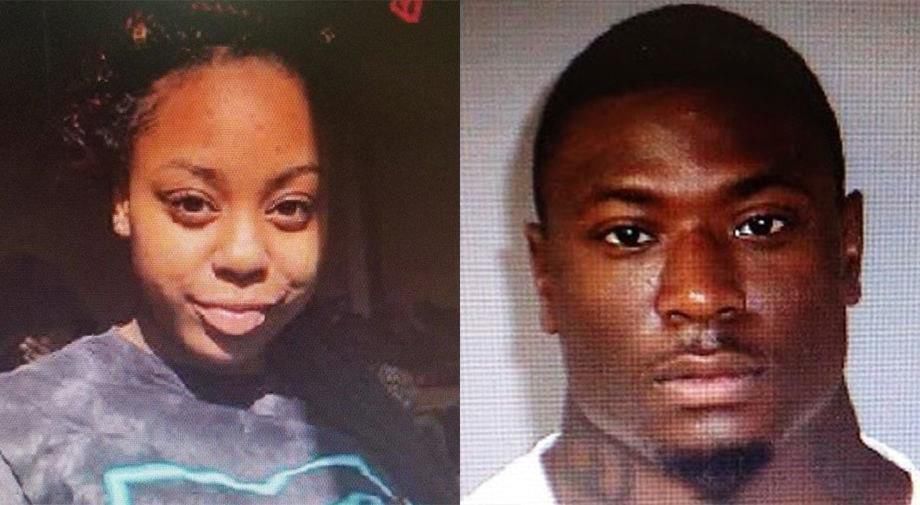 After a week of testimony and nearly a day of jury deliberation, a judge declared a mistrial late Friday in the second-degree murder case of a Dinwiddie County man charged in the June 2018 slaying of a Dinwiddie High School cheerleader.
The 10-woman, two-man panel deliberated more than eight hours before sending a note to Dinwiddie Circuit Judge Paul Cella about 8:40 p.m. that they were deadlocked in their deliberations and could not reach a unanimous verdict.
The judge then brought the jurors into the courtroom and thanked them for their service, and they were dismissed. The case will be reset for a second trial.
The case centered largely on the reliability of GPS tracking data from an electronic monitoring device worn by the defendant, Anton Deonte Coleman, 22. He was accused of killing Ke'Asia Adkins, 17, a rising junior at Dinwiddie High School and a member of the varsity cheerleading squad. The defendant and victim were first cousins.
The case caused a sensation two years ago when Adkins vanished under mysterious circumstances after failing to return home after cheerleading practice. Her disappearance triggered a dayslong search by family and members of the community.
She had last been seen alive on the morning of June 25, 2018, at her grandmother's residence in the 5900 block of Sentry Hill Court, where she and her mother were living. Coleman also was staying at the residence on a temporary basis.
It wasn't until three days later that a cadaver dog that had been brought in to assist police detected Adkins' remains in heavy woods just 165 feet from the home. She was buried facedown under a mound of leaves and pine needles. She had been asphyxiated, with her head covered by two plastic garbage bags that were knotted and zip-tied.
Coleman was arrested and charged with abduction shortly after Adkins' body was found. He was indicted two weeks later on charges of first-degree murder and abduction with intent to defile.
Then last year, the murder charge was upgraded to capital murder, but the abduction charge was dropped. At the outset of jury selection for this week's trial, Commonwealth's Attorney Ann Cabell Baskervill amended the capital charge to second-degree murder.
The prosecution's case relied heavily on GPS tracking data, which an FBI computer scientist extensively analyzed and narrated for jurors Wednesday in a PowerPoint presentation. The data, which included an estimation of Coleman's location every minute by latitude and longitude, indicated that on the day Adkins disappeared, the defendant twice walked into the woods near where the teen's body was eventually discovered.
At the time, Coleman was wearing a GPS ankle monitor as a condition for his release for an earlier, unrelated arrest in a domestic case involving his mother and stepfather in Chesterfield County.
The accuracy of the GPS device and the analysis of the data it recorded became a point of contention between the prosecution and defense, and opposing experts provided starkly differing views of what the data showed. The defense expert disputed much of the FBI agent's methods and analysis, saying it was "very unlikely" that Coleman had walked into the woods.
As the defense strongly noted in closing arguments Friday, the fifth day of the trial, the prosecution had little other evidence that linked Coleman to the killing.
It was a circumstantial case without fingerprint or definitive DNA evidence, incriminating statements by Coleman, or eyewitness accounts.
"The commonwealth has not proven their case beyond a reasonable doubt," defense attorney John Rockecharlie told jurors. "They have not even come close to doing it."
In arguing for a conviction, Baskervill appealed to the emotions of jurors, juxtaposing a picture of the teen as a vibrant high school sophomore with crime scene photos of her body facedown in a makeshift grave.
"Where is Ke'Asia, what happened to her, why did she die, why was a plastic bag on her head?" the prosecutor said to the jury. "There's still a whole lot that we don't know."
But Baskervill said that doesn't mean there was a lack of evidence. "Questions are not the same thing as doubts," she said. "They are not reasonable doubts."
Proof beyond a reasonable doubt is the standard in a criminal case that must be met by the prosecution in order to obtain a conviction.
Baskervill described Coleman's defense as a case of "smoke and mirrors" that jurors should disregard "so we don't get a miscarriage of justice."
"[Coleman] is entitled to a fair trial, and he's gotten it," the prosecutor said. "He's not entitled to murder Ke'Asia for God knows whatever reason and get away with it."
In contrast, Rockecharlie, in closing for the defense, reviewed for jurors point-by-point much of the testimony and evidence presented at trial and why, in his estimation, it didn't come close to supporting a conviction.
It was a terrible wrong that Adkins died, Rockecharlie said, but it would be equally wrong to convict an innocent person.
The attorney told jurors that Baskervill "talked about Ke'Asia and pulled on your heart strings for 45 minutes, and that's because the evidence doesn't support her position."
Rockecharlie reminded jurors of the instructions the court provided them for their deliberations: When the prosecution relies on circumstantial evidence, the circumstance must be consistent with guilt and inconsistent with innocence. It is not sufficient that the circumstances proved a suspicion of guilt, however strong, or even a probability of guilt.
The instructions also addressed the disputed GPS evidence: A defendant's presence in the area of a crime is sufficient to prove opportunity, but standing alone, it is insufficient to prove guilt.