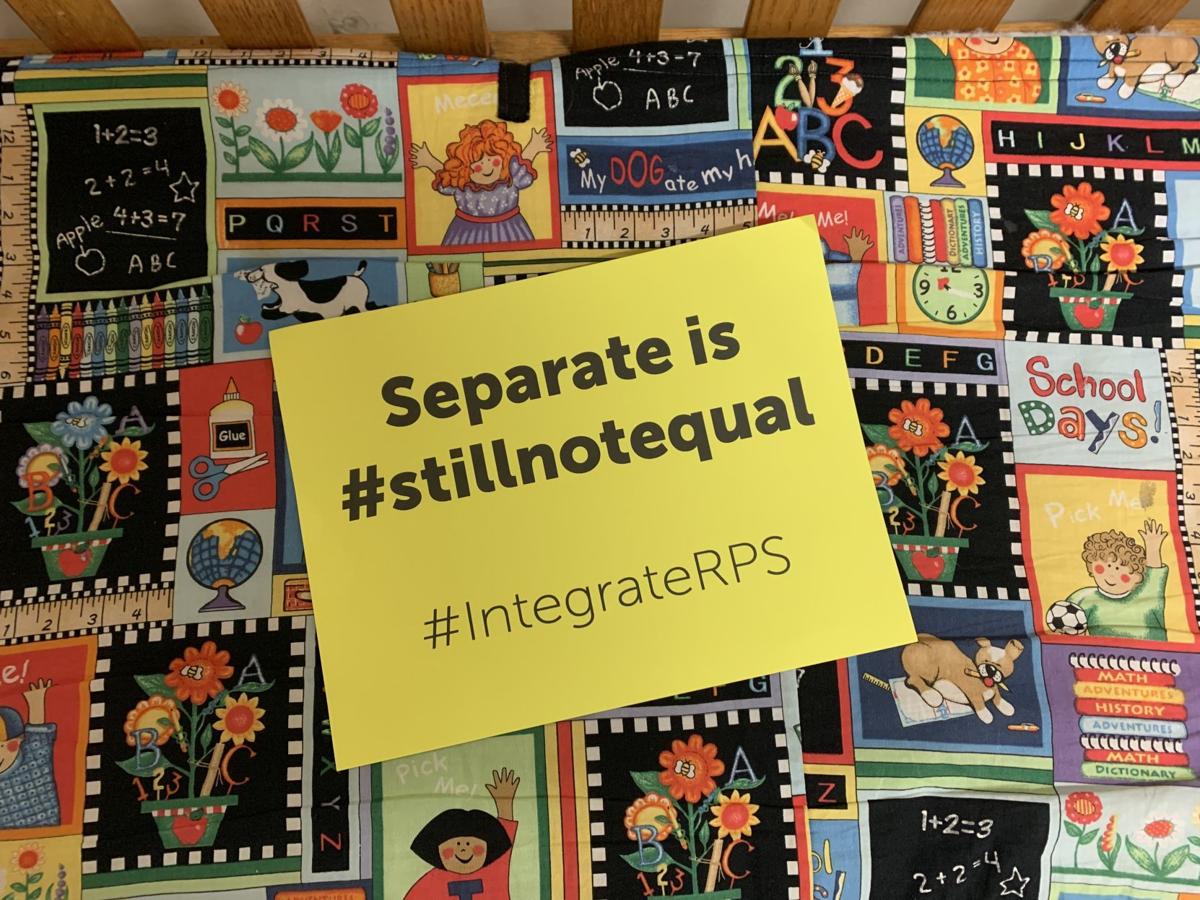 The fight over combining majority-white and majority-black school zones in Richmond Public Schools isn't over yet.
While the Richmond School Board opted against merging schools in the West End, it remains a long-shot option in North Side — the only part of the city without new zones. Some parents there still hope the board, which has expressed reservations about the idea, will approve it.
"Pairing unites the kids across [North Side] in third grade and keeps them together until high school graduation," said Theresa Kennedy, a Linwood Holton Elementary parent who served on a rezoning committee that reviewed proposals before recommending them to the School Board. "Pairing doesn't break up existing communities — it builds a larger one."
A proposal before the School Board calls for combining the Barack Obama, Ginter Park and Holton elementary school zones, having students go to Obama and Ginter Park for kindergarten through second grade and Holton for third through fifth.
The idea was rejected for the city's two whitest schools — Mary Munford Elementary and William Fox Elementary would have merged with George W. Carver Elementary and John B. Cary Elementary, respectively — but Kennedy and others are ramping up their calls for approval on North Side.
The School Board voted against pairing in the West End, choosing to improve diversity at Munford and Fox through open-enrollment policy changes, reversing a 2013 rezoning decision and putting students in the Museum District back into Cary Elementary. That move is expected to change Fox from 61% white to 53% and Cary from 84% black to 57%.
New zones have also been approved for South Side, which has the most extensive overcrowding in the city, and the East End, which has a new George Mason Elementary opening in the fall.
The board's North Side debate has focused on redrawing lines in the Bellevue neighborhood. Current plans split the neighborhood along Bellevue Avenue and Brook Road into different schools, and the board has asked Cropper GIS, its rezoning consultant, to draft new maps that keep Bellevue together. Those new maps are expected to be released in the middle of this week.
"I do not want to divide any neighborhoods," said Kenya Gibson, who represents the 3rd District.
Discussion and feedback on school pairing has mostly focused on the West End. In roughly 60 community meetings and on an online feedback form that has been used to solicit public opinion since initial maps came out in June, North Side has been the most receptive to the idea, but there's still mixed support.
"There's a million reasons why we could say, 'Let's wait until next time' and push it out by a year, or 'Let's wait until we get X, Y, Z results,' but I think we need to act now," Holton parent Rebecca Richardson said at one of three public hearings held by the board. "It's not going to be perfect, but we need to do something, and to do nothing is to be complicit with the culture of white supremacy that has existed and is thriving still in Richmond today."
Other parents see the drawbacks as too extreme.
"Our children will be split in schools, have longer bus time with already limited time for homework after school, will no longer be able to walk to school and potentially be impacted academically," a Holton parent wrote on the online feedback form. "If this is passed, we will remove our children from RPS and enroll them into private school. Diversity is important and exists at Holton."
Less than 75% of children born to parents in the city enroll in first grade in the city school system, according to data compiled last year by the University of Virginia's Weldon Cooper Center for Public Service, showing that city parents often opt for private schools or move to surrounding school systems.
Sabrina Gross, the Parent-Teacher Association president at Barack Obama Elementary, said she supports pairing because "it attempts to create not just inclusive schools but an inclusive community, and we know that excellent schools need community support."
But Gross favors a one-year delay that would mean the school division would wait until the 2021-22 school year to change school zones. Gross said an implementation committee made up of parents, school staff, administrators and experts should spend the year building community support and developing a plan for how to make it work.
The delay was among the recommendations given to the board by the rezoning committee, which also suggested turning Ginter Park Elementary — the only one of the three schools involved not to meet the state's full accreditation standards — into a specialty school to attract more diversity if no changes are made. The board approved specialty programs at George W. Carver Elementary and Bellevue Elementary with its Dec. 2 vote.
Just one in four students at Holton comes from a low-income family, compared to 77% at Ginter Park and 66% at Obama, according to state data.
Under the plan to pair the schools, 60% of Holton students would be considered economically disadvantaged with 51% at Ginter Park and 67% at Obama, according to data from Cropper GIS.
"Our current zones hoard wealth at Holton and concentrate economic disadvantage at Ginter Park and Obama," said Kennedy, the rezoning committee member. "Pairing creates the most equitable distribution of socioeconomic backgrounds and race across the three schools."
A petition created Thursday supporting the North Side merger had gotten 159 signatures as of 6 p.m. Sunday.
But there are still plenty of parents who need to be convinced that the benefits outweigh the transition, including the district's School Board member.
Katie Carlton, the mother of a first-grader at Holton, said she has similar concerns as parents in the West End, most notably the cost — the RPS administration estimated in October that it would cost $617,500 to $842,500 per school pairing for new teachers, new buses and new bathrooms, among other things — and the school system's ability to execute the plan.
"If pairing was not a good idea for three areas of the city, why would it be for the fourth area?" she said.
Gibson, the School Board representative for all three schools, said she would vote against pairing in North Side, adding that the school system needs to do more to solicit input from black and Latino families.
"I've spent my adult life fighting to create diverse schools that are adequately funded," she said in a statement. "I didn't do that work to now settle for an unformed plan that hasn't been embraced by the community it will impact the most."
If the School Board opts not to pair the schools, its decision for North Side will center on what to do with the Bellevue neighborhood.
In Proposal Y, the plan approved for all parts of the city except North Side, an area north of Bellevue Avenue and east of Brook Road would be rezoned from Holton to Ginter Park. A total of 118 students would be affected, according to data from Cropper GIS.
The board has asked Cropper to present a revised map that puts a plan, known as Option II, back on the table for North Side. That plans leaves Bellevue intact while sending 76 students from Holton to Ginter Park. The students would come from the area east of Chamberlayne Avenue and north of Brookland Park Boulevard in a neighborhood commonly referred to as Ginter Park.
"Ginter Park is a lovely school community that would embrace those students," Gibson said. "I'd like to help create the space for that community and school to reunite."
Superintendent Jason Kamras said Thursday that updated maps for North Side will not be available until later this week. A decision is expected to come a week later on Dec. 16 at Ginter Park Elementary.
A public hearing is scheduled before the vote.
(804) 649-6012
Twitter: @jmattingly306