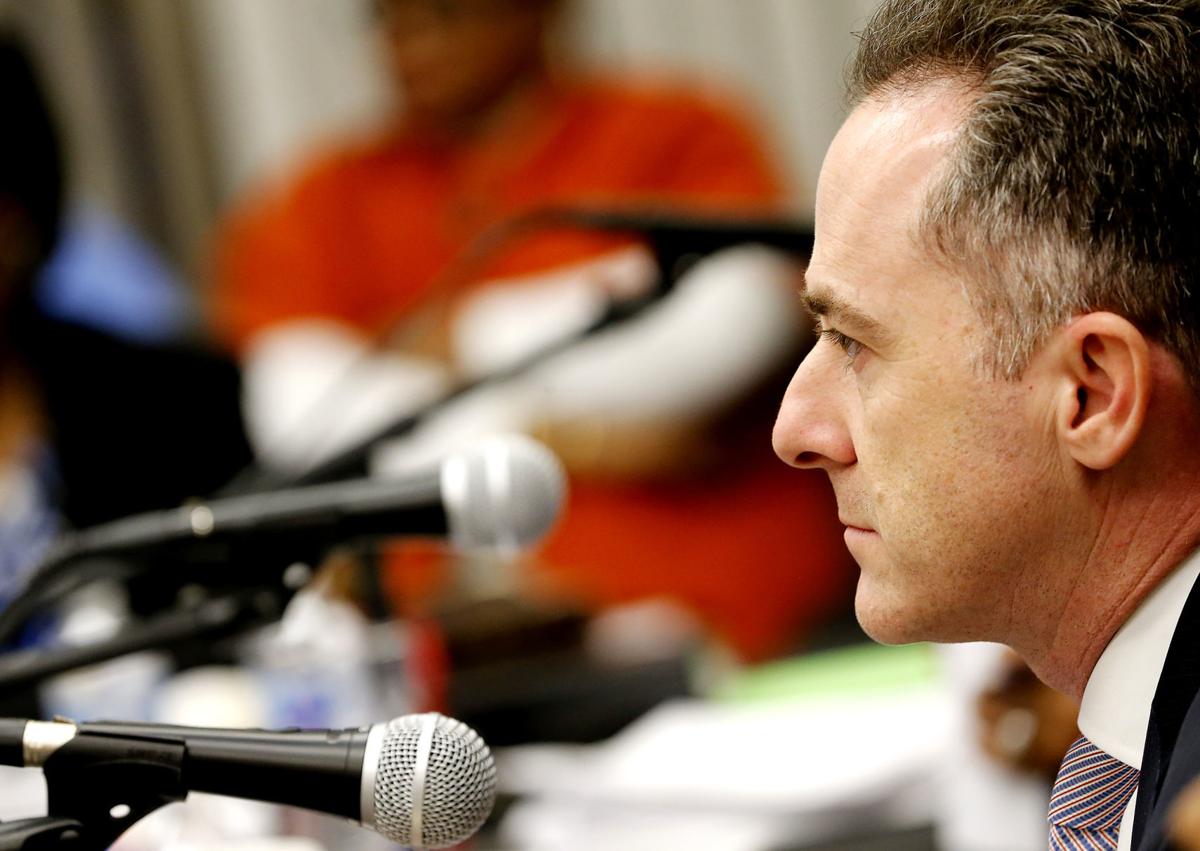 Two independent audits commissioned by Richmond Public Schools describe a school system with problems inside and outside the classroom, from widespread achievement gaps for students to poor central office management.
The audits, done by Washington-based Council of the Great City Schools and The Education Trust, analyzed the school district's finance and business operations as well as how equitable its academics are.
"They are nothing short of heartbreaking," Superintendent Jason Kamras said Friday, the day the two reports were published. "They paint a stark and painful reality about the state of our school division."
When Kamras took over in February, he commissioned The Education Trust to analyze equity in the district — a priority he laid out in his 100-Day Plan.
The Council of the Great City Schools was tasked with reviewing RPS' business operations, often a criticism of community members who say the district does not operate efficiently.
The equity audit from The Education Trust focused solely on academics, but one of its main critiques of RPS is that it's keeping too many students out of the classroom.
The report showed that nearly one in six students was suspended out of school at least once in 2017, including more than 400 students suspended for 10 to 45 days.
Black students and students with disabilities were disproportionately suspended, the audit found, with black students making up 71 percent of the student population but more than 90 percent of students suspended or expelled.
Suspension rates were highest in middle schools, where nearly one in three students was suspended at some point in 2017.
The issues go beyond suspension rates.
One in five Richmond students was chronically absent in 2016-17.
The numbers were even worse for students from economically disadvantaged homes, black students and students with disabilities, all of whom missed more school, on average, than their peers.
"If we want to improve academic achievement and we want to accelerate academic achievement, we need to get our kids to come to school," said Harry Hughes, the division's chief schools officer, during discussion about the new policy.
Like other issues addressed in the audit, chronic absenteeism rates varied by school.
At Mary Munford Elementary School, for example, just 3 percent of black students missed too much school. On the other side of the city at Woodville Elementary School in the East End, 27 percent of black students were chronically absent.
The audit's shortest component focused on teacher experience.
The Education Trust found that the city's two elementary schools with the smallest percentage of students of color — Mary Munford and William Fox — also had the lowest number of first-year teachers.
At Overby-Sheppard Elementary School, which serves a student population that's 91 percent free or reduced-meal eligible — more than three times that of Munford and Fox combined — and 93 percent black, nearly a third of teachers were in their first year.
"Access to strong teachers has implications on student academic achievement success," the report said. "While there are some excellent first-year teachers, on average, novice educators are less effective than their more experienced counterparts."
An elementary or middle school in Richmond with a population that skews white is much more likely to have students enrolled in gifted education programs and algebra in eighth grade.
At Linwood Holton, Munford and Fox elementary schools, according to the audit, white students were two to three times more likely to be in a gifted program than their black and Latino peers — even though they're at the same school.
Two elementary schools — J.B. Fisher and Fox — did not have any English Language Learners in their gifted programs, the audit found.
It extends beyond just gifted programs, which help students by teaching them more material, among other things.
White eighth-grade students are four times more likely to take algebra, a course that puts students on the fast track to college and career readiness.
The audit found that more than half of white eighth-graders took algebra I, while just 12 percent of their black peers enrolled.
Once in high school, Latino and ELL students, as well as students with disabilities, were "nearly shut out of Advanced Placement opportunities."
"It appeared as though uneven opportunities existed for students of color and those from lower-income families, who make up the bulk of the student population in Richmond," the report said.
Like course access, elementary and middle schools with a higher population of white students performed better academically.
Munford and Fox got most students to proficiency in reading, while Swansboro Elementary School, which has an 89 percent black student population, got only 35 percent of its students to be reading proficiently.
"Such disparities among schools serving similar populations offer insight into possibilities for what all students can do, while simultaneously prompting the question of what higher-performing schools are doing differently to get these results," the report said.
At the city's middle schools, just 43 percent of students are proficient in math — 37 percentage points behind the state average.
"The story of students attending Richmond Public Schools is the story of children attending public schools across the nation," The Education Trust said in the conclusion of its final report. "All indicators of academic success show white students and more affluent students being provided with better educational opportunities than students of color and those from lower-income families."
A spokeswoman for The Education Trust did not immediately return a request for comment Saturday.
The review focused on the city school system's central office found gaps in its organization and leadership.
The Council for the Great City Schools audit, whose findings arose from a four-day visit to Richmond in early June, questioned the district's organizational structure — something Kamras changed early in his tenure — saying Chief Operating Officer Darin Simmons' duties and oversight are "too broad to be effective."
Kamras, as part of a proposal to save the district about $200,000, cut three cabinet positions, which included the merger of former Chief Financial Officer David Myers' role with the COO's. While the proposal saved the district money, some School Board and community members have questioned the salaries the six cabinet members are being paid — four of the five current administrators are making $180,547 per year.
The audit said the elimination of the CFO position, among other things, "could jeopardize the appropriate development and monitoring of the district's financial condition."
"I expressed concern with the plan to condense the cabinet, and the council made that same point in its audit," said Kenya Gibson, who represents the city's 3rd District. "There is an incredible amount of work that needs to be done both operationally and in finance. These functions impact academics, too — we lose teachers because of the state of our facilities.
"As a city, we deserve to know what the plan is to ensure we are structurally set up to take this on."
Kamras defended his decision in an email Saturday.
"I stand behind my cabinet structure and personnel 100%," said Kamras, who presented his new central office structure beyond just cabinet members over the summer. "Let us not forget that it was the prior structure and personnel that led to the rampant dysfunction and gross mismanagement outlined in this audit."
When administrators do leave, something that has happened frequently at RPS, there is not a succession plan to continue operations, the audit said. Departments also do not have goals or priorities and don't know how they help student achievement.
"This may be due, in part, to the constant churning at senior leadership levels that have hindered the district's ability to generate change," the audit said.
The team of eight that conducted the audit also could not determine if RPS implemented recommendations made from 12 other reviews of RPS done since 2007.
The team made 21 recommendations of its own to improve the district's operations, including the establishment of an audit committee composed of School Board members and community members with finance experience.
A spokeswoman for the council also did not immediately return an interview request Saturday.
"This scathing audit rightly points out what our teachers have known for a long time and specifically that the downtown RPS central office is the source of nearly all of their problems," said Jonathan Young of the 4th District.
The School Board is set to discuss the audits at its meeting at 6 p.m. Monday in the School Board room on the 17th floor of City Hall.
School Board Chairwoman Dawn Page echoed Kamras' sentiment, calling the findings "nothing short of heartbreaking."
"However, audits help organizations understand potential risks, and provide recommendations for how to mitigate these risks and create efficiencies," Page said Saturday in a statement. "I'm looking forward to continuing to work with Superintendent Kamras and our board to understand our challenges and tackle issues head on."
(804) 649-6012
Twitter: @jmattingly306