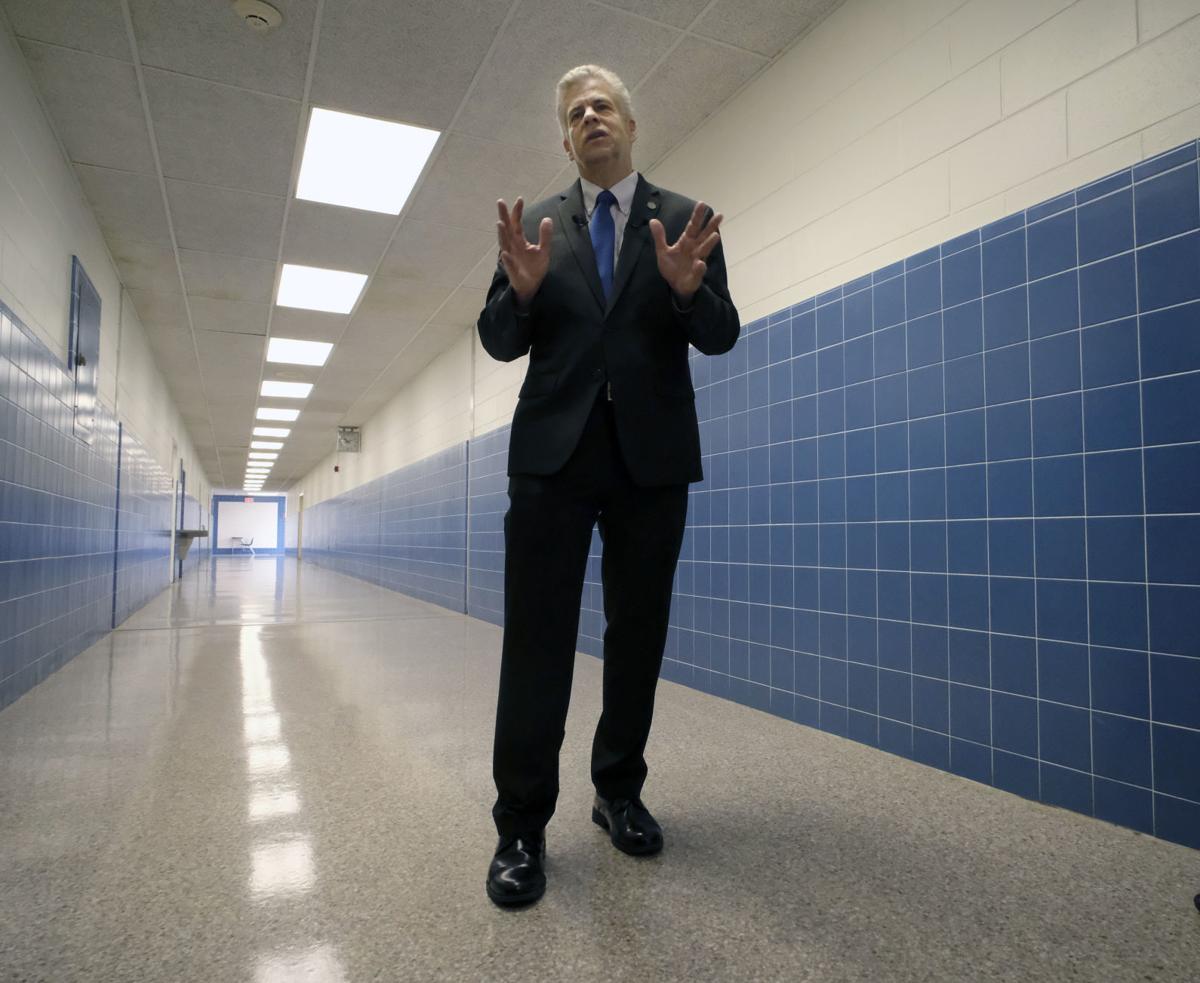 Speaker of the House Kirk Cox announced Thursday that keeping college tuition flat again next year will be among his top priorities in the state budget. The plan would freeze tuition in consecutive years for the first time in nearly two decades. Cox also said he wants to increase teacher pay in the state.
"It's got to be more than just one year," said Cox, R-Colonial Heights, who must first win his seat this November in a newly drawn district that appears less favorable for a Republican.
He made the commitment Thursday at ChamberRVA's first Education Summit at the Marriott in downtown Richmond.
A spokeswoman for Gov. Ralph Northam, a Democrat, said the governor supports both efforts — making college more affordable and paying teachers more. She did not say — and did not respond to a follow-up email when asked — whether a tuition freeze and teacher pay would also be top priorities in the governor's budget next year.
The state budget that took effect July 1 set aside $57.5 million to freeze tuition, enough to cover each school's projected increase. Freezing tuition wasn't mandatory for colleges, but all chose to do it.
The freeze targeted in-state students, but six schools — George Mason University, Christopher Newport University, Norfolk State University, Radford University, Virginia Commonwealth University and Virginia Military Institute — chose to freeze the rate for out-of-state students as well.
Tuition at every four-year public college in Virginia has increased at least 50 percent since the 2008-09 school year. Students and their families pay 55 percent of the cost, on average, at Virginia's four-year schools, while the state pays 45 percent.
"A one-year breather from tuition increases starting this fall is a positive step. But the amount households in Virginia spend on college is still way out of whack, so it's a good idea to continue tuition freezes in future years," said James Toscano, the president of Partners for College Affordability and Public Trust, a Washington, D.C.-based higher education advocacy organization. "While it's certainly encouraging to hear that Speaker Cox supports funding a second tuition freeze next year, which consumers will undoubtedly welcome, we look forward to working with lawmakers next session to address root causes of rising college costs."
On average, tuition has increased 79 percent at state schools over the past 10 years, a cost driven by fewer state dollars and new facilities to impress prospective students, among other things.
The last time the state froze tuition for in-state undergraduate students was in 2001-02. State lawmakers rolled back tuition by 20 percent in 1999-2000 before freezing it in 2000-01 and 2001-02.
Cox also said Thursday that he hopes to raise Virginia's teacher pay to the national average within four years.
The average teacher in the U.S. made $60,477 in the 2017-18 school year, according to data from the National Education Association, up from $59,539 in 2016-17. Virginia's average teacher pay in 2017-18 was $51,994, according to the country's largest teachers union. The figure ranks Virginia No. 32 in the U.S.
"It has to be our priority," Cox, a retired teacher, told the room full of superintendents, local school board members and business leaders in the region.
Keri Treadway, a Richmond teacher who helped lead a statewide teacher march on the Capitol in January, said she'd like to see the pay raises happen faster than four years. She added that addressing issues such as teacher retention and satisfaction goes beyond pay.
"We need a plan that fixes our crumbling infrastructure and lifts the support cap," she said, referencing a funding cap the state imposed during the Great Recession on positions such as social workers, custodians and psychologists.
Matt Moran, Cox's chief of staff, said four years is what's "doable financially." Specific details on the proposal were not presented.
The General Assembly this year approved a 5 percent teacher raise — the largest single-year raise for teachers in about 15 years — that required localities to match state dollars. The raise was initially proposed by Northam.
"[Northam] has said repeatedly that we must bring our teacher salaries up to the national average," said spokeswoman Alena Yarmosky. "He is happy to hear about the speaker's interest in raising teacher pay."
Virginia Education Association President Jim Livingston said the state must "act swiftly and decisively" to address the gap between Virginia's pay and the national average. "The General Assembly several years ago set attaining the national average as a goal, but we have not gained ground," he said in a statement. "Investments must be substantial and long-term.
"We look forward to seeing the details of Speaker Cox's proposal, because we know that teachers are critical to student success, and to attract and retain the very best we must pay them a professional salary."
Cox's seat, like that of every other member of the General Assembly, is on the ballot this year. His district is one of six GOP-held districts that is more Democratic by at least 12 percentage points, according to the Virginia Public Access Project, based on a court-imposed map that is now in effect.
Cox's Democratic opponent in the election, Sheila Bynum-Coleman, called the teacher pay proposal "disingenuous."
"Speaker Cox has been in office for 29 years and has failed teachers in Virginia over and over again," she said.
(804) 649-6012
Twitter: @jmattingly306