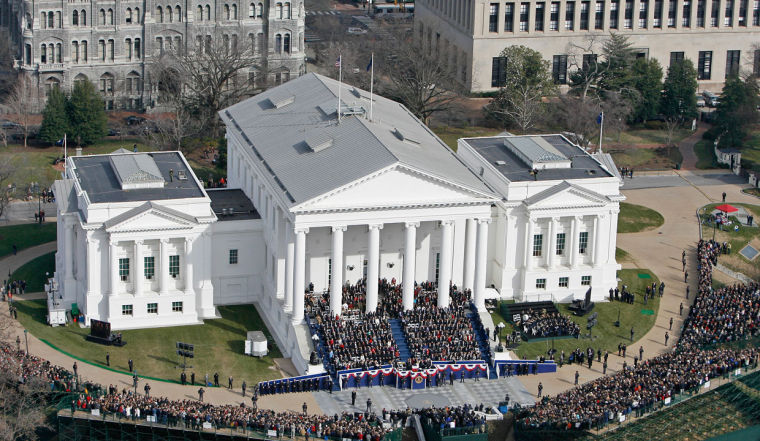 Virginia tax revenues soared by more than $400 million in May over the same month in 2018, ensuring the state has enough money to pay for budgeted spending this year and setting the stage for tax relief before next fall's elections for state taxpayers who paid more because of federal tax reforms.
The 22.5% increase in revenues puts Virginia at 7.9% growth in the first 11 months of the fiscal year, more than double the forecast of 3.3%, but that does not reflect $450 million that the budget ordered to be set aside for tax relief as well as other precautions against relying on one-time tax payments.
Secretary of Finance Aubrey Layne cautioned against relying on the additional revenues for tax relief in the special legislative session that Gov. Ralph Northam has called on July 9. It will consider potential restrictions on firearms in the aftermath of a mass shooting that claimed 12 victims in Virginia Beach on May 31.
"We have to certify how much of the [revenue] overage is really related to tax reform," Layne said in an interview Wednesday. "We won't know by July 9."
The state comptroller must certify final revenues after the fiscal year ends on June 30. Then the state must determine how much of the increased revenues reflect taxes paid on higher income and how much results from the unintended consequences of the Tax Cuts and Jobs Act that President Donald Trump signed 18 months ago.
The budget that the General Assembly adopted and Northam signed this year directs $420 million in tax refunds — $110 for individuals and $220 for couples filing jointly — to compensate for higher state taxes paid because of the new federal law.
However, the budget sets aside even more in tax relief than Virginia taxpayers are expected to pay in higher state taxes because of temporary provisions in the federal law for individual taxpayers.
"From a policy perspective, we've already reached the goal of making taxpayers whole," Layne said. "I hope politics don't overtake policy."
General Assembly leaders say the legislature may have to make some changes to the budget to pay for any legislation adopted during the special session, but they expect to restrain new spending initiatives proposed either by the assembly or Northam.
"There is no need, in my opinion, for us to reopen the budget, based on what I've seen," House Appropriations Committee Chairman Chris Jones, R-Suffolk, said Wednesday. "There could be a need to address specific legislation, but not any major spending or tax policy issues."
Senate Majority Leader Tommy Norment, R-James City, took a similarly measured approach to potential budget actions during the special session. He warned Northam against new spending aimed at restoring his political reputation after a scandal that erupted Feb. 1 over a racist photo in his 1984 medical school yearbook.
"While I have not discussed it with anyone, the legislature may need to revisit the budget during the unilaterally called special session to fund any gun legislation that might pass, invoking the Woodrum Amendment and keeping the governor from seeking redemption by pandering away unexpected revenues," Norment said in a text message on Wednesday.
The Woodrum amendment, named for former Del. Chip Woodrum, D-Roanoke, requires the state to adjust the budget to reflect higher prison costs because of new laws that impose additional criminal penalties or longer sentences.
Politics aside, the new revenue numbers show a growing Virginia economy, reflected in increased income taxes withheld from paychecks and higher sales and use taxes, including a jump of almost 14% in taxes paid on internet sales.
"I am encouraged by these strong results in payroll withholding and sales tax collections, which continue to show that the Virginia economy is still growing and creating good-paying jobs," Northam said in a statement on Wednesday.
The May collections show income withholding taxes, representing 63% of state general fund revenues, up by 5.7% last month (about $60 million) compared with the previous year and 3.9% for the year to date. The budget forecasts payroll withholding to grow by 3.8% for the year.
At the same time, income tax refunds fell about $24 million in May compared with the previous year, or 14%. However, the biggest increase came in estimated income tax payments not withheld from paychecks.
Non-withholding tax collections rose by about $272 million in May over the previous year, a 55% increase. Those revenues, paid by sole proprietors and people who cashed in stock, rose by 46% in April and May combined.
Sales taxes, driven by home sales and improvements in Richmond and Northern Virginia, rose 9.7% in May and 4% for the year. Recordation taxes, paid on court filing of wills, deeds, lawsuits and contracts, also were up in May, while corporate income taxes were the only significant revenue source that declined in the month compared to a year ago.
"Our economic forecast looks like we were right on," Layne said.