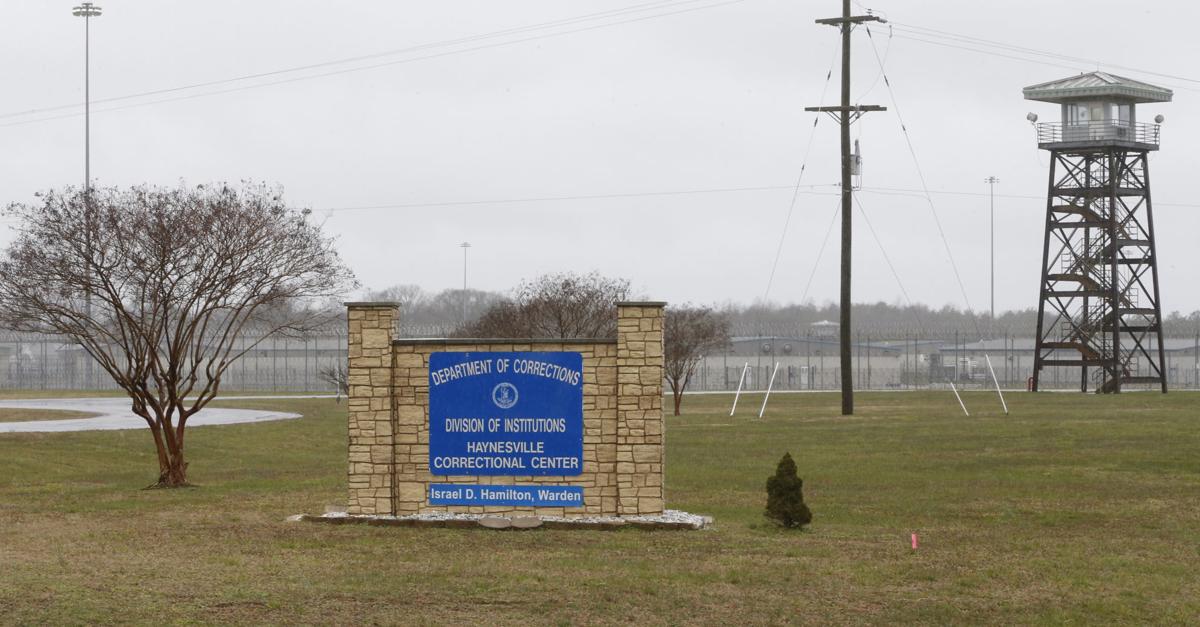 Suspected drug overdoses killed an inmate at the Haynesville Correctional Center and led to the hospitalization of seven others there Saturday night.
According to the Virginia Department of Corrections, the inmate was pronounced dead at 8:32 p.m. from an apparent overdose. The medical examiner will determine the cause of death. Officials have notified relatives of the inmate about the death, but have not released the inmate's name to the public.
The department said the overdoses were discovered around 7:15 p.m. It is unknown what may have caused the suspected overdoses, officials said Sunday.
The inmates were sent to Riverside Tappahannock Hospital and Rappahannock General Hospital on Saturday evening for treatment. Six of the eight had been released from the hospital by mid-day Sunday, while one remained at Riverside Tappahannock Hospital.
In recent years, the department has had an ongoing battle keeping opioids and other drugs — which increasingly are easier to conceal — out of prisons, enacting tighter mail and visitation policies, among other efforts. Even some staff members have been involved.
Recent incidents involving visitors have included drugs hidden under dentures and even a ring.
The department houses roughly 30,000 inmates in more than 40 facilities — prisons, field units, work centers and a secure hospital medical unit.
Last year, the inmates had 54,409 visitors. In just one month last year, the department handled 151,179 pieces of incoming mail statewide.
Lisa Kinney, a spokeswoman for the Department of Corrections, said that in 2017, there were 79 emergency medical transports from DOC facilities due to a confirmed or suspected drug or alcohol overdose. Last year, the figure dropped by 28%, to 57 transports.
There were at least 11 incidents in 2017 where Narcan — an opioid antidote that reverses the effects of an overdose — was administered and 16 such incidents in 2018.
Kinney said there were 562 seizures of confirmed or suspect drugs in 2018, down from 657 seizures in 2017.
From January 2017 to February of this year, there were 136 drug incidents involving visitations, with 59 visitors arrested during the same period.
The department said that as of February, there had been 20 investigations stemming from allegations of employees delivering drugs to offenders since 2017. At least three of the allegations were found to be unsubstantiated.
During that same period, four employees were criminally prosecuted, and 13 employees resigned or were fired. Other investigations were still pending.
From 2017 to February, drugs were intercepted in mail six times.
Methods used to get, or attempt to get, drugs into prisons include balloons, a basketball, concealment in various body cavities, a bra, wig, waistband, plastic baggies, baby powder and deodorant powder containers, and ready-to-heat food pouches matching products sold in prison commissaries.
Drugs have also been found in the spine or binding of mailed books and clear liquid compounds of synthetic cannabinoids have been sprayed onto predesignated pages of a book.
In other incidents this year:
On June 9, a visitor to the Pocahontas State Correctional Center was found to have eight concealed Suboxone strips and a small strip hidden under a ring on her finger.
A visitor to the Fluvanna Correctional Center for Women was caught with 25 Suboxone strips on June 8.
On May 26, a relative of an inmate at the Augusta Correctional Center was caught attempting to smuggle 10 Oxycodone tablets hidden under their dentures into the prison.
On May 17, at the Red Onion State Prison, the state's most secure facility, 44 Suboxone strips were found concealed in a package addressed to an inmate.
At the Haynesville Correctional Center on May 5, the staff stopped a visitor found to have three packages concealed in her bra. Two packages contained a brown leafy substance and the third held a white powdery substance.
On April 27, a female visitor to the Fluvanna Correctional Center for Women was arrested after she was found in possession of 47 Suboxone strips and an Oxycodone tablet.