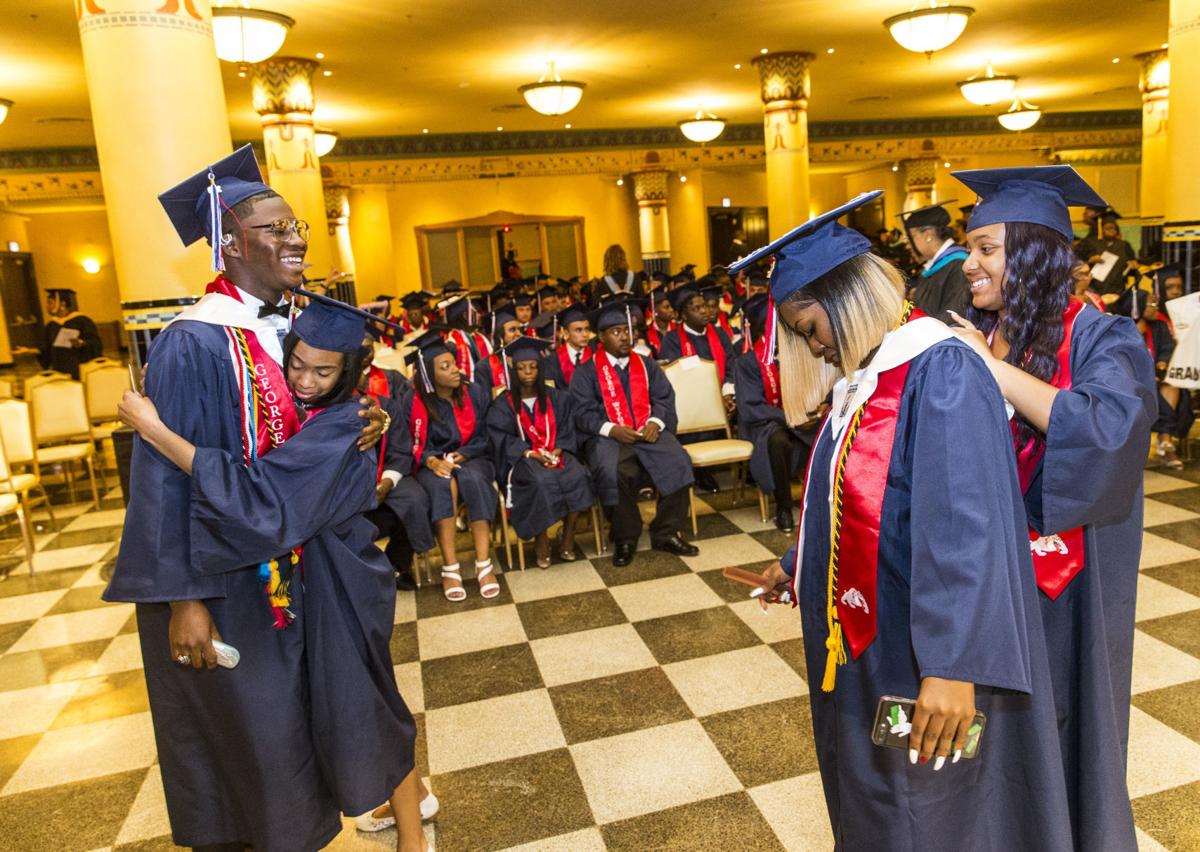 Only 1 in 10 Richmond high school students is ready for college and a career, a sobering new statistic for a school system already in possession of the state's lowest graduation rate.
"It's devastating," said Superintendent Jason Kamras, who took over the school system last year. "We, the adults, have failed our kids for years."
The 10% number is a slight improvement over the 9% rate the school system had in the 2017-18 school year, according to the data from the College Board, the company most known for its administration of the SAT and PSAT.
The statistic was revealed at Monday night's School Board meeting, part of a presentation on the division's five-year strategic plan.
The system's previous plan, which expired in 2015, also made college and career readiness a goal. The current School Board is receiving presentations on all 10 goals and specific benchmarks.
PSAT scores for each subject range from 160 to 760. All RPS sophomores and juniors take the PSAT.
For 10th-grade students, the college and career readiness benchmark for reading and writing is 430 and 480 for math. It's 30 points higher in both subjects for 11th-graders.
Students who meet those standards have a 75% chance of earning a C or better in an introductory college class, according to the College Board's description of the benchmark.
"It is important to note that college readiness is a continuum — students scoring below the SAT benchmarks can still be successful in college, especially with additional preparation and perseverance," the College Board said.
Jaslee Carayol, a spokeswoman for the College Board, said: "We believe that with the right support all students can become college and career ready."
Asked for data for Chesterfield, Hanover and Henrico counties, Carayol said the company doesn't share that data publicly.
Statewide, 44% of students meet the benchmarks, according to the Richmond presentation.
"We need to do better," Cheryl Burke, who represents the city's 7th District, said Tuesday. "Students have needs across the board that we have not addressed. This is an opportunity to make it right."
Fourth District board member Jonathan Young called it a "very disappointing and depressing" statistic.
"Finally we can demonstrate with empirical evidence that RPS has failed our students and our families and our city," he said.
The school system is hoping to more than double the rate from 10% this past school year to 22% in 2022-23, the final year of the turnaround plan approved by the city School Board last year.
City schools also have graduation rates far below the statewide average.
Just 3 in 4 city seniors graduated on time last year, a rate 16 percentage points below the state average, while 1 in 5 students who started ninth grade in 2014 dropped out, according to data from the Virginia Department of Education.
Slightly more than half (52%) of students from that graduating class went on to college, according to federal data.
Once they get to college, though, many Richmond students are not finishing.
Roughly 2 in 5 of the RPS alumni who go on to college earned a years' worth of college credit within two years of their high school graduation, according to federal data for the graduating class of 2015 for the city's five comprehensive high schools.
Only 14% of that year's total class earned at least 30 college credits, the National Student Clearinghouse reported.
"We need to meet students where they are so they can be successful," said School Board Chairwoman Dawn Page. "We need to stop using poverty as an excuse that our children cannot learn."
Less than half of low-income students in the city go on to college, according to the federal data.
While Richmond is using the College Board's statistic to measure college and career readiness, the state is preparing to launch its own.
New standards approved by the Virginia Board of Education in 2017 include the College, Career and Civic Readiness Index as an indicator for whether a school will be accredited. That factor, though, won't be effective until the 2022-23 school year.
The state's measure for college and career readiness looks at advanced classes (Advanced Placement, International Baccalaureate and dual enrollment) and career and technical education, among other things.
The school system hopes its strategic plan can right the ship.
Part of that five-year plan includes drastically shaking up secondary education, creating themed middle and high schools that focus on such topics as biology, technology and engineering. The cost for that initiative is pegged at $28 million, part of the $150 million plan.
"There is no silver bullet," Kamras said. "It's a lot of very hard things that take time just like we have in the [strategic] plan."
The RPS administration said it will update the board annually on college and career readiness once it has received data from the PSAT taken in October. There will also be a midyear update after the March SAT for juniors.
Graduation rates for the Class of 2019 are tentatively scheduled to be released at the end of September, a state Education Department spokesman said.
(804) 649-6012
Twitter: @jmattingly306