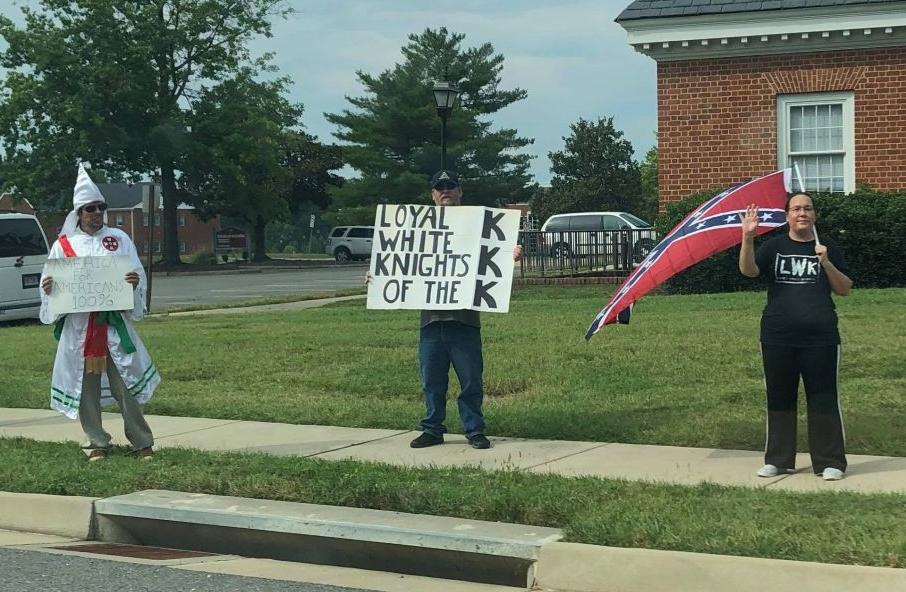 An unambiguous expression of revulsion at the assemblage of a white supremacist hate group should be an easy lift.
Yet Hanover County Board of Supervisors Chairman W. Canova Peterson — not unlike Donald Trump after the horrors of Charlottesville two years ago — cannot seem to pull it off.
Ku Klux Klan members, some in robed regalia, conducted a recruitment drive Saturday at the county government complex on U.S. 301. The North Carolina-based Loyal White Knights of the Ku Klux Klan must view Hanover as fertile ground.
Peterson says he rejects the Klan's message, and for meeting that low bar, we sigh in relief. But he has appeared more intent on defending the Klan's First Amendment rights than denouncing them or lending comfort to Hanover's black and Jewish residents or anyone traumatized by a visit from an outfit rooted in domestic terror.
"I 100% support citizens of this community and country being able to express their opinions — as long as they do it peacefully," he said Saturday.
Brazen acts of intimidation aren't peaceful.
Monday, Peterson called the KKK appearance "a very small gathering" of about a dozen people, argued that "it certainly wasn't a Klan rally" (too small, no burning cross), and noted that "all their faces were exposed."
In August 2017, the absence of masks among those tiki torch-carrying white supremacists in Charlottesville didn't make the weekend less menacing or deadly. A month earlier, the Loyal White Knights held a rally there.
Saturday was a reality check, even for a county with a reputation for racial intolerance.
In the aftermath, county leaders should ask themselves why Hanover was a magnet for hate.
Peterson emailed a Letter to the Editor, with copies to Richmond Times-Dispatch reporter C. Suarez Rojas and several newsroom editors, in response to an article in Sunday's newspaper, saying " white supremacy is in no way condoned by me or anyone else in Hanover's leadership."
That's a dubious claim. Hanover's School Board voted last year to preserve the names of schools honoring the leaders of a Confederate nation based on white supremacy and the preservation of slavery.
A school board member who supported name changes at Lee-Davis High and Stonewall Jackson Middle schools was ousted. Meanwhile, the Confederate battle flag was prominent at Saturday's KKK gathering.
Black residents make up just under 10% of Hanover's population — a figure that's held steady as Henrico and Chesterfield counties have become more racially and ethnically diverse.
"It's hard for me to understand how my folks bought land and built our home out there 35 years ago that set me and my brother up for so many educational and economic opportunities that we may not have had otherwise," said Alexsis Rodgers, a Hanover native who now resides in Richmond.
"And yet, these emboldened extremists continue to make the county so unappealing for me to ever consider moving back or eventually taking over our family home," said Rodgers, president of Virginia Young Democrats.
Sunday, the Hanover County NAACP called on the board to "speak out against the mythology of racism and its accompanying rhetoric and replace it with a message that unites us around justice and the truth."
Shannon Lewis confronted the Klan members Saturday, posting a video on Facebook.
A year ago, she learned she was Jewish and that her great-great-great-grandfather, Gustavus Poznanski, was a pioneer of Reform Judaism in Charleston, S.C.
She was infuriated that the Klan members "felt comfortable here, that they felt safe to stand on Hanover County's government property. I didn't want them to feel welcome."
Peterson doesn't seem particularly bothered that the KKK held court at a government complex where residents of all faiths and hues transact business.
"I don't agree with anything they stand for. But I do believe in the freedoms guaranteed by our Constitution," he said Monday. Freedom "can't just be for the righteous and the noble."
Asked what he disliked about the Klan, he said, "the entire history of the organization. ... It's a very divisive organization from my standpoint and not one in any way that supports the America that I know and love."
"Divisive" is a milquetoast description of the Klan. Ashland Supervisor Faye Prichard, in a Facebook post, called the outfit "a despicable hate group" whose display was unwelcome. But Peterson was disinclined to express his disdain in stronger terms.
"If you hate them, you're a hate group too," he said of the Klan.
Peterson asserts that white supremacy is not condoned by him or any Hanover leaders.
I'd feel better if he were less tolerant of intolerance.