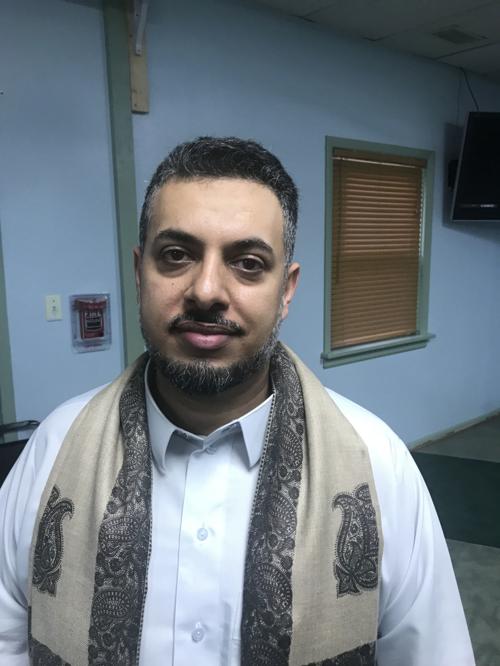 Bashir Al-Asad of North Chesterfield described himself as "a proud member of a great and productive Yemeni-American community."
Thursday evening, before a standing-room crowd at the Islamic Center of Virginia, Al-Asad — a U.S. citizen who has lived in this nation since age 10 — described a Yemeni-American community whose history nearly traces back to the U.S. Civil War. Its ranks fought and died in world wars, worked automobile assembly lines, steel mills, factories and farms and "are trying to live the American dream and make this dream a reality for their families."
But in the wake of the Supreme Court's ruling upholding President Donald Trump's ban on travel from several mostly Muslim countries, it is their families back in war-torn, blockaded Yemen who are occupying the minds of local Yemenis. More than 8 million children in Yemen are on the brink of starvation, said the 39-year-old Al-Asad.
Many Yemeni-Americans have relatives who cannot escape this humanitarian crisis because of the travel ban. Many spent their life savings applying through legal channels of the immigration system but are stuck in limbo, he said.
"This ban and the Supreme Court decision has turned this long nightmare into a very long and ugly reality," Al-Asad said.
Members of the Richmond area's Muslim community, joined by their non-Muslim allies, gathered in Bon Air to receive information, ask questions and discuss next steps at a meeting held by the Islamic Center of Virginia and the American Civil Liberties Union of Virginia.
In addition to Yemen, provisions of the ban affect Iran, Libya, Syria, North Korea, Somalia and Venezuela. And yes, the gathering was told, that list of countries could grow.
Jennifer L. West, an immigration lawyer and a partner with the Richmond firm of Roth Jackson, said she learned at a panel discussion earlier this month that only about 800 waivers to Trump's ban proclamation had been approved nationwide.
"It feels like an impossible standard," West said at the meeting. "And I know if it feels like an impossible process for me as an advocate, how much it feels like that for the families that are directly affected."
Imam Ammar Amonette of the Islamic Center of Virginia said earlier Thursday that hundreds of individuals in the area are directly affected by the ruling.
"It's creating additional anxiety for just about everyone," he said. "It's just reaffirming sort of this tendency of profiling that's been going on for a while but seems to be increasing. And it empowers these people who have negative feelings to act out."
He said the meeting's goal was to make sure the community's voices were heard and to put faces to the story.
"I think these events have pushed people to get more involved and participate more in the political process. That's probably the silver lining there: Folks are becoming more interested and active," he said.
Imad Damaj, outreach committee chairman with the Islamic Center of Virginia, had said before the meeting that a goal was "to educate and inform and also to build community relations and to build bridges."
The ban is exacerbating humanitarian crises on a regional scale but also on intimate levels. Damaj described a woman — a U.S. resident — who is being prevented from bringing her ailing mother to America to treat her brain cancer.
"The whole decision is very unfortunate because it elevates legal formalities" while not addressing "the clear issue, which is the prejudice behind the presidential executive order," Damaj said.
"To be honest with you, the history of the ban itself tells you that the ban was not simply an orderly exercise by the president to protect the homeland," he said. "Clearly religious animus was behind all this."
Indeed, it has been pointed out that this ban is of dubious value in keeping us safe and would not have prevented the most serious realized and attempted acts of terror in recent times. The selected nations are questionable. If this is about terrorism and keeping us safe, how could you leave off Saudi Arabia, whose nationals were the primary perpetrators of the 9/11 attacks?
Before the meeting, Claire Guthrie Gastañaga, executive director of the ACLU of Virginia, observed the inconsistent role that religious animus played in the Supreme Court's rulings regarding the travel ban and an earlier decision regarding a Colorado baker who refused to prepare a same-sex wedding cake, citing religious reasons.
In the "cake maker case," the Supreme Court's majority accused the Colorado Civil Rights Commission of displaying hostility toward Christianity. But Trump's well-documented anti-Muslim statements were dismissed by the majority of the court.
"If a government official expresses an animus toward Christians, the Christian is protected," Gastañaga said in citing the double standard. "But if they express an animus toward Muslims, it's irrelevant." The court, she said, reached diametrically opposed positions "in terms of protection of religion."
Where we've landed should look familiar, and not in a good way. The court has stumbled and bumbled into familiar terrain that won't be a good look when the history books are written.
Gastañaga cited the 1857 Dred Scott decision, in which the enslaved Scott's attempts to sue for his freedom and that of his family were rejected on the grounds that he "had no rights which the white man was bound to respect."
The 1944 Korematsu case ruled as constitutional the executive order that sent Japanese-Americans to internment camps during World War II.
"It's obviously gone from a situation in which the African-American community lived with for years under Dred Scott, the Japanese-American community lived with under Korematsu, and now the Muslim community lives with under an opinion that renders them second-class citizens," she said.
As in Korematsu, "we're doing the same thing all over again in this case" in allowing "discriminatory animus and fear to support a national security decision for which there's no evidence that it was actually based on national security."
An immigrant, in holding fast to the American dream, appears to understand a nation built on religious freedom and immigrant strivings better than a majority of our highest court.
"Mr. President, you may have won this round. But you will never, ever win this fight," Al-Asad said. "Because you are on the wrong side of history."
(804) 649-6815
Twitter: @RTDMPW