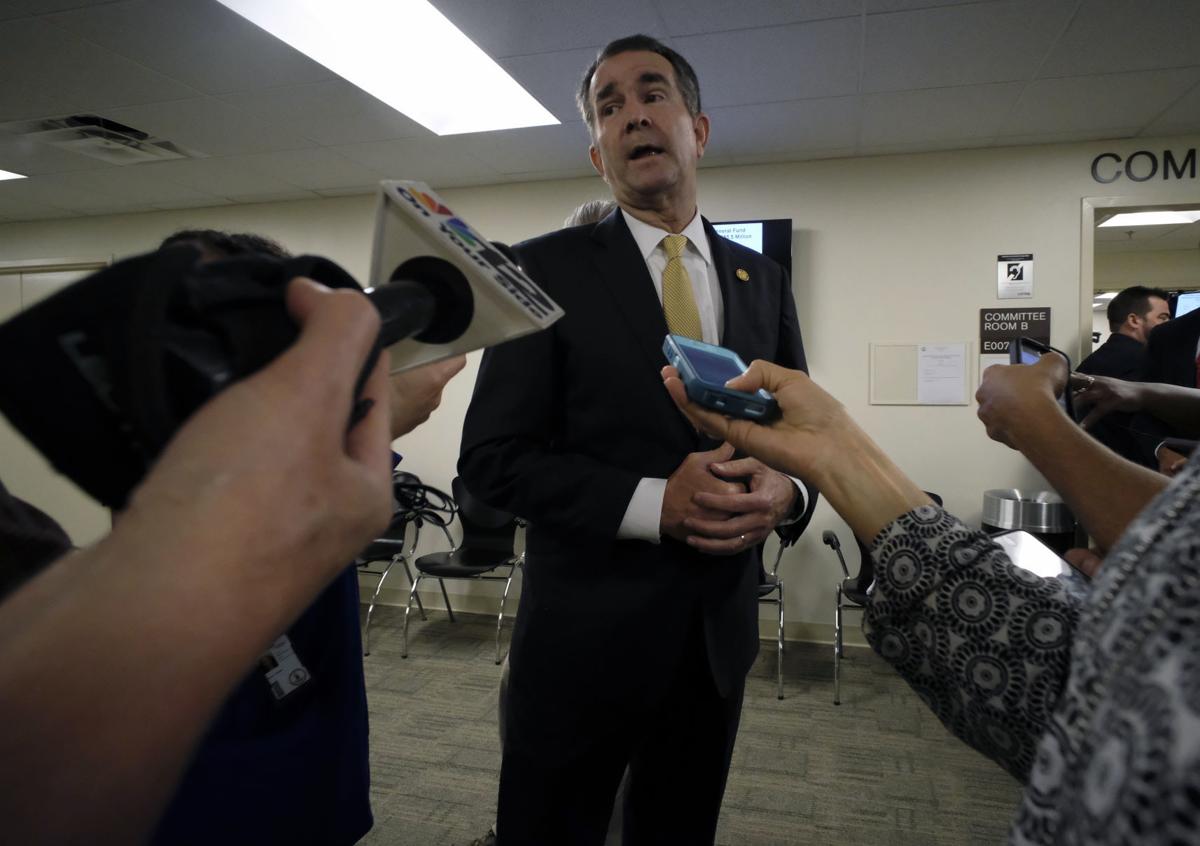 Virginia was counting on a big boost in revenues in April to meet its budget obligations, and the state got it.
Total state revenues rose 27.4 percent last month — an increase of $569 million over the previous April — riding a 40 percent surge in estimated income tax payments, a drop in taxpayer refunds and a modest comeback in sales tax collections.
With the May 1 income tax filing deadline behind and half a month of revenues in the bank, Gov. Ralph Northam and his staff are confident Virginia will have the revenues to meet both the spending obligations in its revised budget and a new requirement to return $420 million this fall to taxpayers who paid more to the state because of federal tax reforms.
"We're going to make it," Secretary of Finance Aubrey Layne said in an interview Wednesday.
Adoption of the Tax Cuts and Jobs Act in late 2017 posed a budgeting challenge for state officials and the General Assembly, which adopted a package of tax policy changes to account for higher state income taxes, primarily from individuals who switch from itemizing their deductions to claiming the standard deduction on their 2018 federal and state tax returns.
Northam said Wednesday that total state general fund revenues increased 6.2 percent through April, tracking slightly ahead of the annual forecast of 5.9 percent growth from the same period a year ago.
"This is the first month of the all-important fourth quarter of the fiscal year, and I am pleased with the strong results," the governor said. "While the individual estimated and final payments that were due May 1 still need to be processed, we are currently on track to allow supplemental individual refund checks to go out later this fall as specified in the enacted budget."
The chairmen of the General Assembly's budget committees welcomed the news, which they said they expected.
"I never had any doubts VA would hit its revenue targets," Senate Finance Co-Chairman Tommy Norment, R-James City, said in a text message. "Now, we just need to exercise some fiscal discipline."
House Appropriations Chairman Chris Jones, R-Suffolk, called the latest revenue outlook "good news for taxpayers."
"The refunds will proceed as scheduled, and we'll continue to build our cash reserves," Jones said.
Most of the April increase — almost $354 million — came from income taxes not withheld from paychecks, which generally represent 19 percent of Virginia's general fund revenues. Those taxes are collected from self-employed individuals, investors and noncorporate businesses on a quarterly basis, with final payments due May 1.
Nonwithholding tax collections through April still lag the annual forecast by 8.5 percent, but Layne said revenues already received this month put the state on track to meet the predictions by a Northern Virginia consultant whose report was the basis for state budget and tax policy actions this year.
"I believe the administration gave the legislature good information about what was going to happen on these tax issues," the finance secretary said.
Virginia also returned about $40 million less in refunds in April than it did in the same month last year, while collecting 7.4 percent more in income taxes withheld from paychecks this year, the state's primary source of revenue. "We got it both ways," Layne said.
Sales tax collections also recovered in April after a decline in March, rising almost 3 percent. Through April, sales tax revenues have grown 3.4 percent over the first 10 months last year, but they still lag the annual forecast of 3.7 percent.
Layne said sales tax collections have been helped by the real estate markets in the Richmond and Northern Virginia areas, but he doubted the state would realize much more in new revenue from internet sales that previously weren't taxed.
Despite the apparently strong finish to this fiscal year, the finance secretary tried to lower expectations of flush revenues for the next two-year budget, which the governor will propose in December.
Income withholding tax revenues are tracking close to the annual forecast of 3.8 percent growth, but with the unemployment rate at 2.9 percent and wages stagnant, he doesn't see much room for growth in the next biennium.
"We're not going to trend much higher than this," Layne said.