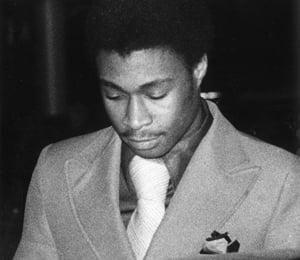 The two prosecutors who won convictions of the Briley brothers spoke on behalf of the killers' accomplice yesterday in a closed meeting with a member of the Virginia Parole Board.
Robert J. Rice, now a criminal defense attorney, and Warren Von Schuch, still a Richmond-area prosecutor, talked with Rudolph C. McCollum Jr., a former Richmond mayor who sits on the parole board, for about 30 minutes at the board's offices in Richmond.
The two attorneys emphasized to McCollum that convicted killer Duncan Eric Meekins, by testifying against the Briley brothers, might have stopped the gang's notorious 1979 murder rampage in Richmond and Henrico County. Meekins is being considered for parole.
"Had Meekins just been quiet and not cooperated, then the city of Richmond was going to have a whole lot of problems on their hands," Rice said after yesterday's meeting.
Meekins, now 45, has been in prison for nearly 30 years and now is held in an out-of-state facility under an alias for his protection.
He is serving a term of life plus 100 years for killing Harvey W. Wilkerson and for his role in two other murders and two robberies. Rice and Von Schuch say Meekins killed another man but wasn't prosecuted for that crime.
Among the four of them, Meekins and the Briley brothers -- Linwood, James and Anthony -- were responsible for at least 11 slayings in the Richmond area in 1979.
Meekins was 16 when police arrested him and the Brileys in October 1979. Meekins' testimony led to the convictions of all three brothers. Linwood and James were executed within a year of their escape from prison in 1984, the largest successful death-row breakout in U.S. history.
Anthony Briley is serving a term of life plus 139 years. He has been denied parole 10 times and is up for consideration again this year or next year.
Without Meekins' testimony, Rice says, he and Von Schuch wouldn't have gotten the two capital-murder convictions.
They also say Meekins has maintained good behavior in prison. His only known offense, Rice said, was trying to make a three-way phone call.
From the outset, Rice and Von Schuch told Meekins that, in exchange for his truthful testimony, they would advocate for him when he came up for parole. Rice said they never guaranteed Meekins that he would be granted parole.
"I think the prosecutors did what they had promised to do in terms of advocating as promised," McCollum said after yesterday's meeting with Rice and Von Schuch. "I think they did that with great integrity and great passion and great competency."
The last killings attributed to the Briley gang took the lives of Wilkerson, Judy Diane Barton and their 5-year-old son, Harvey Wayne Barton, in their home in Richmond's Highland Park on Oct. 19, 1979.
Meekins and two of the Brileys raped Judy Barton. Meekins fatally shot Wilkerson, and James Briley killed Judy Barton and the boy.
Wilkerson's nephew, Robert Jones, recently contacted the parole board to oppose Meekins' release and voiced outrage that anyone would speak on the inmate's behalf.
Jones, a 43-year-old Texas resident, was living in New York at the time of the killings and said he frequently visited the Wilkersons. He said he had planned to visit them two days before they were murdered, and he believes that he, too, would have been killed if he hadn't stayed home with tonsillitis.
Meekins has been denied parole six times since 1993.
McCollum and the four other governor-appointed members of the parole board will be voting in the next several weeks on whether Meekins should be released. Board members vote electronically, one after another.
Four of the five members must agree to release Meekins.
"It's a case that the public is more interested in than most," McCollum said. "But for the board, the process is the same."
---