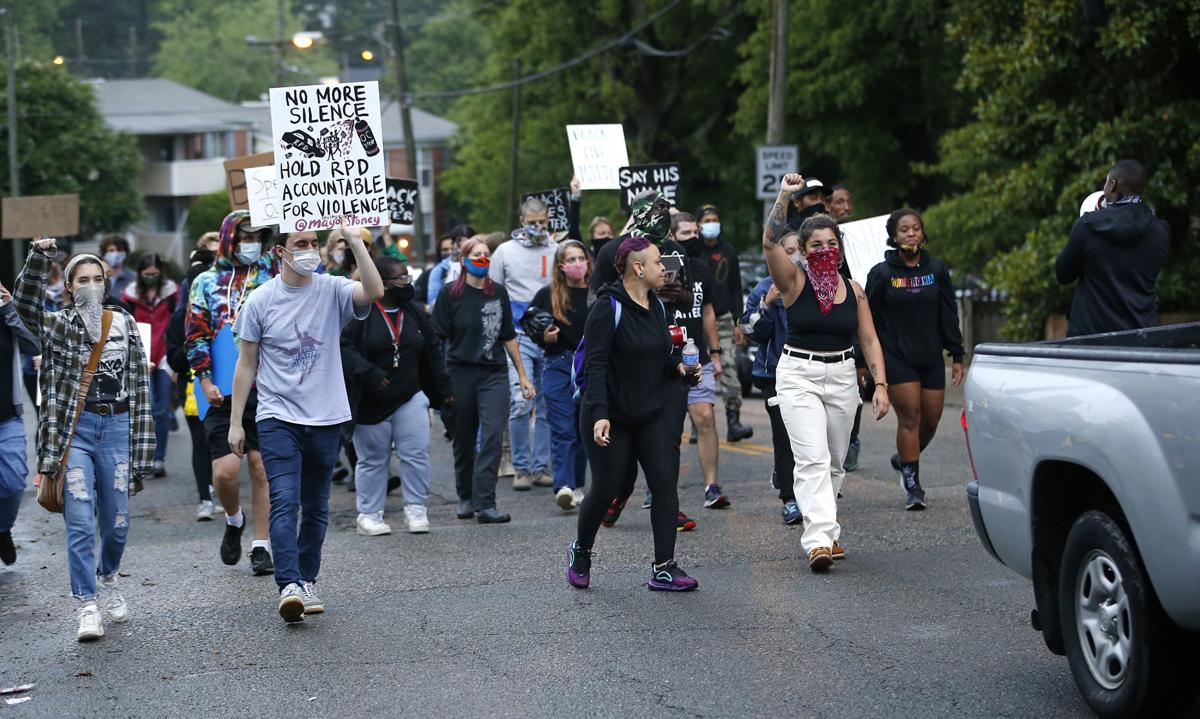 Crystal Jones clutched her chest tightly on her porch Wednesday evening, holding back tears as she watched protesters stream by her Dunston Manor apartment in South Side.
"Finally," she said. "Everybody's finally seeing what a lot of black people have been seeing for years."
Activists took over Forest Hill on Wednesday afternoon in smaller clusters than in nights past, but the crowd remained hearty enough to draw residents to their doorsteps to watch.
As they entered the 19th day of action following the Minneapolis police killing of George Floyd, protesters counted their victories: the firing of Richmond's chief of police, William Smith; the murder charge for an Atlanta police officer in the killing of 27-year-old Rayshard Brooks; the relentless protests that Floyd's death prompted against the systemic racism that has long pervaded American life.
They're not giving up until they see sweeping change.
"They're killing people," one organizer said, as rain poured onto his jacket. "I can take a little water."
The onset of drizzle coated the block-party atmosphere organizers set up, but the nearly 60 people trickling in off Forest Hill Avenue were unfazed. They passed out water and snacks while checking in on one another.They hunched over picnic tables to scribble last-minute signs.
"End white silence," said one sign.
"Housing is a human right," said another.
The group gathered at Forest Hill Park intentionally, to remind people who once owned the land: William Byrd III. Byrd, who owned and sold slaves, sold 1,730 acres —including the 105 that is Forest Hill Park today — in 1768.
The area remains a predominantly white neighborhood, with pockets of black communities strewn throughout.
"Nobody talks about what happened on the same ground we are now here on," an organizer said, adding it was time to wake up the neighborhood.
Weaving through the marchers, video camera in hand, Maria Warith-Wade was documenting history.
A film student at the University of Southern California, Warith-Wade boarded a plane three days ago to come home and film a documentary in Richmond on redlining, a form of housing discrimination that has pushed black communities out.
"Redlining still plagues Richmond [and has] for decades now," said Warith-Wade, who's been out every night since and plans to attend all protests through the remainder of the month. "Redlining plagues our school systems, food access [and] public housing.
A product of Henrico County Public Schools , Warith-Wade, 26, spent the first 15 years of her life in the area. She recalled funding of Henrico's school system , noting that resources varied greatly between the county's east and west ends.
Rather than focusing on Los Angeles or another California city, Warith-Wade traveled across the country because "Richmond is home [and] black people will continue to be pushed out of Richmond."
Defunding the Richmond Police Department is the first step various organizers say is needed to overhaul a police system that disproportionately impacts black people, and one already taken in cities such as Los Angeles. The Minneapolis City Council announced June 7 its intent to dismantle the city's police department and reallocate those police funds into schools, housing and mental health programs in black communities.
Gov. Ralph Northam told reporters on Thursday that he doesn't support either of those options and offered other police reforms, such as body-worn cameras.
But after tense standoffs in recent days that have seen Richmond police arrest a black youth organizer on felony charges, fire tear gas, flash bombs and pepper spray into a crowd of protesters, protesters say police alternatives are long overdue.
Sue Zechini, who has lived in the area since 1985, agreed. She lived through the uprisings that occurred after the beating of Rodney King at the hands of police in 1991 and the killing of Latasha Harlins by a shop owner the same year. This outrage isn't new, and it's a conversation she's glad people are having.
As the crowd, which remained a steady 60 people throughout the march, looped back to Forest Hill Park, Zechini cheered.
"We're so happy," she said. "We're all supporters of justice … There's a lot of support in this neighborhood for the movement. I want it to keep going."
(804) 649-6103
Twitter: @sabrinaamorenoo
(804) 649-6023