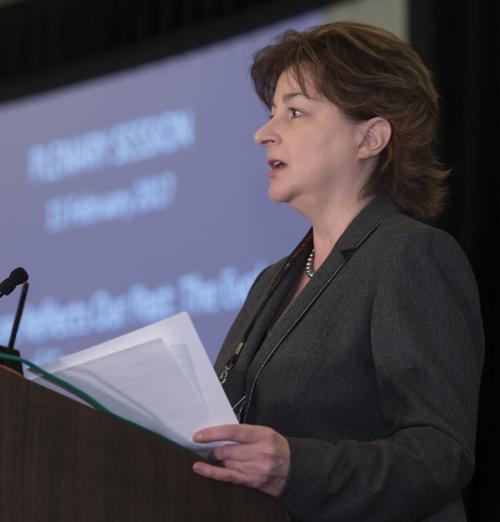 Richmond lawyer Betty Layne DesPortes has taken office as president of the American Academy of Forensic Sciences, the first criminal defense lawyer to ever hold the position.
DesPortes, who has a master's degree in forensic science, was sworn in at the academy's annual meeting in New Orleans last week. She is the seventh woman to serve as president of the 6,700-member, 70-year-old organization.
A fellow in the academy, she has served on the AAFS board of directors since 2007 and on the Forensic Science Foundation since 2009, including serving as chairwoman from 2013-16.
Among the honors she has received are the Kenneth S. Field Award of Appreciation for Outstanding Service to the AAFS Staff and the Harold A. Feder Award, AAFS Jurisprudence Section, in 2014.
DesPortes is a fellow of the American Board of Criminal Lawyers as well as a member of the National Association of Criminal Defense Lawyers and the Virginia Association of Criminal Defense Lawyers.
She has been an adjunct professor at the University of Richmond School of Law and is the managing author of Scientific Evidence in Civil and Criminal Cases (seventh edition in production) with Andre A. Moenssens and her law partner, Steven D. Benjamin.
She served on the American Bar Association's Task Force on Biological Evidence as a representative of the National Association of Criminal Defense Lawyers and on the ABA Task Force on the Presentation of Forensic Science Evidence.
She is the managing partner of the Richmond law firm, Benjamin & DesPortes, P.C., and was named one of Virginia Lawyers Media's "Influential Women of Virginia" for 2014.
DesPortes has also worked for reform of Virginia's indigent defense system and is committed to improving indigent defense forensic resources.
In 1996, she obtained a landmark Virginia Supreme Court decision recognizing the constitutional right of an indigent criminal defendant to expert forensic assistance.
DesPortes received Bachelor of Arts and Bachelor of Science degrees with honors from the University of South Carolina Honors College in 1989, a law degree from the University of Virginia School of Law in 1992, and a master of science degree from Virginia Commonwealth University in 1993.