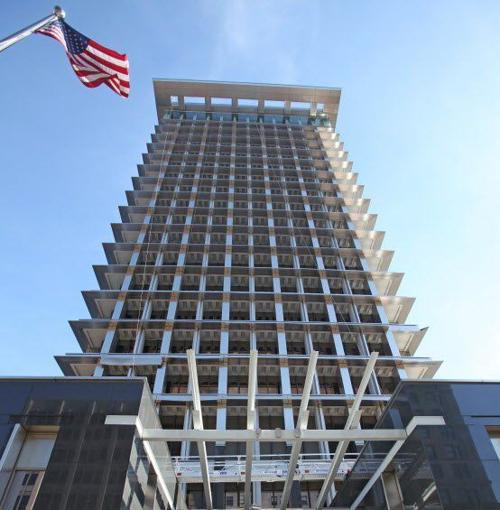 With an annual budget proposal due to the Richmond City Council in the first week of March, city officials are working out how to bridge a projected $37.5 million gap for the city's next annual budget.
It has been almost a year since Mayor Levar Stoney scaled back his budget proposal for the current fiscal year by nearly $40 million to $744 million, cutting plans for employee raises and new hires as the COVID-19 pandemic took hold.
In a presentation to the City Council on Monday, administration officials said real estate tax revenue growth should be enough to meet $4.7 million of the additional $5 million requested by the city's school system for its proposed $341 million budget for fiscal 2022.
The city, however, could find itself in a difficult financial position in the coming months, as expenditures are expected to increase next year by $33.1 million to $777.2 million while overall tax revenue is projected to fall by $4.4 million to $739.6 million.
"Other local taxes are declining due to the pandemic, which will leave extreme deficits and challenges to fund other city services and operations," said Jay Brown, the city's budget director.
The disparity in anticipated revenue and expenditures underscores the pandemic's impact on the economy and consumer-based tax revenue sources, such as restaurants, concert venues, hotels and breweries, which officials have cited as key to the city's economic successes before the pandemic.
More than 50 restaurants in Richmond closed by the end of 2020.
The city has allocated millions in aid to residents and businesses using federal CARES Act funding it received last year. A new $900 billion federal relief package approved in December, however, did not include new funding for localities.
Still, the city is trying to soften the blow for local businesses and residents. On Monday, the council passed a tax amnesty ordinance that waives penalties and interest on prior past-due bills for real estate, lodging, meals and admissions taxes.
Officials said an increase in the city's debt payments — which currently total $75.3 million and are expected to grow by $2.2 million annually through 2026 — and $10.7 million for an underfunded employee retirement program are expected to drive expenditures.
An auditor recently recommended that the city significantly increase funding for the retirement program.
Other "must do" expenditures included in the projections presented Monday show rising costs for health care services, contractual agreements, security upgrades and software fees.
The proposed budget for Richmond Public Schools includes a 2% raise for teachers, but the city's financial projections do not include any bonuses, raises or salary adjustments for its employees. The projections also assume the continuation of a hiring freeze that went into effect last spring.
"The projected shortfall will only increase if any one or more of these items are added to the projections," Brown said in an email Tuesday.
Brown said that the mayor's administration is legally obligated to bring forward a balanced budget for the council's consideration, but he did not provide any specifics about potential strategies for bridging the funding gap.
Councilman Michael Jones, who represents the 9th District in the city's South Side, declined to say whether the funding gap could require the city to consider job layoffs or service cuts.
In an interview Tuesday, he said that he's more concerned at the moment with the limited availability of vaccines in the city, particularly in Black and Hispanic communities south of the James River.
"You need to look at the fact that this pandemic has hit our city hard. We all knew this was coming," he said. "I'll be honest, as long as people are dying from this, my main worry is human life."
Officials stressed that Monday's presentation on the five-year revenue and expenditure projections, which is required annually before Jan. 31, was based on early estimates that could change.
Fourth District Councilwoman Kristen Larson said projected budget shortfalls at this stage are fairly common.
For the fiscal 2020 budget, city officials estimated in early 2019 that there would be a $15.1 million shortfall with expenditures at $735.5 million. A few months later, City Council members adopted a $747 million budget.
The city also projected a $17.2 million shortfall in 2018 before adopting a balanced budget.
Larson said this year's projected shortfalls seem more ominous.
"My fear is it will actually come to fruition where other times it didn't," she said.
An extended five-year forecast shows that annual expenditure increases will slow down in subsequent years to an increase of less than 1.5% each year.
Tax revenue is expected to rebound to pre-pandemic levels by 2023, but officials are still anticipating annual funding gaps between $5.5 million and $17 million through 2026.