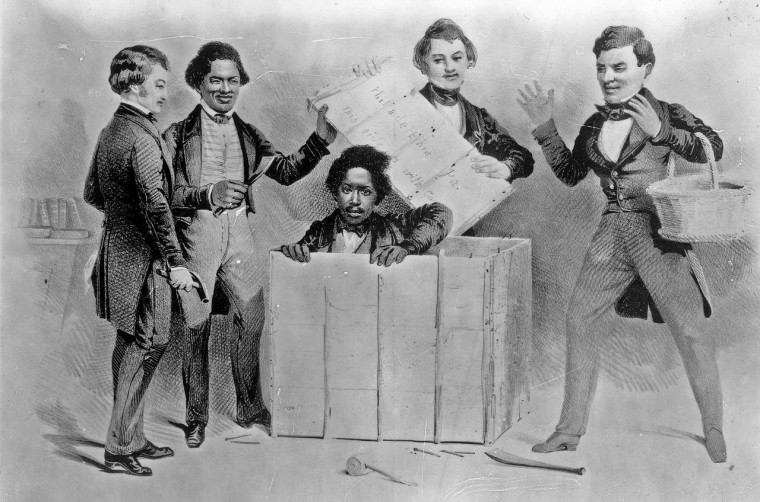 Virginia is recognizing the remarkable story of Henry "Box" Brown, who escaped slavery by mailing himself in a wooden box to Philadelphia and later lectured on the evils of slavery across New England and in Great Britain.
Brown is being honored with a historical marker in Louisa County, where he was born into slavery in either 1815 or 1816. He resorted to his unique escape from enslavement after his wife and children were sold in 1848 to another master in North Carolina, according to Encyclopedia Virginia, an online publication of the Virginia Foundation for the Humanities.
Despondent, Brown conspired with a free black man to hire a white shoemaker to construct a wooden box 3 feet long and 2 feet wide. Brown was then shipped as dry goods by steamboat and train to Philadelphia.
Brown later wrote of his nearly deadly passage to freedom.
"I felt my eyes swelling as if they would burst from their sockets; and the veins on my temples were dreadfully distended with pressure of blood upon my head," he said, according to Encyclopedia Virginia.
The box with Brown in it was delivered to the Philadelphia office of the Pennsylvania Anti-Slavery Society. "I had risen as it were from the dead," Brown wrote about his 26-hour confinement.
In freedom, Brown appeared before the New England Anti-Slavery Convention in Boston and performed on the stage, singing hymns.
Fearing his return to the slave-holding South under the newly enacted Fugitive Slave Bill, Brown sailed to England, where he also toured and told of his flight to freedom. He also was a hypnotist, performing as "King of all the Mesmerisers."
Brown ultimately remarried and returned to the United States in 1875, performing as a magician under the name "Prof. H. Box Brown." He is believed to have died in 1889.
Brown's exploits are detailed in abbreviated form on one of 13 historical markers approved by the Virginia Department of Historic Resources. More than half are devoted to African-Americans.
The other markers commemorate:
Daniel Webster Davis, a black clergyman, lecturer and author who attended public school in Richmond after the Civil War and later taught school for more than three decades.
Samuel L. Gravely Jr., a Richmonder who became the first African-American naval officer to command a warship under combat conditions. He was also the first African-American to command a numbered fleet and to become an admiral.
Ebenezer Baptist Church, also in Richmond, which was founded by free blacks and slaves. It dates to 1857.
Morgan v. Virginia, in Middlesex County, recognizing a lawsuit arising from Irene Morgan's refusal to give up her seat on a bus to a white passenger. Morgan was black.
Naval Actions on Wilton Creek and the Rappahannock River, marking Civil War battles, also in Middlesex County.
Community of Grove, in James City County, which was settled by refugees and freed blacks.
Blockhouses near Jamestown, marking an attack by Paspahegh Indians on the perimeter of Jamestown, killing soldiers stationed there.
Black educator Frank Trigg, who was a teacher and principal in Lynchburg for 22 years.
Cornelia Storrs Adair, the first classroom teacher elected president of the National Education Association. The marker will rise at her alma mater, the College of William and Mary in Williamsburg.
Petersburg's Weddell-McCabe-Chisholm House, where Confederate veteran, educator and civic leader Capt. W. Gordon McCabe lived from 1865 to 1895.
Laura Lu Scherer Copenhaver, in Smyth County, author, Lutheran lay leader and businesswoman.
Lafayette at Corbin's Bridge, Spotsylvania County, where Marquis de Lafayette and his army of more than 3,000 Continental soldiers encamped.