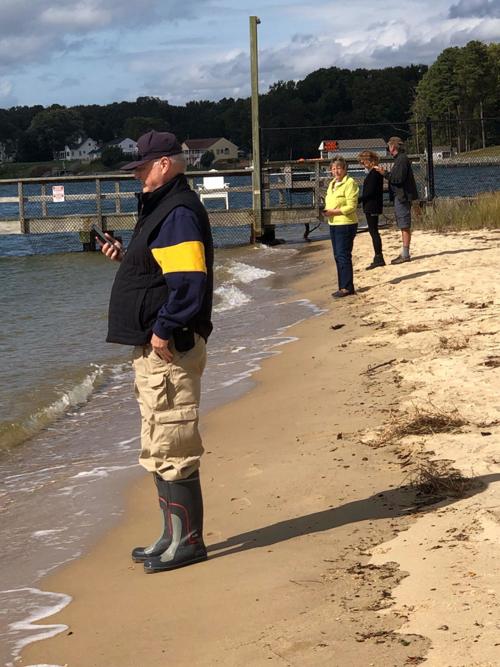 When volunteers head out to map the growing reach of Virginia's tidal flooding, one of the obstacles can be the water itself.
Tami McCauley and a neighbor, both Kilmarnock-based members of the Northern Neck Master Gardeners, set out in a skiff last Sunday to map the year's highest tide at Hughlett Point on the Chesapeake Bay near Ditchley.
"We couldn't land the boat there because there was no beach," McCauley said.
Despite the day's quiet, beautiful weather, the water line advanced straight into the marshes at the natural preserve and limited their survey to a smaller stretch of beach than they'd planned for.
"It was dramatic how high the tides were," McCauley said.
Roughly two dozen other gardeners-turned-tide mappers in McCauley's group fanned out on boat ramps, creeks and beaches from Tappahannock to Colonial Beach on Oct. 18, some following the path of high tide by car.
Their simple taps on a smartphone app gradually traced the footprint of the Northern Neck's King Tide, or the highest local astronomical tide of 2020.
The "Catch the King" project, now in its fourth year, saw other volunteers ranging from Girl Scouts to members of a fitness class gather 27,700 GPS points of high water between the Potomac River and Hampton Roads. The nonprofit group Wetlands Watch oversees the initiative, which earned a world record for largest environmental survey in its inaugural year.
Though the COVID-19 pandemic curtailed the recruitment of mappers this year, many past participants returned and managed to scope out new flood-prone spots.
The Virginia Institute of Marine Science, one of several institutions that support the annual effort, uses that backyard-level data to improve the accuracy of its sophisticated computer model that projects future flooding.
On an interactive map on the VIMS website, the participants' paths along the water line can be compared to the model-predicted inundation area.
Before the smartphone era, an undertaking like this would have required a daunting investment in specialists, time and money.
Now, Karen Duhring, coastal scientist and one of the coordinators at VIMS, can remotely help the volunteers and track their flow of tide data in real time.
"This is an opportunity to ground truth that model and see if we're missing places," Duhring said. Ground truth means verifying the performance of a simulation with real-world observations.
The model is already used by emergency managers to anticipate which areas will be threatened by big coastal storms.
"They're in very close alignment to the model which gives us some assurances that the model is trustworthy," Duhring said.
Short-term rises preview long-term change
The particular alignment of the Earth, the sun and the moon made last weekend's tide the highest astronomical tide of the year, popularly referred to as the King Tide.
Though wind and storms will push water even higher at other times, the King Tide is the highest level that can be predicted well in advance based on the tug of gravity.
Fall is typically the favored season for it here, and another period of higher-than-normal tides will occur in the Mid-Atlantic from Nov. 14 to 18, according to the National Oceanic and Atmospheric Administration.
The resulting inundation has been a growing nuisance in the past decade, and is also a preview of what routine high tides will look like later this century.
A combination of natural and human influences causes Virginia to have one of the highest rates of sea level rise on the Eastern Seaboard. In Norfolk, the mean sea level has gone up 18 inches in the past century. It's now rising at a steeper rate of nearly 2 inches per decade and will accelerate further as the warming planet causes more ice to melt and the ocean's volume to expand. The land itself is subsiding, which makes the baseline upward creep of global sea levels more problematic.
As seas rise, surge from hurricanes and nor'easters will also reach farther onto dry land than before and put more homes, roads and critical infrastructure in jeopardy.
But in years to come, these sunny day coastal floods are also bound to become more frequent.
In 2019, the tide gauge at Windmill Point had a record 17 high tide flood days, up from an average of two in 2000. NOAA's latest projection shows 15 to 25 flood days there by 2030, and 45 to 160 by 2050.
Preparing for a wetter future
Last Thursday, Gov. Ralph Northam joined state and local officials in Norfolk to unveil a five-point plan aimed at addressing Virginia's vulnerability to rising waters.
Starting in early 2021, the state will have a dedicated source of funding — about $50 million a year — to help localities prepare for sea level rise and flooding.
An advisory committee will now be formed to help develop a master plan that includes a list of high-priority projects and how to pay for them.
The projected rise could potentially inundate 846 buildings and 24 miles of roadway on the Northern Neck by 2060, according to an analysis cited in the state's report.
Hampton Roads faces the greatest property exposure of any region in the state, with 12,022 buildings and 180 miles of road projected to be inundated in 40 years.
Just as the time and magnitude of the high tides vary across Virginia's 10,000 miles of shoreline, so, too, the rates of change are expected to vary in the future.
Getting a good lay of the land helps with plans to deal with the future consequences of rising water.
The partnership between VIMS and community groups like the Northern Neck Master Gardeners shows that the risks — and solutions — don't stop at the shoreline.
A group of master gardeners is trained to visit coastal property owners and teach them how plants can combat erosion and manage water upland.
"I think when you start seeing less beach or less accessible land on your property, that gets people's attention," McCauley said. "That's how and why people ask us."
Though the pandemic has canceled their in-person educational activities, the group now manages a virtual help desk at nnmg.org.
Climate change threatens the Northern Neck in other ways. Rising water tables interfere with septic systems. Heavier rainfall doesn't run off roads as easily, and what it carries can harm the health of the watershed. Historic sites and recreational refuges face further encroachment.
A project like Catch the King doesn't just collect valuable data, according to Duhring, it also fosters a network of neighbors who can educate one another about changes in their backyard.
"They want to do something. They want to help. They want to be part of the solution," Duhring said.
During last October's King Tide, the volunteers' enthusiasm for science withstood foul weather. This year, veteran mappers returned even though COVID-19 concerns hampered training sessions that could have expanded their ranks.
Next year, the coordinators hope to collaborate with more people, businesses and local governments to catch King Tide data farther up the James River toward the Tri-Cities region.