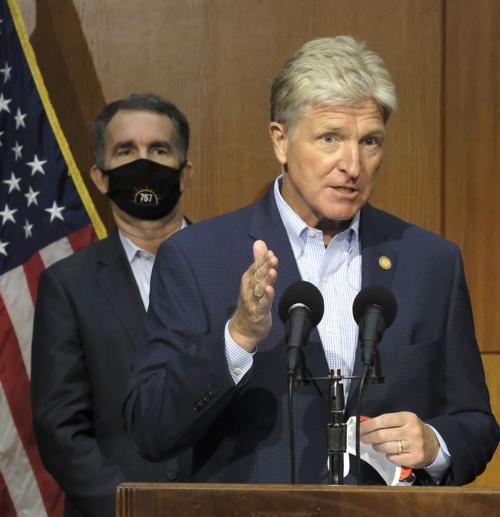 Senior staff members in Gov. Ralph Northam's administration questioned the power of Virginia's watchdog agency to investigate the Virginia Parole Board during an ongoing investigation and reprimanded Inspector General Michael Westfall for how many investigations his office was conducting during a tense meeting last summer.
A recording of the meeting obtained by the Richmond Times-Dispatch conflicts with the governor's previous account that his team did not intimidate Westfall and his staff.
The 71-minute recording of the Aug. 14 meeting also shows that Northam's chief of staff asked Westfall if the Office of the State Inspector General planned to investigate Republican lawmakers for releasing to the press a copy of an OSIG report that concluded the parole board violated state law and policies in releasing Vincent Martin, who was sentenced in 1980 to life in prison for killing a Richmond police officer.
Under questioning from the governor's team, Westfall promised that his agency would not look into new complaints about the parole board but would instead forward them to the governor's office.
"Well," Westfall told his team after they left the meeting. "I'll be honest with you, in the back of my mind — you know, no rumor starting — but this is the type of stuff that leads to me getting a new job. Against my will. And I'm fine with that. I knew that when I took the job."
While the purpose of the meeting was to discuss OSIG's handling of the Martin case, Westfall told the governor's staff that OSIG already had seven other reports in the works related to parole board misconduct. The meeting took place about a week after the Martin report was made public.
Brian Moran, Virginia's secretary of public safety and homeland security, said in the meeting that the governor's office would not concede the parole board had done anything wrong in the process used to release Martin.
"I don't think they've violated any policies, and this thing is entirely prejudicial," Moran told the OSIG investigators of their findings. He later said: "You're being used as a political tool, is all my conclusion is. I mean, you guys walked right into it."
Moran declined to be interviewed for this story, referring an inquiry to Alena Yarmosky, press secretary to Northam. She said Friday that the governor maintains his staff did not intimidate or attempt to intimidate OSIG during the meeting.
Moran's side, according to the recording, included one of his deputies, Nicky Zamostny; the governor's chief of staff, Clark Mercer; and at least one other person whose identity in the recording is not clear. Westfall was joined by at least two of his investigators.
In Virginia, it's legal to record a conversation as long as the person recording is part of it.
The Office of the State Inspector General was created in 2012 to investigate waste and "identify inefficiencies in executive branch state government."
The office oversees a state fraud, waste and abuse hotline.
The parole board is now immersed in an ongoing scandal after OSIG found violations of policy and law not just in how the board handled the Martin case, but in at least seven other cases in which convicted killers were released on parole.
Moran asked Westfall, who reports to the governor's office and was appointed by Northam, how his agency had authority to examine something like whether the parole board had met the requirement to notify a commonwealth's attorney that an inmate had been paroled.
"What is waste, fraud, and abuse about that?" asked Moran, referencing topics OSIG investigates. "In fact, it's not in this report — waste, fraud, and abuse. You didn't find any waste, fraud, and abuse."
Moran added: "How did you even get into this?"
Westfall said OSIG received hotline complaints.
"So you think [state law] gives you the ability to review any agency's policies, and whether or not they're following it?" Moran asked.
"Per our counsel, yes, sir," Westfall replied. He said he consulted with the attorney general's office to make sure he had that power.
"Really? Wow," Moran said.
Mercer, Northam's chief of staff, said in the meeting that he had received a tip that employees at the parole board were unhappy about inmates being paroled, and those employees made complaints to OSIG.
Mercer said a person from a police association told him, "We're gonna make this hell for you. And we're gonna use someone in the parole board, on staff, to do so."
Westfall said OSIG needed to do its due diligence and investigate regardless of who made the complaint. He said complaints are almost always anonymous.
But Westfall then said his agency would stop investigating new complaints about the parole board.
"At some point, piling on isn't gonna do any — any good," he said. "We're not going to be taking on any more cases that folks bring in. We'll be referring those over to your office."
Moran then questioned the number of reports OSIG was already working on during its ongoing investigation.
"You think seven are sufficient, though?" Moran said. "One isn't, three isn't, six aren't, but seven?"
The governor's staff said some of the information about Martin appeared to make Martin look bad and was not relevant to the process under which he was paroled.
"The way it was written also speaks to the way that it was investigated, and brings into question, for me, whether you all were objective and unbiased in your report," said Zamostny, at the time a deputy secretary of public safety under Moran. She is now policy director for Terry McAuliffe's gubernatorial campaign. "I'm just putting it straight out on the table. I think that this is prejudicial, and it sets the tone for the rest of the report."
And they asked why positive information about Martin's record was not included.
"Anybody reading this immediately gets 'this is a bad guy,' " Moran said.
Westfall said he respected their opinion, but OSIG's actions were vetted by their legal counsel in the attorney general's office.
"Could it be written differently?" Westfall said. "Yes, it could be written differently."
"This was in the press," Moran said. "And then just to write this, and the way it was written, knowing how it would be received, and the disservice it would be on the parole board and us. ... I don't know how you can defend that, Mike."
Mercer noted that Sens. Tommy Norment, R-James City, and Mark Obenshain, R-Rockingham, shared the report with the media.
"Are they gonna get dinged?" Mercer asked.
Westfall said in the meeting that investigating lawmakers would be outside his agency's purview because OSIG investigates the executive branch.
The governor's team and the OSIG team disagreed over OSIG's findings.
"You all spent over 60 days researching [and] you got it wrong," Moran said.
"I guess we'll have a professional disagreement there," Westfall said. "Again, we relied on our counsel."
Moran replied, "Mike, come on," and Westfall responded, "What do you mean, come on?"
The OSIG report in the case noted that the victim's family scheduled a meeting with the parole board, "but neither Bennett nor any other representative from VPB honored this scheduled interview." Adrianne Bennett was the chairwoman of the parole board until last spring, when lawmakers made her a judge in Virginia Beach. Many of the cases being investigated center on decisions that the board made during her final weeks as chairwoman.
Moran said the wording was unfair to Bennett. "That's nasty," he said.
He said the parole board tried to reschedule the meeting.
But a parole board staffer who was interviewed by OSIG did not tell them that, said Jennifer Moschetti, at the time OSIG's lead investigator into the parole board. Bennett declined to be interviewed by OSIG. She has declined requests for interviews with The Times-Dispatch, as has Moschetti.
The governor's team said they were upset over how a quote was attributed in the OSIG report. They accused OSIG of moving beyond process and making findings about decision-making by the parole board.
"You're not reviewing policies and procedures anymore," Moran said. "You're getting into whether or not this person should have been released. And it's obvious."
Westfall replied: "I'll respectfully disagree with that."
"The thing I feel horrible for is Mr. Martin," Mercer said. "I mean, obviously, the first person I feel horrible for is the victim and their family. But ... Mr. Martin didn't do anything."
"He's out there now under a cloud of — for the rest of his life — that there was a bunch of shenanigans to let him out of prison."
"No infractions since 1988 while in there," Moran added.
The meeting grew especially heated when the governor's team criticized OSIG for how it investigated the parole board's lack of meeting minutes.
"Mike, come on," Moran said again.
"I say come on to you, sir," Westfall replied. "I don't have any problem with this one at all."
Westfall added: "We can sit here and disagree all day. I stand by the work that our folks did."
He said he wouldn't have put his name on it if he didn't feel the findings were appropriate.
"Reasonable people, you know, unfortunately disagree every day."
Zamostny, the deputy public safety secretary, asked Westfall if the governor's office could see OSIG's draft reports.
Westfall said that work is confidential, but added, "I'll run it by our counsel." Zamostny declined to comment for this story.
As they were walking after leaving the governor's office, an OSIG investigator said she wasn't expecting what happened in the meeting.
"Where can we go to debrief real quick?" one said.
"We could have unleashed the kraken and we didn't," one of the investigators said. "I think there's a lot more we could have said."
Moschetti said, "That's why I'm like, 'Let's pull out the original version.' " That was an apparent reference to a longer, draft version of the report that had more information in it about parole board misconduct on the Martin case.
Another investigator replied: "I was thinking of that, too, but they are convinced they did nothing wrong."
Westfall shared his concern about being fired, then told his team not to let the meeting ruin their weekend.
Earlier this year, Moschetti provided records to lawmakers and filed a lawsuit asking for whistleblower protection. The reports show a pattern of violations that center on releasing inmates without first giving proper notice to state prosecutors or to victims' family members, who are allowed to provide input on the impact a release may have on them or the community before the inmates are granted parole.
Westfall fired her before the lawsuit could be heard. He has declined requests for an interview.
Yarmosky, the governor's spokeswoman, said there were several inconsistencies between OSIG's findings and the law.
"Ultimately, this issue is too important for partisan games," Yarmosky emailed Friday.
"That's why Governor Northam introduced and passed legislation to strengthen transparency at the Parole Board, and why Governor Northam called for and funded an independent investigation."
As approved by the General Assembly at a cost of up to $250,000, it will look at OSIG's "policies, process, and procedures employed during the investigation of the Virginia Parole Board's handling of the Vincent Martin matter."
(804) 649-6450
(804) 649-6061
Twitter: @patrickmwilson