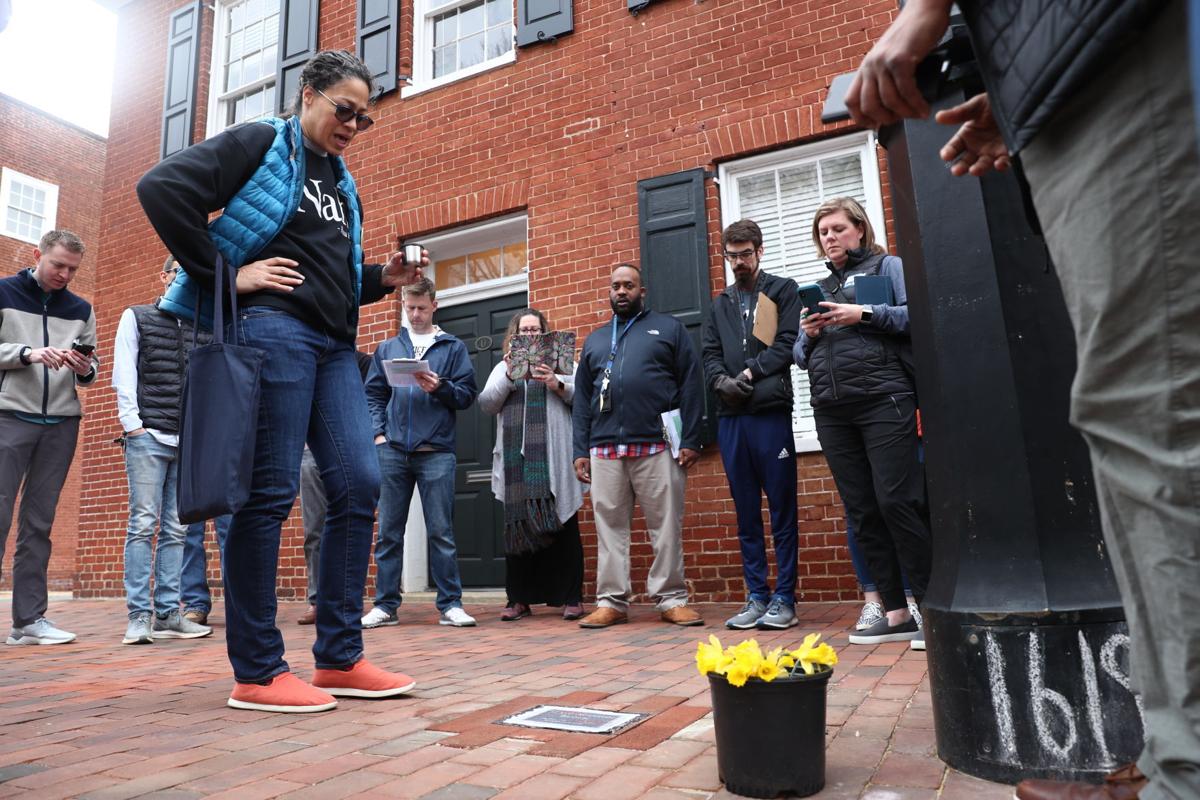 As Charlottesville reckons with a history of white supremacy and now-removed monuments to the Confederacy, historians are contemplating what the best course of action is to properly tell the story of the not-so-pretty parts of the city's past.
While the city's statues of Robert E. Lee and Thomas "Stonewall" Jackson were removed Saturday, city officials haven't made a decision about what, if anything, should go in their place. And the statues weren't the only symbols of white supremacy in Charlottesville.
Jalane Schmidt, professor of race and religion at the University of Virginia, thinks a lot about this in her work. She is the director of the Memory Project at UVa, which aims to promote research, develop curricula and programming and create opportunities for public engagement to address issues of public memory, memory conflict and memory politics in the wake of the white supremacist violence that came to Charlottesville in August 2017.
Schmidt is also a member of the city's Historic Resources Committee, and independently led historical tours of the Confederate statues downtown alongside Andrea Douglas, director of the Jefferson School African American Heritage Center and an art history professor at UVa.
Enslaved laborers were bought and sold in Court Square at a slave auction block in front of the Albemarle County Courthouse throughout Charlottesville's history through the Civil War. The block is no longer in place. A plaque that read "Slave Auction Block" and "on this site, slaves were bought and sold" previously was installed in the sidewalk at the site.
In February 2020, the plaque was stolen by Richard Allan, an Albemarle resident and amateur local historian. He was charged with grand larceny and possession of burglarious tools, but pleaded guilty to one count of misdemeanor destruction of property in a plea agreement after helping to recover the plaque. He was sentenced to 90 days in jail, all suspended, and 25 hours of community service.
Allan said he removed the plaque and disposed of it because he felt its wording and placement were offensive.
"I did not remove the plaque for any reason other than that I thought it was offensive to a significant section of the community, which I have been told in no uncertain terms by community leaders," Allan said at the time.
Though it was recovered, the marker was not put back in place. An unauthorized replacement plaque was installed by someone, but the city later removed it.
Some community members have placed homemade, temporary markers at the site.
"We started a year ago, in February 2020. It was a public engagement process of talking with descendants. We had a couple of meetings, and then everything got shut down by COVID," Schmidt said.
Due to the pandemic, the Historic Resources Committee didn't meet again until December.
"A couple of months ago, we said, 'well, let's get this going again.' On behalf of the committee, I reached out to descendants and we had a series of three meetings over the last couple of months," Schmidt said.
"This was greatly assisted by a couple of descendants, especially Myra Anderson and the Reclaimed Roots Alliance of Descendants and DeTeasa Gathers and the UVa Descendants of Enslaved Communities. They both have very graciously reached out to their networks to send out announcements about these meetings," Schmidt said.
Schmidt said the committee has seen good attendance from descendants in these Zoom meetings, which have included people from across the country and beyond.
"These are people who are the descendants of enslaved folks from Charlottesville and Albemarle County," she said. "Some of them were Zooming in from as far away as Toronto and upstate New York."
Schmidt and committee members surveyed descendants to see what would be an ideal process for creating some kind of monument at the slave auction site.
"What we heard from descendants was, go slow, don't be in a hurry to do something," she said.
Descendants also said the committee should hold numerous meetings at different dates and times to allow people with various work schedules to attend.
"Descendants said that they really wanted the humanity of the enslaved to come through. That was really important for them," Schmidt said. "Bring the enslaved out of the shadows, they deserve to be humanized, we need to hear their voice."
"I kind of had the feeling that I was the fly on the wall at a family reunion," she said.
Schmidt said that many of the descendants on the Zoom call realized they had ancestral connections to each other.
She said the committee has been working with some limited records of enslaved laborers from the area.
"There is a great recording of a formerly enslaved man from Charlottesville that was recorded in the 1940s. He recounts the auctions at the courthouse going on and how they split up families. We literally have an audible recording of his voice," Schmidt said.
"In addition, there's the letter of Mrs. Maria Perkins. She was a literate, enslaved mother who was writing to her husband saying, 'please find a buyer for me right away because they already sold my son Albert away and they're taking me to the courthouse next week.' And then he just disappears from the historical record. So we do have some words from actual enslaved people to draw from," Schmidt said.
Schmidt said that some of the descendants encouraged the development of an educational component to accompany any monument or physical marker.
Schmidt and Douglas held their last tour of the Confederate statues on Memorial Day. They aim to give participants greater historical context to the white supremacist origins of the statues through tours.
The tours specifically focused on the context of the statues in relation to Charlottesville's Black community, particularly how the statues were erected in parks that were only open to white people.
"Dr. Douglas estimates we've had over 1,000 people … I think it's made a difference and people say, 'you know what you said, it really made me think, it changed my mind about some things. It really moved me.' So I think it's made a difference just in terms of educating the community, and that's why Dr. Douglas and I do them," Schmidt said.
"They're free of charge, we have no registration, just show up, because we want to disseminate this information to the community. That's why we've been doing it, and I think it has made a difference or at least from what people tell me, I think it's shifted the conversation here locally in terms of how we think about public space and what should be going on there."
Now that the statues are removed, Schmidt said she would like to continue the tours but shift the focus to local African American history.
Schmidt wants the City Council to make a decision soon about what should be done with the statues rather than allowing them to sit in storage.
"What's happened in Richmond and Baltimore and probably in other places, too, is the city takes down the statues and then they put them in storage. And they just sit there and it's a sense of moral stasis. It's like the city leaders have said, 'we recognize we own these public spaces, they're not expressing our values, they're inimical to democratic values. They're offensive, they're also a magnet for haters, so they're a public safety hazard, all these reasons, so we're going to move them and put them into storage.' And then they just sit there," she said.
"These questions grip me. We're just kind of putting this in a closet as it were. It's just sitting there, you know, kind of like you know if you have stuff going on in your life that's not real pretty and you just put it in the closet. That's not healthy. It's not healthy and it's not dealing with it; it's just hiding it."
Schmidt pointed to UVa's Memorial to Enslaved Laborers as an example of the kind of monument the city could put in place of the statues.
"If something similar happened with materials from one of these statues, that would be my dream. In that way, it's something new created from the old, it could be seen very clearly. The materials used to make this were formerly something that was very anti-democratic and was divisive in the community and brought a lot of trauma to the community. We have literally and figuratively recast it into something new that expresses our values — that would be my dream."
"To my knowledge, that hasn't really been tried, that's a very kind of ambitious sort of vision, but it's a heck of a lot more of an intervention than putting up a recontextualizing plaque or just sending the statue down the road to another community," Schmidt said.