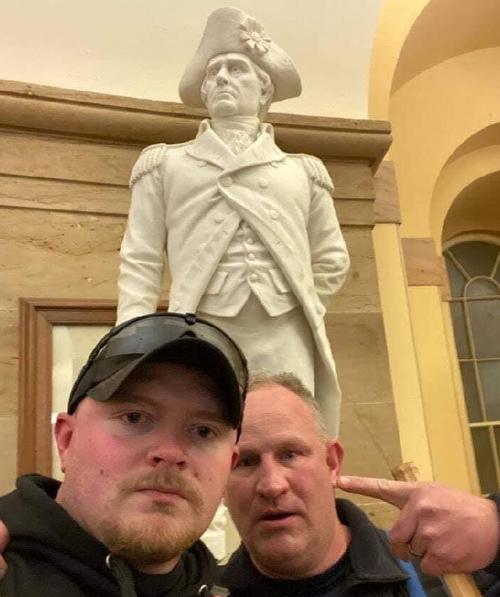 Two former Rocky Mount police officers charged with participating in the Jan. 6 riot at the U.S. Capitol have rejected plea agreements offered by prosecutors.
At a hearing Tuesday, Assistant U.S. Attorney Elizabeth Aloi did not say what concessions — such as a reduction of charges or a specific sentence — she had offered Thomas "T.J" Robertson and Jacob Fracker in exchange for pleading guilty.
Defense attorneys for the two men did not explain their reasons in detail, although Fracker has told authorities that he and Robertson were let into the Capitol building by police as it was being stormed by supporters of former President Donald Trump.
Aloi said she has seen no evidence of that, but prosecutors are still sifting through a huge amount of camera footage of the insurrection and will continue to look for new information.
"The government takes seriously its obligations," she said.
District Judge Christopher Cooper set a status hearing court date for Sept. 23 in Washington, D.C.'s federal court.
Robertson — whose involvement with firearms, explosives and social media led to his bond being revoked last month — was the first to turn down a possible plea agreement.
That left Fracker with no choice to make, as he and Robertson were offered a "wired" plea agreement, defense attorney Bernard Crane told the judge.
A wired plea agreement is offered when there are two or more defendants in a case, and it means that they all must accept the offer for it to take effect. The arrangement prevents one person from resolving their case and then testifying in a way that could benefit a co-defendant who chooses to go to trial.
While Fracker did not have an opportunity to decide for himself, there appears to be little indication at this point that he is considering a guilty plea.
Both men have said they simply walked inside the building, posed for a photograph in front of a statue of an American Revolutionary War hero, and then left peacefully.
Crane added a new detail Tuesday: Outside the Capitol building, Fracker helped a police officer who was being attacked by a demonstrator, pulling the man off the officer. The defense lawyer said prosecutors have yet to share any evidence in their possession that might support that account.
Prosecutors say they are combing through a "massive volume of data" from security cameras, news media footage, police body cameras, cellphone data, social media posts and more than 237,000 tips received since Jan. 6.
The government has contracted with a private company to help compile a database and organize the evidence so it can be provided to defendants through the discovery process, according to court documents.
Mark Rollins, Robertson's attorney, said he was no longer willing to wait and asked Cooper to schedule a trial date. The judge declined, saying he first wants to get another update at the September hearing.
More than 570 people from across the country have been charged with participating in the insurrection.
Members of Congress, who were meeting to certify an election won by President Joe Biden, fled from the mob, which coalesced shortly after Trump encouraged a large crowd of supporters to "fight like hell" against an election he claimed was rigged against him.
More than 30 defendants have pleaded guilty as of Aug. 6, according to the U.S. Attorney's Office in Washington, D.C. With less than a dozen sentences handed down so far, it's too early to assess how the rioters have been punished.
But in revoking Robertson's bond last month, Cooper included in his 14-page order language from other federal judges who have found that insurrectionists should not get "special treatment" and no jail time just because they did not commit a violent act.
The judge also cited Robertson's comments on social media as evidence that he would pose a risk to society if left free.
Robertson and Fracker are charged with obstruction of an official proceeding, which is a felony, and the misdemeanor offenses of entering a restricted building and disorderly conduct in the Capitol. Both were fired from their jobs with the Rocky Mount Police Department shortly after their arrests.
During Tuesday's hearing, Aloi said the government is considering additional charges.
In a search of Robertson's home earlier this summer, law enforcement agents found an M4 rifle, a partially assembled pipe bomb, and fuses to hand grenades. The 48-year-old had been been ordered to have no firearms or explosives as a condition of his bond.
Authorities also learned that Robertson had ordered more than 30 guns from an online dealer, which Cooper said in his order could be grounds for new charges.
Aloi said her office is discussing that case with federal prosecutors in Roanoke, while also considering additional charges in U.S. District Court for the District of Columbia.
Even in cases that do not involve violence, the government says in court papers, "every single person charged, at the very least, contributed to the inability of Congress to carry out the certification of our Presidential election."