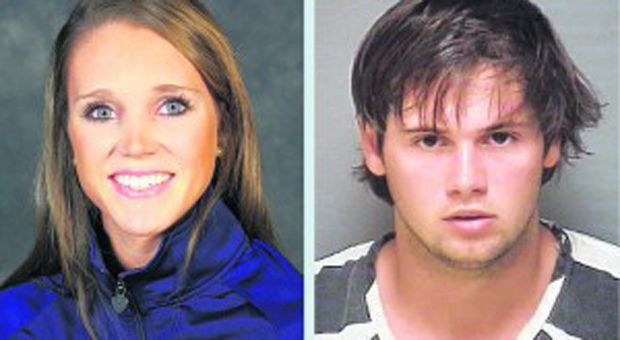 With direct appeals exhausted, counsel for George Huguely V argued during a virtual habeas corpus hearing Monday that his Sixth Amendment rights were violated during his 2012 trial and that his conviction should be vacated.
Huguely, a former University of Virginia lacrosse player, was found guilty in Charlottesville Circuit Court in 2012 of second-degree murder in the slaying of Yeardley Love, who also played lacrosse at UVA and was Huguely's on-again, off-again girlfriend. She was found dead in her apartment in May 2010, weeks before she and Huguely were set to graduate.
In the years since the trial, Huguely has attempted to appeal the case in several instances, and in 2015, he appealed the case up to the U.S. Supreme Court, which refused his petition on his claim that the circuit court denied his right to counsel by forcing him to proceed in the absence of his retained counsel of choice.
With direct methods of appeal exhausted, counsel for Huguely in April filed a writ of habeas corpus — a court order demanding that the director of the Virginia Department of Corrections deliver a prisoner to the court and show a valid reason for the person's detention. The writ, filed in the U.S. District Court for the Western District of Virginia, alleges a swath of Sixth Amendment violations.
The filing argues that the court should vacate Huguely's conviction and sentence or order an evidentiary hearing. This latest attempt comes after a writ of habeas corpus was denied by the Charlottesville Circuit Court in 2018.
During a virtual hearing Monday in Charlottesville federal court, Huguely's attorney, Jeffrey M. Harris, outlined his client's argument, focusing largely on claims made by a juror that the jury panel consulted a dictionary for the definition of malice.
According to Harris, the issue of malice is critical due to the disagreements between the prosecution and defense over the cause of Love's death. The prosecution argued that Love's death was caused by a traumatic brain injury she sustained from Huguely while the defense argued she died from positional asphyxia, caused by sleeping face down on a wet pillow.
Given this competing evidence, Harris said the issue of whether Huguely acted with malice was effectively the difference between second-degree murder and manslaughter.
"From day one in Charlottesville there was highly inflammatory and highly inaccurate coverage of this case that was suggesting it was an intentional and brutal altercation," Harris said. "But we would submit that the actual evidence just flatly contradicts that."
The couple had been close, despite their "ups and downs," Harris said, and it was inconceivable to Huguely that the altercation they had could have led to Love's death.
Malice and how it is defined became "the whole case," and so an affidavit from one of the jurors claiming that the jurors were brought a dictionary and looked up the definition is a point of particular concern, Harris said. Outside influence like a dictionary could have swayed or prejudiced the jury, he argued.
"If they had looked at an external influence to figure out what malice means, that goes directly to literally the key issue that the parties argued and that was put before the jury," he said.
Attorney Leah A. Darron pointed on behalf of the prosecution to a ruling from Charlottesville Circuit Court Judge Richard E. Moore who found the affidavit not to be credible.
According to the juror's affidavit, the juror did not know who asked for the dictionary, did not know who read from it, did not know what the dictionary looked like and did not know what happened to it after they finished reading it, Darron said.
Additionally, Darron said all the other jurors who filed affidavits claimed there was no dictionary and no court officer recalled the jury asking for a dictionary or taking a dictionary to the jury.
"Even if you look at these four circuit cases that have been discussed, this juror did not present competent evidence or present a credible allegation of outside influence and Judge Moore made a factual determination on the claim that it simply just didn't happen," she said.
Another issue raised by Huguely's habeas is the argument that his Sixth Amendment right to effective counsel was violated due to trial counsel violating a rule on witnessing.
Per Harris' argument, trial counsel violated the rule on witnesses — which prohibits witnesses from hearing the testimony of other witnesses — by emailing defense expert Dr. Ronal Uscinski about the substance of the prosecution experts' testimony. As a result, the trial court refused to allow Uscinski to testify.
Uscinski was crucial to Huguely's defense and the argument that Love's death was the result of positional asphyxia, Harris said. Similarly, the defense failed by not calling another expert to testify, Dr. Jack Daniel.
Daniel likely wasn't called because he was copied on the same emails as Uscinski and would have presumably been excluded from testifying for the same reason, Harris said.
Addressing the Daniel argument, Darron said the decision by Huguely's counsel not to call Daniel was a tactical decision and thus not a violation of any constitutional rights.
"They made a tactical decision not to call him as a witness because he could do more harm than good," she said. "Certainly, the calling of witnesses is left to the discretion of the trial attorneys and that, as Judge Moore wrote out in his opinion, is constantly changing over the course of the trial as the evidence comes in."
At the end of the approximately two-hour hearing, U.S. District Judge Thomas T. Cullen said he understood the need to issue a ruling quickly and anticipated he would issue one within a month.
Huguely also is named as a defendant in a 2018 wrongful-death lawsuit filed by Love's mother and sister. The suit seeks compensation for assault and battery, as well as punitive damages stemming from Love's death. The lawsuit is set for an April jury trial in Charlottesville Circuit Court, according to online court records.
Motions filed in that case on Huguely's behalf argue that, if deposed, he will invoke his Fifth Amendment rights and not answer certain questions regarding the facts and circumstances surrounding the death of Love because they could harm his federal habeas corpus petition.
Counsel for Love's family argued that he is not permitted to assert the Fifth Amendment because he has been convicted by a jury in the criminal case and has exhausted his direct appeals.
Per online court records, it does not appear the circuit court has ruled on these motions.