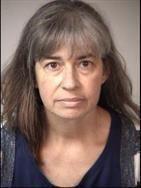 A Stafford County woman who burned her husband to death more than three years ago was ordered Thursday to serve 38 years and three months in prison.
Lisa Schulken Bartosch, 55, was convicted of first-degree murder in September 2019. The sentence handed down Thursday in Stafford Circuit Court by Judge Michael Levy represents the maximum active time she could have received as part of a plea agreement.
Scott "Chip" Bartosch was 51 when he died May 29, 2017, after being doused with gasoline and set on fire while sleeping 28 days earlier in his home on Devonshire Drive in the Hampton Oaks subdivision in Stafford. He suffered third-degree burns over more than half of his body, but was able to get outside and tell a neighbor that his wife set him on fire and was trying to kill him.
On his way to the hospital, Chip Bartosch told medical workers to tell his children and grandchildren that he loved them. He lost consciousness shortly after that and never regained it prior to dying in a Washington burn unit.
Lisa Bartosch was naked and carrying two knives as she pursued her badly burned husband that day, but was intercepted by a neighbor who took the knives away from her. The evidence showed that prior to that day, no one close to the family—including the couple's four adult children—were aware of any significant marital issues.
Other than issues raised about Lisa Bartosch's mental health, the only possible reason for the slaying that emerged during multiple court hearings was the fact that the couple's home had been foreclosed on and sold in March 2017.
Lisa Bartosch handled most of the couple's finances and Chip Bartosch was apparently unaware of the foreclosure. A hearing regarding their pending eviction from the home was scheduled the same day Lisa Bartosch set her husband on fire.
Lisa Bartosch was supposed to be sentenced in December, but that was delayed after Alexandria attorney John C. Kiyonaga replaced Terrence Patton as her representative shortly before the scheduled sentencing.
Kiyonaga attacked prosecutors Amy Casey and Lisa DiGiosia in court papers, asking that they be removed from the case. He also accused Patton of ineffective representation and asked Judge Levy to allow Bartosch to withdraw her plea, in part because of her mental health issues.
Levy denied the request Thursday, then immediately proceeded with the sentencing hearing.
Two of Scott Bartosch's children, his brother and a close friend gave emotional testimony prior to Levy's ruling. The children have made it clear that they want no further contact with their mother.
Michael Bartosch, the oldest sibling, said he grew up in a peaceful household with loving parents who put all four children through college. He and others said his father was particularly attentive to the children and their activities.
"You have no idea of the harm you have done to us and continue to do to us," he told his mother from the witness stand. "You scare the absolute hell out of me."
Emily Linhart, the youngest child, echoed her brother's sentiments.
"My biggest fear in life is you, Lisa," she said to her mother. "There is no excuse for your behavior."
Lisa Bartosch later responded with a brief statement in which she said she was sorry and "I love you all very much. I don't know what happened."
Kiiyonaga argued for a sentence at the low end of the state sentencing guidelines, which would have been just under 23 years. He pointed out that she had no prior criminal record and that her actions that day were totally out of character.
DiGiosia countered that Bartosch taught her children that actions have consequences and that she needed to pay for her actions.
"The enormity of this loss [on other family members] will be carried for the rest of their lives," DiGiosia said.
Levy sentenced Bartosch to a total of 51 years with all but the maximum amount of active time called for in the plea agreement suspended. He also ordered her to have no contact with family members unless the contact is initiated by one of them.