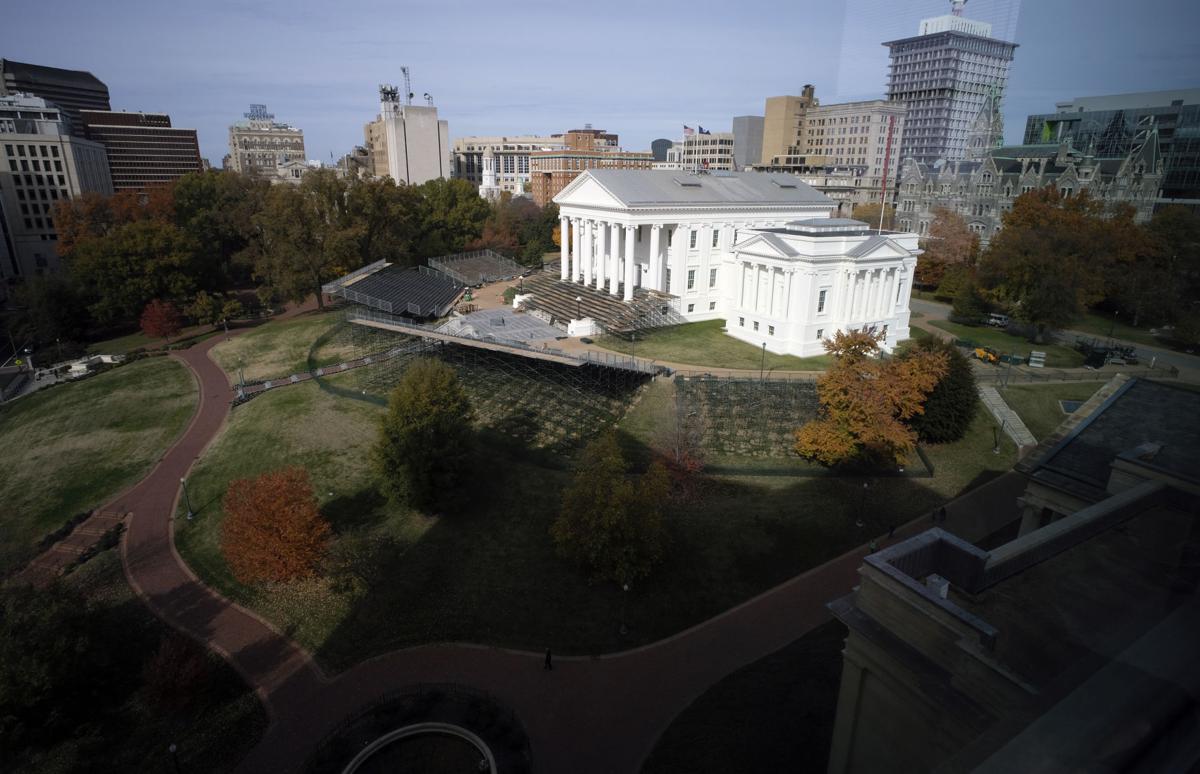 The fight for the Republican nomination for governor is emerging as a bellwether of the GOP's identity in the post-Trump era, and on Friday, voters were promised a colorful and crowded contest that will feature as many candidates as days of the week.
The Republican Party of Virginia confirmed that seven Republicans had filed paperwork and paid their fees to cement their position on the party's ballot ahead of its May 8 convention — one that will feature 37 voting locations but will relegate the decision to convention delegates, the GOP's most ardent members.
The candidates who will be on the ballot are Sen. Amanda Chase of Chesterfield, Del. Kirk Cox of Colonial Heights, former Pentagon official Sergio de la Peña, former think-tank CEO Peter Doran, former Roanoke Sheriff Octavia Johnson, entrepreneur Pete Snyder and former private equity CEO Glenn Youngkin.
Former President Donald Trump's influence on the race is already apparent in ads with his style and likeness. To varying degrees, all four perceived front-runners in interviews called into question election integrity — despite a lack of evidence that anything of the sort led to Trump's defeat.
With just weeks left in the race, the field of Republican fixtures and political newcomers has taken to criss-crossing the state amid a pandemic to secure support from local Republicans — ones better reached in person than with advertising.
Because of the ranked-choice nominating method — which will ask convention delegates to list their choices in order of preference — the task has become to at once lock down a base of support and energetically audition for second-fiddle.
"In a ranked-choice ballot, you want to be the person that everyone loves right off the bat. If you can't be that person, it pays to be everyone's second choice," said Christopher Newport University's Quentin Kidd, a longtime Virginia political observer.
Whoever prevails will be left with an uphill climb to the Executive Mansion, which no Republican has occupied since Gov. Bob McDonnell, who was elected in 2009. The Democratic field, also cemented Friday, includes former Del. Jennifer Carroll-Foy of Prince William, Del. Lee Carter of Manassas, Lt. Gov. Justin Fairfax, former Gov. Terry McAuliffe and Sen. Jennifer McClellan of Richmond.
The first entrant in the race, Chase, has long vied for the share of the party's base electrified by Trump — displaying the brash style that became his signature and going so far as to call for martial law to keep Trump in office.
If elected, she would do away with the state's mask mandate, assuming it's still in place; would use executive orders to weaken Democrats' gun control laws; and would call for a complete audit of the 2020 election. (She said an audit conducted by the Virginia Department of Elections was a "sham.")
Chase said in an interview that Trump is top of mind for Republicans on the trail and that her supporters "see me as the same persona, working for the people not the politicians, saying it like it is."
Chase attracted criticism in recent weeks from McClellan and from other leaders in the Virginia Legislative Black Caucus for seemingly racist comments suggesting that McClellan, because of her membership in the caucus, could not serve all Virginians equally.
McClellan responded by highlighting the record of the caucus in advocating for "progress" to the benefit of "every community" in the state. She also called the statements "tired dog whistles."
Chase is also unpopular with Republican leaders around the state, and in a rare move, was censured by her colleagues in the Virginia Senate in January after she expressed support for people who stormed the U.S. Capitol in January. (She later said her statement calling them "patriots" referred to people who demonstrated peacefully.)
Chase, who fought for a primary, said her unpopularity with party leaders makes her wary that the convention will be "rigged" against her. She pointed to the fact that the RPV's legal counsel, Chris Marston, is an adviser to Snyder's campaign. (In an interview, RPV Chairman Rich Anderson said he asked Marston to step back from convention-related activity until after May 8.)
"If it's a fair process, heck, I'll support the nominee. If it's not fair, I'll run as an independent," Chase said in an interview. "I've already collected my signatures to do that."
Considering Chase's appeal to Trump supporters, some recent endorsements for Snyder from the right of the party have been notable and position him as a potential threat to her core base of support.
Snyder was endorsed this past week by former Trump spokeswoman Sarah Huckabee Sanders, who is running for governor of Arkansas. Before that, he had received the support of Rep. Bob Good, R-5th, who rose to prominence for his opposition to same-sex marriage. Former Trump immigration official Ken Cuccinelli — a former state attorney general and the 2013 GOP nominee for governor — is a leader within his campaign.
Snyder, the CEO of Disruptor Capital, an angel investment firm, entered the race as an entrepreneur and outsider who made millions from the sale of New Media Strategies, a marketing firm that was a pioneer in social media advertising.
In an interview, Snyder said his message to voters on the campaign trail is focused on reopening schools closed during the pandemic and on "restoring the rights of law-abiding citizens," which he says, "have taken a back seat" under Democratic control in Virginia. He said Democrats' focus on criminal justice reform, "banning the scourge that is Styrofoam, to legalization of pot" does not reflect Virginians' priorities during the pandemic, like reopening schools and walking back restrictions hampering businesses.
(Gov. Ralph Northam recently signed legislation to enact a future ban on expanded polystyrene food service containers, sometimes incorrectly referred to as Styrofoam.)
Kidd said Snyder might wind up being the second choice of voters who support Chase — a candidate who is playing to the section of the party that is energized for Trump while assuring business-minded voters. On the other hand, he said, Chase is not as likely to be many voters' second choice — which puts her in a precarious position under the ranked-choice system.
"Snyder is trying to become Amanda Chase's supporters' second pick," he said. "If her supporters line up for Snyder next, that makes it a three-way race."
Del. Kirk Cox of Colonial Heights, a legislator for 30 years and a former speaker of the House of Delegates, is urging Republicans to look past May and to November when selecting their nominee.
Cox, a retired government teacher, is a more mild-mannered candidate than Chase and Snyder. In an interview, he said he has spent a lot of time traveling the state and talking to voters about cutting taxes, making Virginia a good place to do business, and boosting education spending — issues that he believes play to Republicans and a broader audience of Virginians. He said pushing back against Democratic control in Richmond is top of mind for Republican voters, and he is making the case that he is the one candidate in the field who can win.
"I like to say I come from the bluest district in the state," said Cox, who in 2019 won re-election in a House district that now leans Democratic after it was redrawn by the courts, which found the seat had been racially gerrymandered by Republicans in 2011.
"Republican voters like that. They want to win in November."
Cox has faced some criticism in the race over his vote to expand Medicaid in Virginia, a deeply unpopular issue with Republicans. Cox supported Medicaid expansion as speaker after opposing it for almost five years. The move came after Democrats picked up 15 seats in the 2017 House elections.
But Cox is quick to defend a conservative voting record on such issues as tax increases, same-sex marriage, abortion and gun control.
"What I try to emphasize is that we need to pick the most electable candidate," he said, "and also someone that has fought the Democrats, defeated policies that are very bad."
Cox is also a powerful fundraiser. At the close of the year, he had nearly $700,000 in cash, compared with Chase's roughly $260,000. The other candidates entered after the filing deadline. The next round of reports will be published April 15.
There are no questions about Youngkin's financial prowess in the race.
Youngkin recently retired as CEO of The Carlyle Group, a global private equity firm, and his net worth is estimated at more than $200 million, according to published accounts. In 2019, his compensation package at The Carlyle Group approached $17 million.
In an interview, Youngkin said he leads with the fact that he is a political outsider.
"I actually wasn't born with a silver spoon in my mouth. I worked really hard," Youngkin said. "I bring the exact same mentality to running for governor. I'm not a politician. I'm a 30-year business guy, and I understand what it means to deliver results."
Youngkin said he is selling himself as a God-fearing conservative who can deliver economic growth and new jobs to Virginia, and who broadly opposes public restrictions around COVID-19 that have been in place "unnecessarily long." In a recent ad themed around the NCAA college basketball tournament, Youngkin — who played basketball at Rice University — vowed to "stop the madness" coming out of Richmond.
He, too, called into question the integrity of the country's election and vowed reforms.
Youngkin's ability to self-fund could make him a formidable general election candidate against any of the Democrats, particularly McAuliffe, a well-connected and powerful fundraiser. The GOP was outspent in the last two election cycles — including in 2019, when it lost power of both legislative chambers.
But first, he would have to clear the GOP convention, a contest where funding and advertising matters less than in a statewide primary in which any registered voter can cast a ballot.
"I'm not sure how much your money matters right now for a convention like this. The people that are going to show up are the faithful, who have been engaged forever. If you're not super well-known, it'll be hard for you to attract their attention and their trust," Kidd said.
"There's a challenge going into a statewide race not having spent years chewing the ground," he said. "You can't just decide at the last minute, in January, that you want to run for governor and compete in a convention."
The race's three other entrants may face the same challenge. They are running lower-profile campaigns and might struggle to gain traction with the convention just six weeks away.
Army veteran Sergio de la Peña previously served as a Trump Pentagon appointee handling defense issues focused on the Western Hemisphere. De la Peña was born in Mexico "in a home with dirt floors and no running water." He said in a campaign video that he is proof of the American dream, a notion he says is "under assault from far-left socialists."
Doran is the former president of a Washington think tank focused on European policy. Doran says that experience included helping countries formerly in the Soviet bloc rebuild from the "ravages of socialism." Doran also wrote a book about disrupting large monopolies and supporting free-market economics. He is calling for phasing out the state income tax.
The race's final entrant is former Roanoke Sheriff Octavia Johnson, the only Black candidate in the GOP contest for governor. When she announced her campaign, Johnson said she was running because she is "not happy with the direction our state has taken in the past four years," and could bring a "fresh perspective."
In a statement, signed by all Democratic candidates except Fairfax, the candidates called the Republican field "a step beyond the far right extremism that has become the norm in the Virginia GOP" — laying out the strategy the party will use to energize its base come November.
A decision on the nominating method for the GOP nomination came after months of messy, internal debate. Anderson said the resulting plan — a "disassembled convention" with 37 locations — will allow Republicans across the state to vote without having to travel long distances.
The drive-thru format, he said, respects "the COVID-19 protocols that are in place and that could be in place by May."
The 37 voting sites have not been finalized, but Anderson said the party's 11 district chairs have until April 12 to finalize those plans.
Once the voters — convention delegates elected by local party units — arrive at their polling places, they'll be asked to rank the candidates in order of preference. If no candidate is ranked as the top choice of more than 50% of voters — which is unlikely in such a crowded field — the candidate who is favored by the fewest number of voters is tossed out, and the second-choice candidates in all of those ballots receive additional votes.
That process continues from the bottom up until any one candidate has 50.01% of the vote.
Republicans will choose their nominee weeks before the state-run Democratic primary on June 8.
(804) 649-6254
Twitter: @MelLeonor_