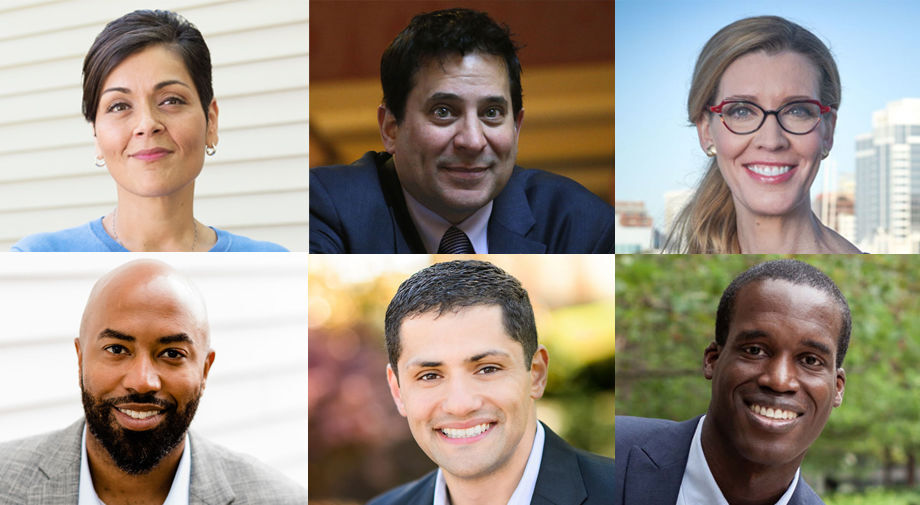 The six candidates in the wide-open Democratic primary for lieutenant governor met on stage Tuesday for the race's only televised debate, answering questions about guns, police reform, campaign finances and trying to gain an edge in the packed field.
The debate was held at George Mason University and hosted by ABC7-WJLA, whose weekday anchor, Dave Lucas, drew some criticism on social media after asking one of the candidates, a Muslim, whether he would represent all Virginians regardless of their faith.
The Democratic candidates are: Del. Hala Ayala, D-Prince William, Del. Mark Levine, D-Alexandria, Norfolk City Council member Andria McClellan, former Fairfax County NAACP chairman Sean Perryman, Del. Sam Rasoul, D-Roanoke, and Xavier Warren, a business owner.
The winner of the June 8 primary will face GOP nominee Winsome Sears, the first Black Republican woman elected to the General Assembly, for the right to earn a part-time salary to preside over the state Senate and break tie votes.
Some candidates said Tuesday that there should be a larger role for the job.
"Virginia has full-time problems and challenges, and I'm committed to being a full-time lieutenant governor to tackle those," McClellan said. She said her top issue was expanding broadband so more people could get affordable, high-speed internet.
Levine said the job of governor is too big for any one person, "and I see the lieutenant governor working as a partner of the governor ... pushing things through the legislature." Levine, whose sister was murdered 25 years ago in Tennessee, is one of the General Assembly's most vocal advocates for gun control. He said gun safety laws are his top priority, including a ban on assault weapons.
Some candidates called out the GOP's Sears for posing in a Facebook profile photo with a large weapon.
"It's not something to be glorified. It's not something to play around and take pictures with," Levine said.
Perryman said he'd work with Virginia's next governor when necessary but took a different tone on expanding the role of lieutenant governor: "These offices are independent for a reason," he said.
He said racial equity is his top issue and that he would work on behalf of everyday people.
While the candidates who are members of the House talked about their bills and General Assembly action, Perryman said they'd done nowhere near enough.
"A year after the murder of George Floyd, I don't think I'm any safer from police violence," he said. He added: " Here in Virginia, we failed to end qualified immunity." That refers to a legal doctrine used to protect police officers from civil liability.
"In fact, two months after George Floyd was murdered, the General Assembly gave police officers a raise because they didn't understand the importance of Black Lives Matter."
Warren was among candidates who said the state should mandate that all police officers wear body cameras.
"We need to recruit people of color from our HBCUs and our K-12 schools to get a career in law enforcement," he said, referring to historically Black colleges and universities.
On the topic of police reform, Ayala, who is Afro-Latina and would be the first woman of color elected to statewide office in Virginia, said she feared for her children's safety.
"I'm a mother of two Black children, and every day I fear when they go out of my home, whether it's to go to work, drive a car, or just walk around the neighborhood," she said. "This is the anxiety I feel as a mother."
She said the House of Delegates had focused on police transparency.
"We can't just keep paying lip service to this," Perryman replied, saying body cameras are useless when police can turn them off or prosecutors don't have money for staff to review the footage. We need to "make sure that we're not just trying to train our way out of this problem."
Rasoul said his top issue is reforming Virginia's loose campaign finance system to take power away from special interests at a time when everyday people wonder why their voice isn't heard.
"In eight years in the legislature, I've watched good-government issues be sidelined over and over again," he said. "I wanted to run a campaign that's 100 percent funded by individuals only."
Rasoul would be the first Muslim to hold statewide office in Virginia. Moderator Lewis cited a Washington Post story that noted Rasoul's fundraising relied on "out-of-state donors with ties to Muslim advocacy groups."
Lucas asked: "Can you assure Virginians, if you're elected, you'll represent all of them regardless of faith or beliefs?"
"You can count on me as a decisive tie-breaking vote to ensure that the interests of the people are represented more than any other special interest," Rasoul replied.
Del. Schuyler VanValkenburg, D-Henrico, was among people on Twitter who didn't like the question.
"This was a shameful question," he wrote. "Muslim Americans are Americans. @Sam_Rasoul has always represented all Virginians."
Virginia is one of the few states with no limits on campaign finance donations. Ayala was among candidates who said she supported a limit.
"All my contributions have been supported by Virginians," she said.
McClellan rebutted that. The top donor to Ayala in this campaign is a company in Maryland called Good Vibes Entertainment, which provided her with $187,056 of in-kind services for planning and holding a fundraiser at a museum in Washington, D.C.
"I think Delegate Ayala said that all of her donations came from within Virginia, which I'm trying to understand since an ... in-kind donation came from Maryland from a DJ company on your finance report," McClellan said.