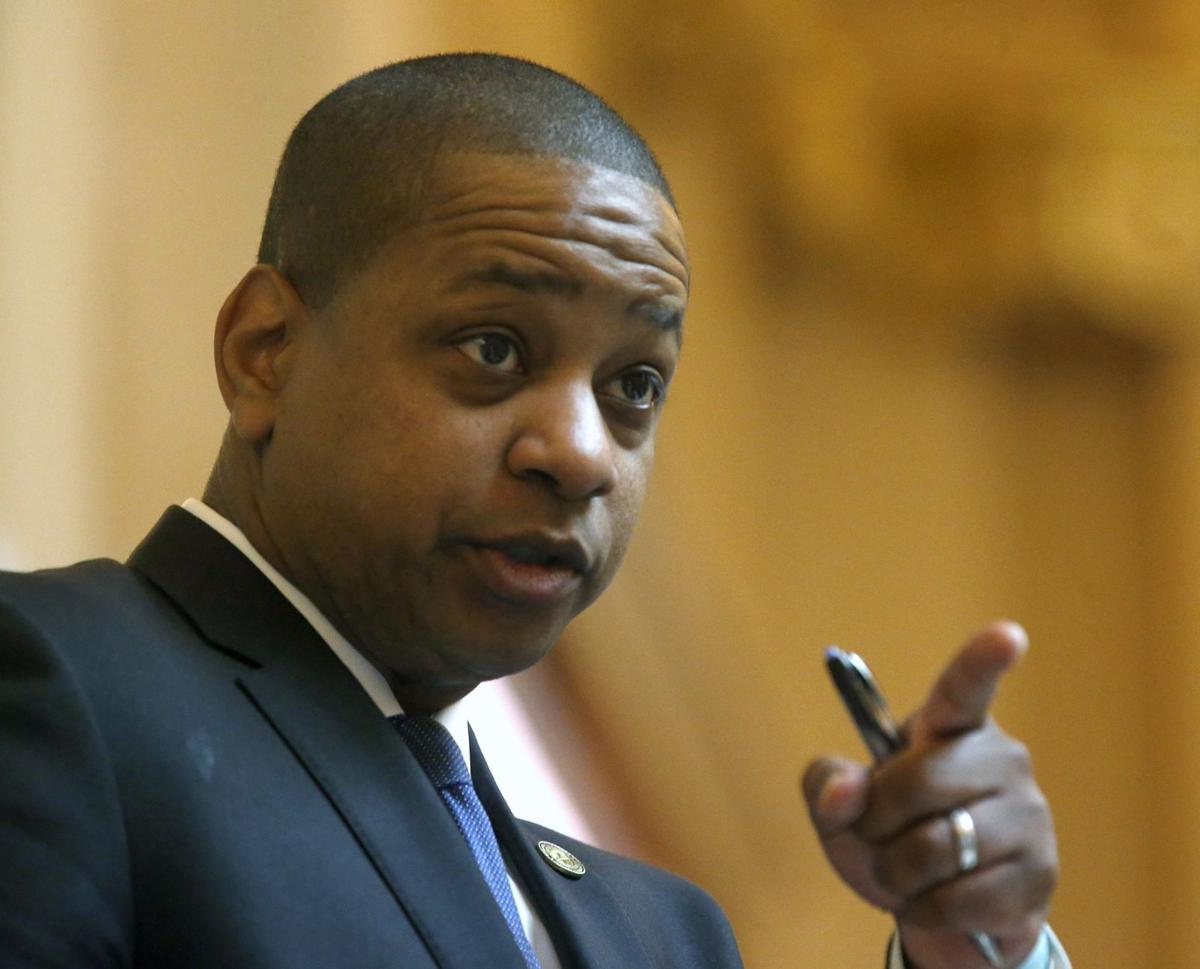 Lt. Gov. Justin Fairfax, the second African American elected to statewide office in Virginia, and who last year faced two allegations of sexual assault, is formally launching his campaign for governor this weekend.
Fairfax, who earlier this year affirmed his intent to run, will formally make his case for the state's highest office in speeches this weekend, including one at the site where the first enslaved Africans arrived in English North America.
Fairfax is expected to file necessary paperwork with election officials imminently, which will allow him to raise money for his campaign.
He will be the third Democrat to formally enter the race for the party's 2021 nomination, along with Del. Jennifer Carroll Foy of Prince William County and Sen. Jennifer McClellan of Richmond. Former Gov. Terry McAuliffe has filed paperwork to raise money for a run but has not formally announced his bid.
Among Republicans, Sen. Amanda Chase of Chesterfield County has announced she is running. Former Speaker of the House Kirk Cox of Colonial Heights and former state Sen. Bill Carrico of Grayson County also are considering bids for the GOP nomination.
Fairfax faced calls for his resignation from Democrats across the state after two women publicly accused him in February of 2019.
Meredith Watson, who attended Duke University with Fairfax, said he raped her in 2000. Vanessa Tyson, a California professor, said Fairfax forced her to perform oral sex in 2004 when they attended the Democratic National Convention in Boston.
The allegations came soon after Gov. Ralph Northam faced calls for his resignation over the disclosure of a racist photo in his medical school yearbook. Northam says he was not in the image, but admitted he had worn blackface for a Michael Jackson costume when he took part in a 1984 dance contest in Texas.
Fairfax has denied the allegations, accusing the two women of being part of a "smear campaign" to end his political career.
He told The Associated Press this week: "The voters are incredibly smart. They see through this kind of destructive, politically motivated kind of politics. And they are ready to move to higher ground."
An attorney for Tyson, Debra Katz, wrote in a statement: "Apparently Lt. Governor Fairfax believes that the citizens of the Commonwealth have forgotten about the serious and credible allegations of sexual assault made against him by Dr. Vanessa Tyson and Meredith Watson and about his deplorable treatment of them after they came forward."
Katz renewed calls for a public hearing by the General Assembly on the allegations, which Democrats have continually rejected.
Amid the scandal, Fairfax surprised onlookers in June 2019 when he said he was "thinking very seriously" about a gubernatorial run in 2021.
In an interview at the time, Fairfax said the scandal had raised his public profile for good.
"Many people a year ago would not have recognized me, now they really do," Fairfax said. "People come up to me at gas stations, they say, 'Hey, we recognize you. We love you. We know what they are saying about you is false.' " 
Since then, Fairfax has repeatedly likened the accusations against him to the lynching of African Americans during the Jim Crow era, and said they are a product of ongoing systemic racism.
On Saturday, Fairfax is scheduled to speak at the Historic Fairfax County Courthouse, where an ancestor was formally freed from slavery.
There, he will be endorsed by Nicholas Fairfax, 14th Lord Fairfax in England, whose ancestor freed Fairfax's ancestor from slavery.
On Sunday, the lieutenant governor is scheduled to speak at Fort Monroe in Hampton, where in 1619 the first enslaved Africans in English North America arrived 401 years ago.
There, Fairfax will be formally endorsed by the Rev. Robert W. Lee IV, a descendant of Confederate Gen. Robert E. Lee. Robert W. Lee IV has taken a prominent role in supporting the removal of Confederate iconography.
(804) 649-6254
Twitter: @MelLeonor_