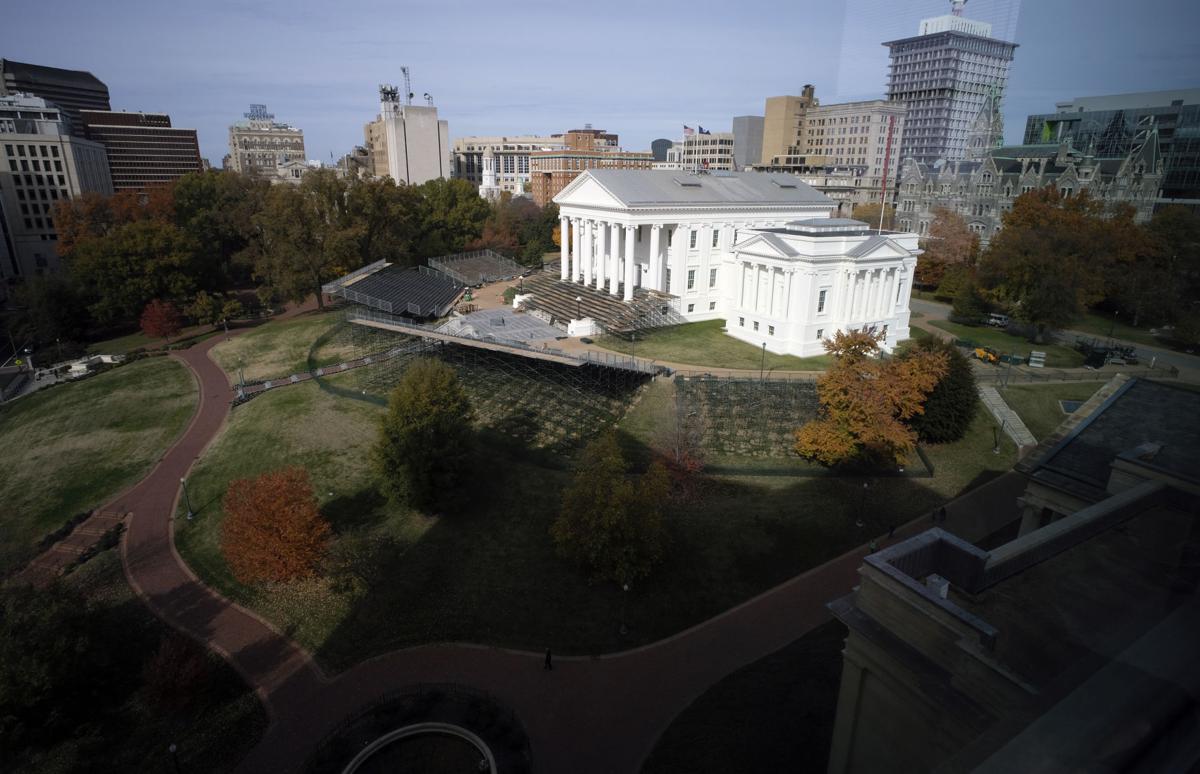 A dozen candidates — seven Republicans and five Democrats — have filed to seek their parties' nominations for governor.
The sprawling field for statewide office also includes 14 candidates for lieutenant governor — eight Democrats and six Republicans; and six candidates for attorney general — four Republicans and two Democrats.
Friday was the deadline for GOP statewide candidates to submit their filing fees to take part in the party's May 8 convention. The fees, based on a percentage of the jobs' salaries, were $14,000 for candidates for governor, $2,900 for candidates for lieutenant governor and $12,000 for candidates for attorney general.
Seven GOP candidates filed for governor: state Sen. Amanda Chase, R-Chesterfield; former Speaker of the House Kirk Cox, R-Colonial Heights; Sergio de la Peña, a retired Army colonel who was a Trump administration Pentagon appointee; Peter Doran, former head of a Washington think tank; former Roanoke Sheriff Octavia Johnson; entrepreneur Pete Snyder; and Glenn Youngkin, former co-CEO of The Carlyle Group.
Three candidates previously listed on the state GOP website as hopefuls for governor did not qualify for the convention — Paul Davis, Merle Rutledge and Kurt Santini.
Thursday was the deadline for Democrats to submit voter signatures in order to qualify for the party's June 8 statewide primary. Amid COVID-19, a Richmond judge had reduced the signature requirement to 2,000 statewide, at least 50 from each of the 11 congressional districts.
All five Democratic hopefuls for governor filed signatures: Del. Lee Carter, D-Manassas; Lt. Gov. Justin Fairfax; former Del. Jennifer Carroll Foy, D-Prince William; former Gov. Terry McAuliffe; and Sen. Jennifer McClellan, D-Richmond.
(In December, Princess Blanding, the sister of Marcus-David Peters, who was fatally shot by Richmond police in May 2018, announced a third-party bid for governor.)
Larry Sabato, head of the Center for Politics at the University of Virginia who has followed state politics for 50 years, said such large fields for governor and lieutenant governor are unprecedented in modern times.
He said that unlike the 40 years in which Harry F. Byrd Sr.'s conservative Democratic "machine" controlled state politics from the mid-1920s to the mid-1960s, "there are no more party bosses anymore" on either side who can force candidates to wait their turn.
He said candidates in both parties likely see 2021 as their chance to win. Democrats are riding a suburban-fueled winning streak in statewide offices dating to 2009. Conversely, he said, Republicans in the post-Trump era, out of the governor's office for two terms, are eager to reclaim power.
Here are the other candidates who filed for the nomination contests.
The Democratic candidates for lieutenant governor are Del. Hala Ayala, D-Prince William; Paul Goldman, former chairman of the state Democratic Party; Del. Elizabeth Guzman, D-Prince William; Del. Mark Levine, D-Alexandria; Andria McClellan, a member of the Norfolk City Council; Sean Perryman, head of the Fairfax County NAACP; Del. Sam Rasoul, D-Roanoke; and Xavier Warren, an NFL player agent.
The Republican candidates for lieutenant governor are Northern Virginia business consultant Puneet Ahluwalia; Lance Allen of Fauquier County, an Air Force veteran who works for a national security and technology firm; Del. Glenn Davis, R-Virginia Beach; former Del. Tim Hugo, R-Fairfax; business executive Maeve Rigler; and former Del. Winsome Sears, R-Norfolk, who now lives in Winchester and owns a plumbing, electrical and appliance repair business.
For attorney general, the Republicans are Leslie Haley, a member of the Chesterfield County Board of Supervisors; Del. Jason Miyares, R-Virginia Beach; Chuck Smith, a Virginia Beach lawyer who sought the nomination in 2017; and Jack White, a lawyer, minister, Army veteran and former clerk to Supreme Court Justice Samuel Alito.
The Democratic candidates for attorney general are incumbent Mark Herring, who is seeking a third term; and Del. Jay Jones, D-Norfolk.
(804) 649-6645
Twitter: @AndrewCainRTD