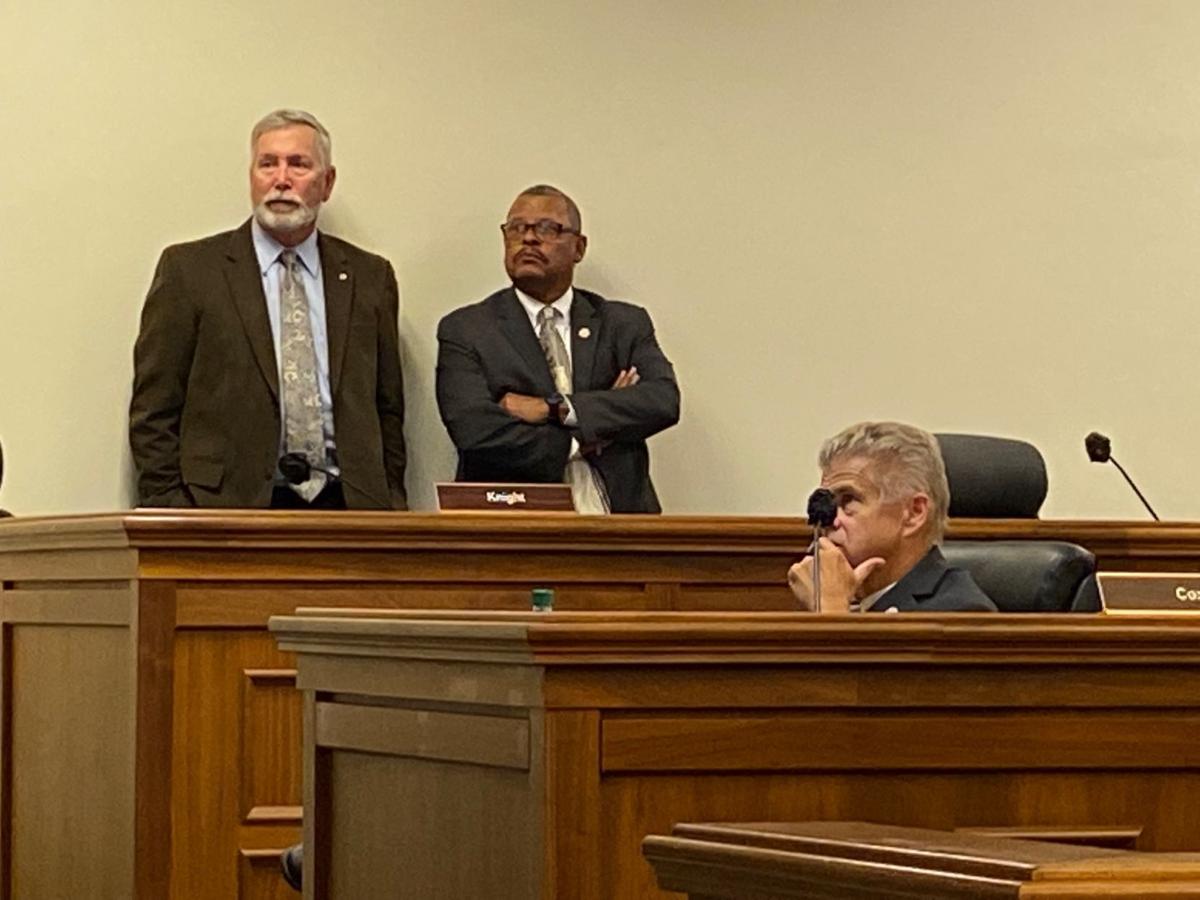 Virginia budget officials say they've never seen anything like it — more than $13 billion in additional state revenues this year and in the next two fiscal years.
The House Appropriations Committee projects a $3.5 billion increase in revenue above the current forecast in the fiscal year that began July 1, based on higher pending forecasts of state income tax and other revenues in the pair of budgets that Gov. Ralph Northam will present to the General Assembly next month.
The new revenue forecast will not become public until Northam proposes a revised budget for the current fiscal year and a new two-year budget for 2022-2024 in his final appearance before the assembly money committees on Dec. 16 before leaving office a month later.
The revised budget this year would become an ongoing base, with the additional projected $3.5 billion replicated in each of the next two years, along with nearly $1 billion in additional revenues for a total of $13.6 billion more over three years than the $23.6 billion general fund budget in the last fiscal year.
"In all my years here, these are certainly funding levels we've never seen," House Appropriations Director Anne Oman, who is in her 19th year on the committee staff, told House members on the first day of the annual two-day budget retreat in Richmond.
Secretary of Finance Joe Flores, who attended the House committee retreat on Tuesday, said the staff's revenue projections "are not inconsistent with what we're seeing."
The new revenues projected by the committee staff come on top of a $2.6 billion revenue surplus in the fiscal year that ended June 30, powered by billions of dollars in federal emergency spending during the COVID-19 pandemic, continued income growth for high-wage earners, a surge in consumer spending and a hot housing market that only recently began to cool.
The projected flood of revenue could give Gov.-elect Glenn Youngkin and the assembly, including a newly elected House of Delegates controlled by Republicans, an opportunity to provide tax refunds or other forms of tax relief, more fully fund the state standards for public education and raise compensation for public employees in crucial public safety and health jobs.
"We have to look at it globally, from both a tax relief side and a spending side," said Del. Lee Ware, R-Powhatan, who is expected to become House Finance chairman again in January if Republicans maintain a 52-48 majority, pending the results of two requested recounts.
However, Del. Barry Knight, R-Virginia Beach, who is likely to become chairman of House Appropriations under GOP rule, said the next budget also will be shaped by Democrats who control the Senate by a 21-19 margin. "We're probably not all going to initially be on the same page," Knight said.
While the potential revenue increase is huge, so are the possible risks, not the least of which is a possible resurgence of COVID-19 over the winter.
The revenue outlook also depends on inflation and ongoing disruptions in market supply chains, the pandemic's effect on changes in the workplace and education, and a mismatch in the labor market.
"The people who are looking for work and the jobs that are out there don't fit together," Oman said.
House Appropriations Chairman Luke Torian, D-Prince William, said Virginia will emerge from the pandemic "as a national leader in financial stewardship," with a record $3.3 billion in financial reserves by mid-2023 — three times what they were when Democrats took over the House two years ago.
But Torian said state policymakers still must proceed with caution, "because we know we have to prepare for the unseen."
Still, in this fiscal year alone, the assembly money committees are projected to have an additional $4.6 billion, which includes a $654 million surplus from the state's Medicaid program and more than $300 million in unspent money from the prior fiscal year.
State agencies have submitted 930 requests for additional spending of $4.6 billion over the next two fiscal years. Oman said the assembly theoretically could fund all of those requests "without having any difficulty with the revenue stream."
That won't happen because the committee knows it will face $2.7 billion in cost increases in current programs, which she described as "got to dos."
Those include more than $300 million in state aid to public colleges and universities to keep tuition from rising and access to higher education affordable, as well as about $200 million in financial aid for the neediest students.
The glut of revenues also will intensify calls for tax relief, especially from Youngkin and assembly Republicans who wanted state savings from federal tax changes in the Tax Cuts and Jobs Act to flow into a "taxpayer relief fund" created in 2019, only to disappear the next year.
Youngkin campaigned on promises of $1.5 billion in ongoing tax relief and $2 billion in one-time cuts.
He's counting on money from the $2.6 billion surplus that is almost completely dedicated, primarily for the state's financial reserves, including a potential $564 million "super deposit" in the constitutionally mandated rainy day fund.
Knight says the state could afford Youngkin's proposal to eliminate the sales tax on groceries, which would cost the state and local governments more than $500 million a year, "as long as we make localities whole."
Local governments would benefit from reduced contributions to teacher retirement plans because of big investment gains last year by the Virginia Retirement System. The lower rates would save the state $130 million and localities $215 million, although committee staff said the state could pay to keep the rates where they are and lower future unfunded pension liabilities.
Knight also supports Youngkin's pledge to exempt up to $40,000 in military veteran retirement benefits from the income tax.
He and Ware also want to eliminate the accelerated sales tax so that retail businesses no longer have to pay taxes on June sales early as a way to balance the state budget at the end of the fiscal year on June 30.
The budget committee will be helped by the Medicaid surplus this year and a low preliminary estimate of $223 million to update state costs for K-12 education.
However, the health care program for poor, elderly and disabled Virginians projects an additional $821 million in costs the next two years and the state Board of Education said the state needs to spend more than $800 million to fully fund the Standards of Quality for K-12 schools.
Compensation also will present a major challenge coming out of the pandemic, despite recent state efforts to raise pay for state employees and teachers.
The state also has approved targeted compensation increases for public employees facing the most challenges — correctional officers in state prisons, nurses and aides in state mental hospitals and other behavioral health facilities, state police, sheriff's deputies and regional jail officers.
Yet, the state faces turnover rates of more than 40% for security officers, 36% for law enforcement and more than 33% for direct-care staff in state facilities, according to a new study by the Department of Health and Human Resources Management.
"There are a lot of other jobs options out there right now," staff fiscal analyst Michael Jay said. "You've got to pay a lot of money for people to do these jobs."
Northam and the assembly used federal aid under the American Rescue Plan Act to provide salary relief to health care staff, law enforcement and correctional officers this year, and they also committed to continuing that relief with additional federal money in the next two-year budget.
But eventually state funds will be required to provide higher compensation when federal aid ends.
The committee staff estimates the state will need to pay $123 million each year for behavioral health staff; $68.6 million each year for correctional officers; more than $51 million over two years for state police; and between $56 million and $75 million each year for sheriff's deputies and regional jail officers.
For every 1% increase in pay across the board, the state also would have to pay $49.2 million for teachers, $37 million for state employees, and $11 million for state-supported local employees.
"There's still a great deal of work to be done in the area of compensation," Torian said.