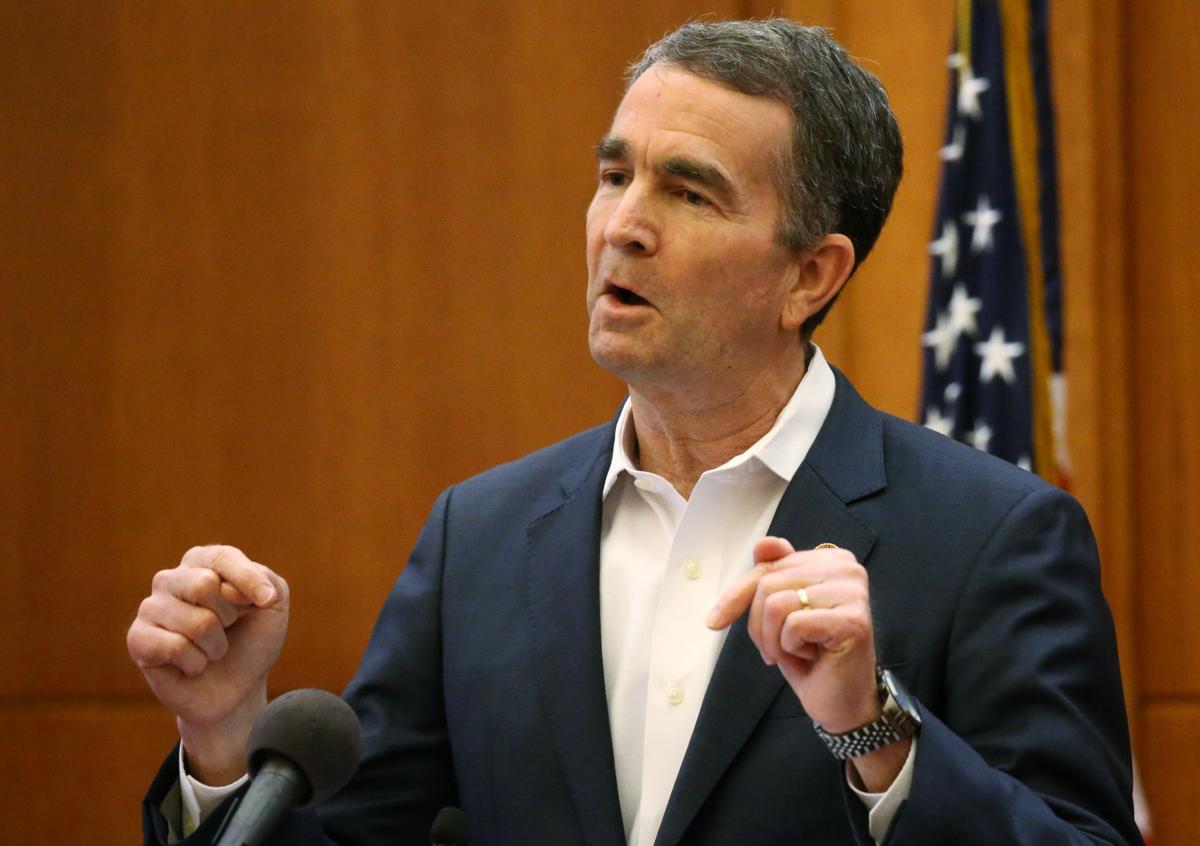 In one day, Gov. Ralph Northam highlighted state legislation temporarily increasing financial assistance for families to pay for child care, and President Joe Biden proposed to raise the eligibility level by 75% and make the change permanent.
Accompanied by first lady Pamela Northam, the governor on Wednesday ceremonially signed legislation, sponsored by House Speaker Eileen Filler-Corn, D-Fairfax, to raise the income threshold for child care assistance to 85% of median household income.
That's almost $89,000 a year for a family of four in Virginia. The previous income eligibility threshold was less than half, $41,916, throughout the state except for Northern Virginia, where the limit was $65,496 a year.
The increase took effect on March 18, when the governor signed the actual bill, which had an emergency clause making it law upon his signature. The increase will expire on Aug. 1, unless Virginia is able to use new federal aid to extend the income limit for eligibility. The state is using federal money from the Consolidated Appropriations Act adopted on Dec. 27 to pay for the additional assistance.
Earlier Wednesday, Biden released his $1.8 trillion Families and Education Plan, which would increase pay for early childhood workers, expand universal preschool to all 3- and 4-year-olds and make child care more affordable by raising the income limit to 150% of median household income and making the increase permanent.
The plan also would cap child care expenditures for families at 7% of their annual household income.
Northam spokeswoman Alena Yarmosky said the governor and his wife "have made access to early childhood education a top priority — and they are thrilled to see President Biden take these steps on a national level."
Biden and his wife, Jill, are expected to tout his education proposals Monday during a visit to Yorktown The president also was expected to focus on his family and education plan during his speech Wednesday to a joint session of Congress.
Pam Northam, like the president's wife, is a teacher who believes in the power of early childhood education.
"For the past three years we're focused on pay equity for early educators through $8 million in state grants, expanding Pre-K access to three and four-year-olds, and making quality childcare affordable for Virginia families," the first lady said in an email on Wednesday. "We are excited to have the Biden Administration joining this effort at the federal level."
The big difference is that Filler-Corn's bill is now state law, while Biden's plan is a proposal that includes an income tax hike on the highest earners that would have to pass Congress.
"I am very encouraged with the president's statements around what he would like to see in a package and am looking forward to seeing the final proposal," Filler-Corn said in a text message after the bill-signing ceremony at the Northern Virginia Academy of Early Learning in Fairfax County.
The push to make child care more affordable comes after what Pam Northam called "such a difficult year for families," many of whom have lost income because of the COVID-19 pandemic and depend on child care in order to remain in the work force to earn a living.
"With this bill, more help is on the way," she promised during the ceremony.
Filler-Corn, the first woman to serve as speaker of the House in the General Assembly's 400-year history, said, "This legislation will help women stay in the work force, rather than have to leave because they can't afford child care."
Northam also called early childhood education "an equity issue."
"When we talk about individuals that have access to early childhood education and those that don't ... it's a wedge between the haves and the have-nots," he said.
For child care advocates, the challenge is to build a bridge between the temporary relief provided by the new state law and the permanent solution advocated by Biden. They are counting on the $3.8 billion expected in Virginia from the American Rescue Plan Act, which the president signed on March 11, pending guidance by the U.S. Treasury on how the state can spend the money.
Emily Griffey, chief policy officer at Voices for Virginia's Children, also welcomed Biden's plan. "It includes a lot of policies we've been needing for families for a long time," she said, "even before the pandemic."