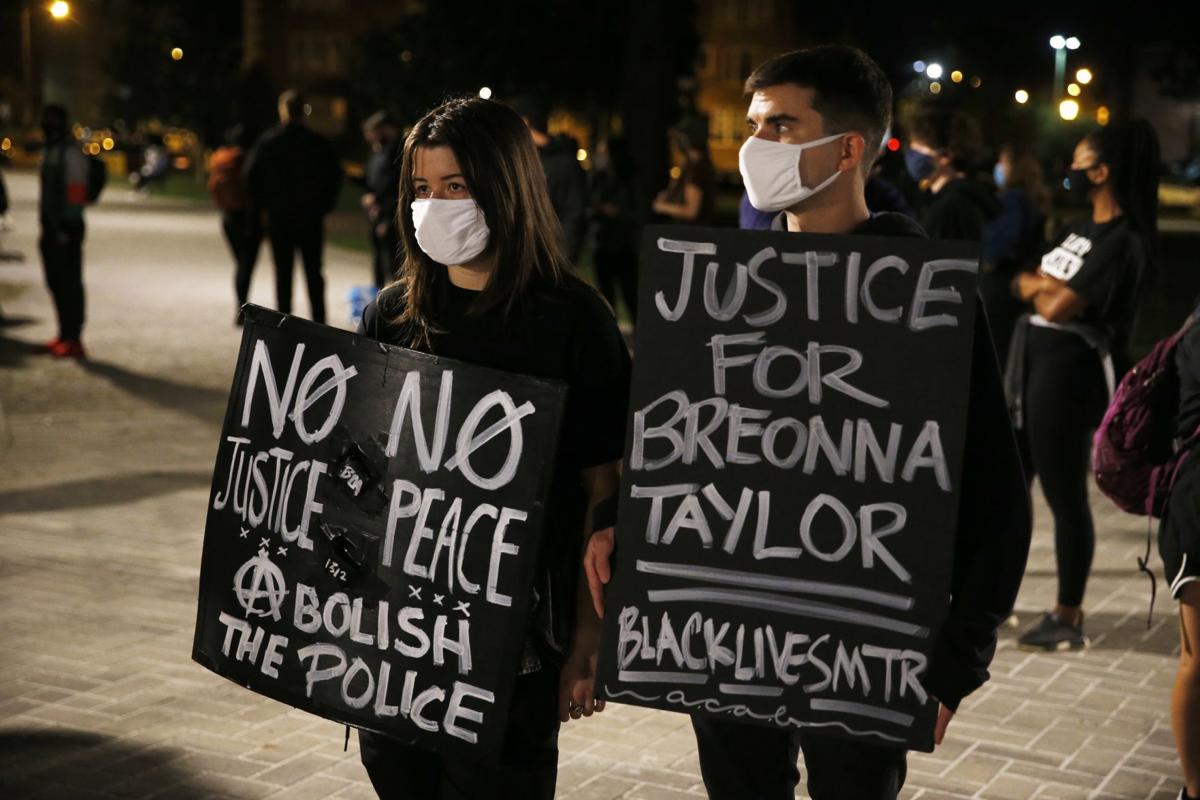 Calls for justice and reform, originating in Louisville, Ky., upon the death of Breonna Taylor at the hands of police, have resounded in Virginia.
On Monday, sitting next to two of Taylor's aunts, Gov. Ralph Northam marked the passage of a law banning police from executing no-knock warrants, like the one Louisville police officers used on the night they fatally shot Breonna Taylor, during a botched raid in March.
Using a ceremonial pen that will soon belong to Taylor's mother, Northam ceremonially signed "Breonna's Law," highlighting Virginia as one of just three states to pass such legislation after Taylor's death.
"We hope this encourages other states. Hopefully, Kentucky can step up to the plate and follow what Virginia is doing," said Bianca Austin, one of Taylor's maternal aunts, alongside another of Taylor's aunts, Tahasha Sholloway.
During the ceremony, both women wore black shirts that read "no more no-knocks," and face masks with Taylor's name and photo. They emphasized that justice for Taylor won't be realized until the officers involved in her killing face criminal charges — officials in Kentucky have so far declined — but celebrated Virginia for being "on the right side of this fight."
Taylor was a Louisville emergency medical technician studying to become a nurse when she was shot multiple times after she and her partner were awakened by police in their home. The no-knock warrant was part of a narcotics investigation, but no drugs were found at the home. Taylor was 26.
Northam described Monday's event as a "somber occasion."
"We are taking action here in Virginia to make sure other families don't suffer the same loss you experienced," Northam said. At one point, he paused to list the names of several Black Americans killed at the hands of police or in racially driven incidents, including Taylor, George Floyd, Ahmaud Arbery and Trayvon Martin.
"We honor them when we act, when we change laws, when we continue the work," he said.
"Breonna's Law" was introduced by Del. Lashrecse Aird, D-Petersburg, and Sen. Mamie Locke, D-Hampton, both prominent Black lawmakers in Virginia.
Locke said Monday that critics of the legislation often questioned the need for it, given that Taylor's death took place more than 500 miles away.
"When injustice happened in Kentucky, that did not mean Virginia is immune to the same injustice," Locke said. "We don't want what happened to Breonna to happen in Virginia. Breonna is me."
The Virginia legislation also bans criminal search warrants from being executed at night.
Northam formally signed the legislation at the end of October in private. Monday's event was a ceremonial occasion to publicly mark the law's passage.
"Virginia is the first to do so in the name of Breonna Taylor," Aird said Monday. "As we await true justice, it is my hope that this bill will offer even a glimmer of hope."