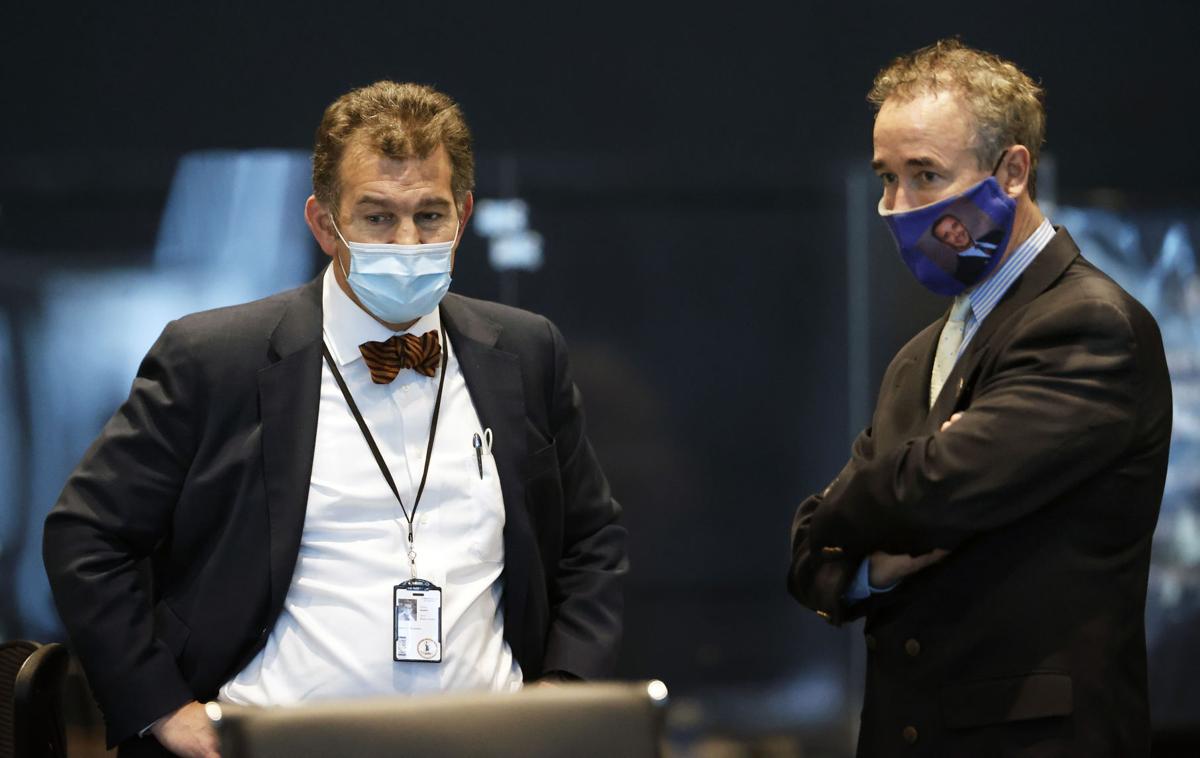 As Gov.-elect Glenn Youngkin works with Republican legislators on a wide-ranging plan to cut taxes, two Democratic senators are talking about their own ideas to bring income tax relief to Virginians.
Sen. Joe Morrissey, D-Richmond, and Sen. Chap Petersen, D-Fairfax City, plan to propose legislation to exempt income up to $25,000 for Virginia families from state tax, although they characterize their plans differently.
Politically, however, the senators represent pivotal votes in a Senate that Democrats control narrowly with a 21-19 edge. Republicans would have an advantage on tie-breaking votes by Lt. Gov.-elect Winsome Sears, except on the state budget or election of judges.
"My fidelity is to the commonwealth, not the party," Morrissey said Tuesday on a radio program hosted by John Fredericks, a onetime top Virginia campaign official for former President Donald Trump.
Morrissey said he would propose legislation with Petersen to exempt the first $25,000 in income from state taxation, citing projection of more than $8 billion in excess revenues in the next two-year state budget.
"I think the money should be returned in one form or another to the electorate," he told Fredericks.
The idea isn't new to Petersen, who has been advocating for months to raise the state standard deduction for Virginia tax filers to the same level as federal filers — from $4,500 to $12,500 for individuals and from $9,000 to $25,100 for couples filing jointly.
The federal standard deductions are scheduled to expire at the end of 2025, unless Congress extends the provisions of the Tax Cuts and Jobs Act that Trump signed in late 2017.
"Every single Democrat in Virginia should sign on as a co-sponsor," Petersen said in an interview on Tuesday. "It is a no-brainer."
Unlike Morrissey, Petersen is a member of the Senate Finance and Appropriations Committee, chaired by Sen. Janet Howell, D-Fairfax. Howell sponsored a two-year study begun this year by the Joint Legislative Audit and Review Commission on the state income tax and whether it is progressive enough in its treatment of taxpayers based on their income.
"I share the interest in making our tax code more progressive and fairer for low-income families," said Howell, who sponsored the JLARC study, due next fall, with current House Finance Chair Vivian Watts, D-Fairfax.
But she wants to wait until lawmakers have all the options for changing the tax code before committing to one of them.
"I think it's very premature to pick one option at this point," Howell said on Tuesday.
Youngkin, a Republican elected on Nov. 2, wants to double the state's current standard deductions to $9,000 for individuals and $18,000 for couples filing jointly.
It would cost about $1.1 billion in annual state revenues in the first year and $740 million in the second, but he contends the state could pay for it with a $2.6 billion revenue surplus in the fiscal year that ended June 30.
"As I've said all along, there is ample, ample, ample money to provide tax relief, to bring our cost of living down to Virginians so we can compete more effectively with the states around us," Youngkin said Monday after joining Gov. Ralph Northam at a meeting with the Governor's Advisory Council on Revenue Estimates.
Most of the surplus is already committed to state reserves and water quality funds, but Northam is expected to add more than $3 billion in revenues to the forecast for the current fiscal year, which began July 1.
The increase would be replicated over each of the next two years, with additional growth in each year, for a total of more than $13 billion over three years, according to recent projections by the General Assembly budget committees. Senate Finance staff estimated that an additional $8.4 billion in net revenues could be available in the next two-year budget.
Petersen's proposal would go further than Youngkin's. It would cost the state $2.2 billion in the next fiscal year, $1.5 billion in the second and $1.6 million in the fiscal year that begins on July 1, 2024, according to the Virginia Department of Taxation.
"The impact thereafter would depend on whether the increase is permanent or set to expire after [tax year] 2025," a department spokesperson said Wednesday.
Currently, Virginians do not have any income tax liability if they earn less than $11,950 a year as an individual or $23,900 as a couple. Those people do not have to file tax returns.
The standard deduction is an option for taxpayers to exempt a portion of the adjusted gross income they claim on their federal tax returns. Adjusted gross income represents all sources of income, minus personal exemptions.
Taxpayers also can choose to itemize deductions on their tax returns instead of taking the standard deduction. The Trump tax plan inadvertently increased state income tax revenues by making the standard deduction more attractive to taxpayers who previously itemized deductions. But Virginia taxpayers who switch for their federal returns must take the same approach on their state tax returns because the Virginia tax code conforms to federal law.
In 2019, the General Assembly, then controlled by Republicans, adopted a $1 billion tax cut package that included one-time refunds for all taxpayers and a temporary increase in the state standard deduction — from $3,000 to $4,500 for individuals and from $6,000 to $9,000 for couples filing jointly.
It's a complicated issue, but Petersen wrote in an email on Wednesday, "The simple way to think of this is that the minimum standard deduction protects AT LEAST $25K of a family's income from taxation."
"So all taxpayers benefit but lower-income taxpayers benefit the most since the [minimum standard deduction] will wipe out the larger share of their otherwise-taxable income," he said.
Petersen acknowledged that his proposal "would have to be pegged to the [federal] standard, which means that it could go away, but I doubt that will happen."