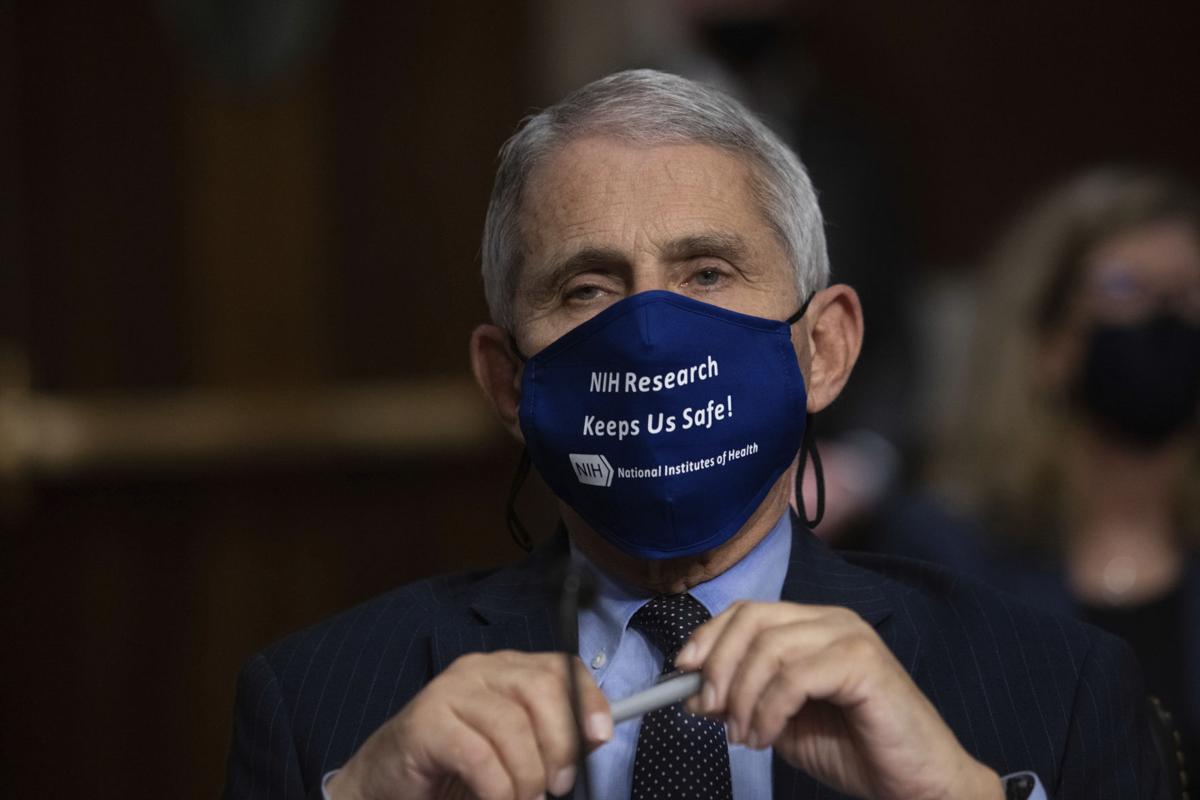 Dr. Anthony Fauci came to the University of Virginia Medical Center virtually on Wednesday with a mixed message, of hope for vaccines to immunize Americans against COVID-19 and concern that the pandemic will remain out of control unless people are willing to take the vaccine.
Fauci, director of the National Institute of Allergy and Infectious Diseases, urged the public to "double down" on safety precautions, especially during the Thanksgiving holiday, even though at least two prospective vaccines appear to be effective in preventing a disease that already has killed roughly a quarter million Americans.
"We cannot abandon public health measures, even in the presence of a vaccine that is highly efficacious," he said in an hourlong Zoom presentation sponsored by the UVA Medical Center and School of Medicine.
Rather than have people "let down their guard" because of the prospect of a vaccine, Fauci said, "it should be an incentive to double down until we get everybody vaccinated."
Two pending vaccines appear to be 95% effective in preventing COVID-19 in advanced clinical trials, setting the stage for initial distribution of limited doses by the end of the year. Fauci cautioned that their effectiveness, as well as those of at least three other potential vaccines undergoing clinical trials, depends on public willingness to take them.
He was especially concerned about surveys showing that many people either won't take a vaccine when it's available or remain unsure whether to cooperate. He said skepticism appears highest in the communities that are disproportionately at risk of severe infection — Black, Native American and Hispanic residents, whose risk of hospitalization with the virus is four times that of whites, he said.
"This is something we must address by outreach in the community by individuals the community trusts," Fauci said.
Dr. Danny Avula, public health director in Richmond and Henrico County, didn't hear Fauci's presentation but shares his concerns and his recommended approach to persuading people in at-risk communities to take a vaccine proved safe and effective in treating COVID-19, the disease caused by the coronavirus.
Avula said he spoke this week to a statewide association of community health workers who will be crucial to winning trust in Black and Native American communities that have historical reasons for not trusting public health authorities, as well as reaching out to Hispanic communities to educate them and provide access to the vaccine.
Community health workers are "going to have to get comfortable with the vaccine if they're going to talk to their residents, neighbors and networks," the health director said Wednesday. "There's going to have to be a lot of word-of-mouth work."
'Noise' out of Washington
Fauci did not mention his public clashes with President Donald Trump over the national response to the pandemic, which has infected almost 56 million people worldwide, including more than 11 million in the United States, in the past 11 months.
However, he acknowledged that "a lot of noise coming out of Washington" may have reinforced public skepticism about the rapid development of vaccines under the Operation Warp Speed initiative undertaken by the Trump administration, though he said the effort has been "very successful."
Fauci said the vaccines will be approved and distributed only after intensive and transparent review of their safety and effectiveness by the U.S. Food and Drug Administration, the Centers for Disease Control and Prevention, and the scientific advisory groups that are essential to the process.
People need to know "this has been an independent decision and it has been done in the classic way decisions are made about vaccine safety and efficacy," he said.
Fauci said the public should continue basic public health practices — wearing masks, keeping social distance, avoiding crowds and congregate settings, gathering outdoors rather than indoors, and washing hands frequently — even after vaccination because of the disease's ability to infect people without them experiencing symptoms.
"You may not be symptomatic, but you may be infected," he said.
Fauci is particularly concerned about what he called "innocent occurrences" of virus spread, including indoor family gatherings for Thanksgiving. The holiday comes as the U.S. enters a dangerous transition to cold weather "in a very bad position," compared with Western European countries that he said did a better job of controlling spread of the disease during summer.
Ultimately, he said the country's ability to control the pandemic will depend on at least three-quarters of its residents taking an effective vaccine.
"We would like to see almost everybody vaccinated," Fauci said, "although I think we can end it as a pandemic if we can get to 70 to 75 percent."