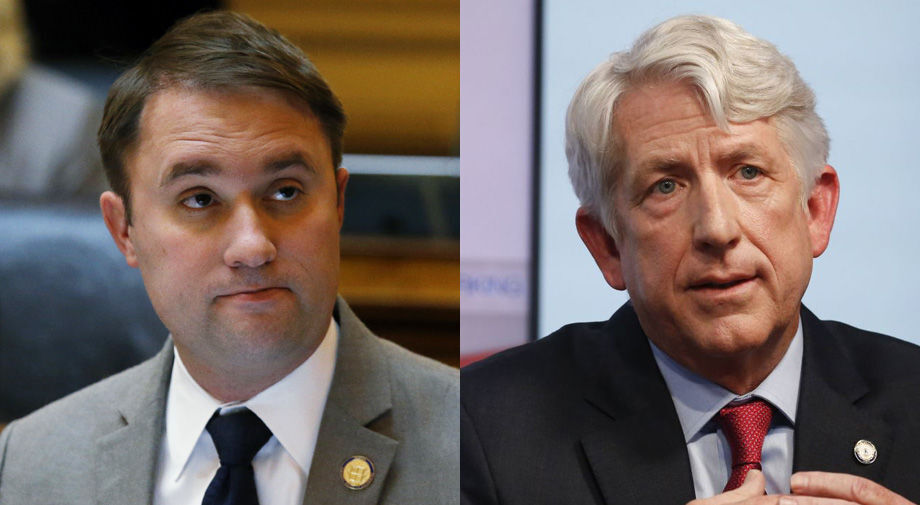 The first TV ad for the Republican candidate for attorney general repeats an inaccurate claim about Democratic incumbent Mark Herring's relationship to the Virginia Parole Board.
The parole board's members are appointed by the governor and consider parole for people convicted of crimes before 1995, when Virginia abolished parole.
In his TV ad, GOP candidate Jason Miyares says that "Herring allows the parole board to release violent criminals, without even informing their victims."
Herring's office, however, doesn't have power over those decisions.
"His statement is patently false," Herring said. "I do not have oversight over the parole board. I don't appoint the parole board. They make their own decisions.
"What's even worse is knowing that it's false, and having been called out for making a false statement and lying to voters, he nevertheless put it up on TV."
Miyares, a former assistant commonwealth's attorney and political consultant, plays up his ties as a former prosecutor in the ad.
"You have one job — try the criminals, and lock them up. But instead of focusing on crime, Mark Herring focuses on left-wing politics," Miyares says in the ad.
Chris LaCivita, a political consultant advising Miyares, said in an email Wednesday that Miyares maintains Herring allowed the parole board to break the law, because state law requires the attorney general to represent the parole board.
"I am happy to fight this battle all damn day," LaCivita wrote.
Virginia's parole board operated quietly in recent years until a scandal that began after a series of decisions to grant parole.
The Office of the State Inspector General found that the board's chairwoman in early 2020, Adrianne Bennett, and the board had violated policy and law in how they handled the release of at least eight convicted killers. The state watchdog agency began its investigation after receiving complaints through a state hotline.
The Times-Dispatch reported that OSIG had additional pending investigations related to the parole board, and it remains unclear whether those cases remain open or were ended after senior officials in Gov. Ralph Northam's office questioned the power of OSIG to investigate.
Bennett, now a juvenile court judge in Virginia Beach, was appointed to the parole board by former Gov. Terry McAuliffe, now the Democratic nominee for governor in the Nov. 2 election. In that race, GOP nominee Glenn Youngkin has said he would replace the entire parole board if elected.
(804) 649-6061
Twitter: @patrickmwilson