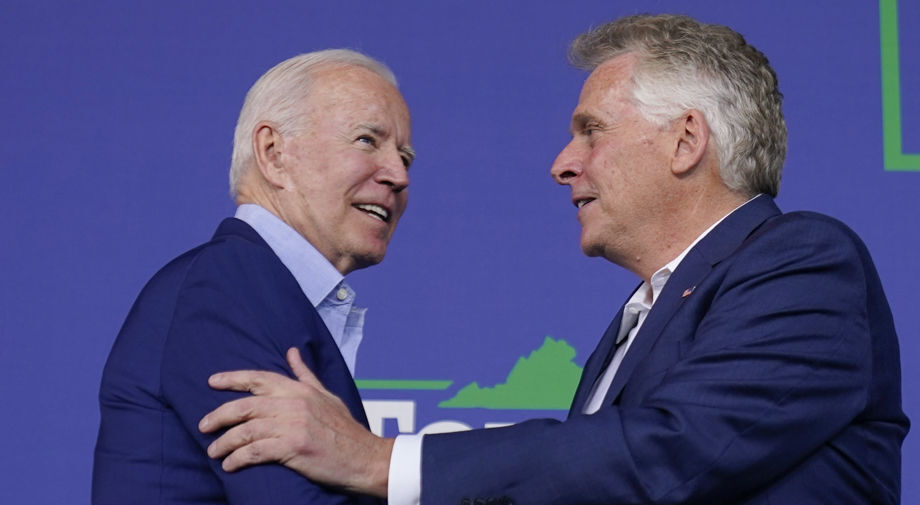 ARLINGTON COUNTY — President Joe Biden urged Virginians to elect former Gov. Terry McAuliffe a second time "not just for Virginia, but for the country" in a speech here on Friday that took direct aim at former President Donald Trump.
Biden drew a direct connection between Trump and Republican gubernatorial nominee Glenn Youngkin in an off-year election that he called "a big deal" for the rest of the country.
"I ran against Donald Trump and so is Terry," he said. "I whipped Donald Trump in Virginia and so will Terry."
Biden, in his first political campaign trip of his administration, delivered a 30-minute speech to 3,000 Democrats gathered outside the community center at Lubber Run Park.
The speech was interrupted briefly by protesters who unfurled a "Reject Pipelines" banner and chanted. The protest wasn't aimed at McAuliffe, who as governor vigorously supported construction of the proposed the Atlantic Coast Pipeline across Virginia. Instead, it was directed at Biden, whom the protesters want to block construction of the Line 3 oil pipeline proposed by Enbridge Inc. in northern Minnesota.
"Hey look, this is not a Trump rally," Biden joked. "Let [them] holler. No one is paying attention."
McAuliffe, in his bid to return to Virginia's governor's office for a second non-consecutive term, promised to build on his first term and that of his successor, Gov. Ralph Northam, to promote progressive priorities such as expanded access to health care, paid sick leave and a higher minimum wage.
But he focused on trying to tie Youngkin to Trump, who has endorsed the Republican nominee three times as a prelude to crucial midterm elections next year that pose an opportunity for the GOP to regain control of Congress.
"Why is it that Glenn Youngkin and Donald Trump are so close?" McAuliffe asked. "Because they share the same agenda, and that agenda is out of touch with Virginians."
Virginia and New Jersey are the only two states that elect governors in the year after a presidential election, so Virginia's contest often is seen as an indicator of a new president's popularity and a bellwether ahead of the next year's congressional midterms.
Since 1976, in all cases but one, Virginia has followed a presidential election by electing a governor of the opposing party a year later. The lone exception was in 2013, when McAuliffe topped Republican Ken Cuccinelli a year after President Barack Obama's re-election.
McAuliffe had said he was eager to appear again with Biden and on Twitter he has dared Trump to come to Virginia and campaign with Youngkin.
He and other Democratic leaders attempted to paint Youngkin as an extremist who would roll back women's right to abortion and undermine progress they say they have made in Virginia to help workers and expand protection of voting rights.
They faulted the Republican for dismissing as "unnecessary" the American Rescue Plan Act that Biden signed into law on March 11 with stimulus checks for adults, child tax credits for families, direct aid for public health and schools, and $4.3 billion for the state to invest in priorities that the General Assembly will set with Northam in a special session in early August.
Youngkin spokesperson Macaulay Porter said in a statement: "Terry McAuliffe must be worried about his terrible poll numbers if he's already calling in political favors this early in the campaign. We expect he'll bring his mentors Bill Clinton and Hillary Clinton here soon too, just like he did the first two times he ran for governor."
Attorney General Mark Herring, seeking a third term, also attacked his Republican opponent, Del. Jason Miyares, R-Virginia Beach, as a "Cuccinelli-style conservative" in reference to the former attorney general and 2013 GOP gubernatorial nominee, who later served in Trump's administration.
Democrats are counting on the "blue wall" in Northern Virginia, led by inner suburbs such as Arlington, to retain their hold on the executive branch, as well as suburban voters in the Richmond and Hampton Roads areas.
With Trump gone from the White House, Republicans are looking for a breakthrough in Virginia this year to set the stage for a push to take control of Congress in the midterm elections next year.
But the gubernatorial election also will be a referendum on Biden, who warmly embraced McAuliffe and his political values.
"Seldom do I get to campaign with someone I agree with more," the president said.
Biden spent much of his speech promoting the bipartisan $974 billion infrastructure bill that the U.S. Senate is expected to take up on Monday and a $3.5 billion Democratic package to finance priorities such as universal child care, free access to community college education and investments to combat climate change that he said would generate "jobs, jobs, jobs."
He gave a shout out to Virginia Sens. Mark Warner and Tim Kaine, both Democrats who also served as governor; Rep. Abigail Spanberger, D-7th, who was in the audience; and Rep. Don Beyer, D-8th, who represents Arlington in Congress and chairs the Joint Economic Committee.
In a February survey by Christopher Newport University, Biden had a 57% approval rating in Virginia and 67% of respondents approved of how he was handling the COVID-19 pandemic. In the same survey, 54% of respondents said Trump was "definitely worse" than other recent presidents.
McAuliffe is a former chairman of the Democratic National Committee and has known Biden for decades. In November 2019 Biden and McAuliffe campaigned together in Loudoun County two days ahead of Virginia's legislative elections.
On March 1, 2020, Biden, fresh off the South Carolina primary victory that revived his bid for the Democratic presidential nomination, campaigned in Norfolk ahead of Super Tuesday. During that appearance Biden introduced McAuliffe as "the once and future governor of Virginia."