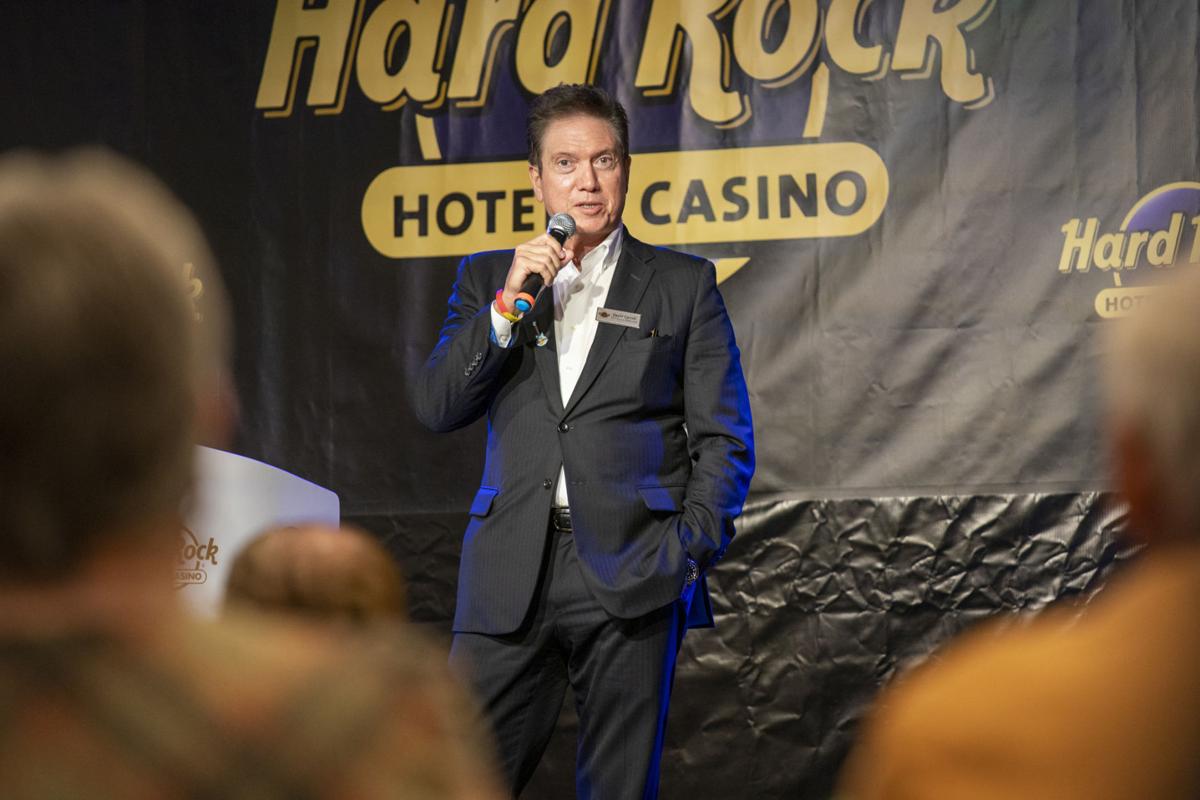 Voters in four Virginia cities Tuesday appeared to overwhelmingly support plans to build casinos there.
Voters in Bristol and Danville approved referendums to green light casino gambling at pre-determined locations, according to unofficial results from the Virginia Department of Elections.
Casinos were on track to be approved in Norfolk and Portsmouth, though not all votes had been counted by deadline.
Supporters say the casinos will bring jobs, tourists and tax revenue. Opponents counter that with casinos come crime and exploitation. A similar measure could be on the ballot in Richmond next year.
In Danville, 69% of voters responded yes to the proposal on the ballot, which authorizes the construction of a $400 million facility that will include a 300-room hotel rated at four stars, a 35,000-square-foot conference center and a 2,500-seat entertainment venue. The city has come to an agreement with Caesars Entertainment to build and operate the casino.
Bristol voters approved their casino with a 71% majority. Hard Rock International has agreed to build a $400 million facility in the vacant Bristol Mall location, which stands along Exit 1 on Interstate 81, a few hundred feet from the Tennessee border.
"We plan to transform the Bristol Mall into a world-class casino and resort, and with it, transform Bristol's economy," said Jim McGlothlin, chairman and CEO of Hard Rock International. "From the beginning, our goal has been to bring new jobs and additional tax revenue to Bristol, southwest Virginia, the Tri-Cities and the commonwealth."
The blueprint includes plans for 350 hotel rooms, a 2,500-seat indoor performance area and an outdoor venue with seating for 20,000. Supporters say the casino will bring 4 million annual visitors to the region and will generate $16 million to $21 million in annual tax revenue. Hard Rock said it will hire 2,000 employees.
As of deadline, about two-thirds of Norfolk votes counted were in favor of building a casino, and the Pamunkey Indian Tribe declared victory.
"While every vote deserves to be counted, the residents of Norfolk have made it clear they are excited about a resort and casino coming to the Mermaid City," Jay Smith, spokesman for the Norfolk Resort & Casino, said in a statement.
The Pamunkey tribe will run the facility, priced at $500 million and planned for real estate along the Elizabeth River next to the baseball stadium, Harbor Park. It intends to break ground in spring 2021 and finish construction by the end of 2022. The tribe spent more than $1 million in advertising to convince voters to approve the proposal but faced opposition from a group called Informed Norfolk, which received $25,000 in donations and accused the tribe of making empty promises.
By deadline Tuesday night, 67% of Portsmouth voters had answered yes to the casino question. The Portsmouth facility, which will be built at an estimated cost of $300 million, will be managed by Rush Street Gaming and will be erected near the campus of Tidewater Community College. The venue will feature slot machines, table games and poker. Organizers say they will hire 1,300 employees.
Earlier this year, Gov. Ralph Northam signed a law that allowed for sports betting operations and the construction of five casinos. A study released by the Joint Legislative Audit and Review Commission estimated that the five venues could generate $262 million annually in tax revenue and that gambling on sports could rake in an additional $55 million.
There was opposition in Bristol, where eight churches bought billboard space urging voters to say no. "What would Jesus do?" one billboard asked. "He would definitely vote no on the casino referendum."
At least three organizations have expressed interest in constructing a Richmond casino: the Pamunkey tribe, Colonial Downs Group and Urban One Inc.