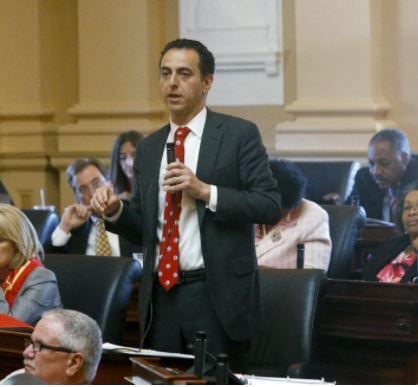 Census delays are squeezing Virginia's timeline for reapportioning its House of Delegate seats in time for the fall elections, when all 100 seats will be up for grabs.
U.S. Census Bureau officials said this week that reapportionment data needed to redraw political boundaries will not be delivered before July 31 — weeks after the state's scheduled June primary and just 94 days before the fall elections.
If the data arrives after July 31, Sen. George Barker, D-Fairfax and Del. Marcus Simon, D-Fairfax, members of the state's new redistricting commission, said House lawmakers would be forced to run this fall under the current maps, which the courts updated in 2019.
If lawmakers run in the current districts, the state would have two options: ask delegates to run again under new maps in a 2022 special election and then again in 2023, or keep the districts as they are until the next regularly scheduled House elections in 2023.
In a call with state leaders from across the country Wednesday, U.S. Census Bureau official Kathleen Styles said delays largely related to the pandemic will push back reapportionment data from its planned March 31 timeline to late July or later.
"We don't have a final date yet," Styles said. "But … I would like to sort of plant a bug in your ears, not to assume that you will be able to get redistricting data by July 31."
Simon said those 94 days would not be enough to produce and implement new maps, hold primaries and hold the general election.
"I don't think there's anybody out there who still thinks that it's possible for us to draw districts that we could use in the 2021 elections with the July 31 delivery date for redistricting data," Simon said.
Simon said that the state constitution grants the commission 45 days to do its work, and that working at a faster pace could prove difficult. He said the commission drawing the maps includes citizen members who are unfamiliar with the process, and that the legislative intent behind the constitutional amendment that prompted the new process was to bring more transparency and public input.
A constitutional amendment voters approved in a November referendum led to the new commission. The amendment curbed the legislature's power over the state's political maps, instead giving the work to a bipartisan panel made up of eight lawmakers and eight citizens.
Simon opposed the constitutional amendment that created the commission he now sits on.
Barker said that despite the bureau's timeline, Virginia might receive its data before other states due to its special circumstances. No other state has legislative elections this year; New Jersey opted to delay its elections by a year to accommodate potential data delays.
Barker said he was reached by a member of President Joe Biden's transition team and was told that the new administration was working to get Virginia its data ahead of other states. Barker said he is awaiting updates. The senator was a champion of the constitutional amendment.
Virginia's House of Delegates districts, which lawmakers approved in 2011 a year after the last census, were the subject of a long-running court battle. In June 2019 the U.S. Supreme Court dismissed the House GOP's appeal of a lower court ruling that Virginia's House map was racially gerrymandered. New lines were issued in time for the 2019 House elections. Those changes proved pivotal and contributed to Democrats' new majority.
Simon said legislation would likely be needed to chart a path forward. He said he had not yet met his bill limit for the current legislative session, and would be open to sponsoring legislation on the topic. That is pending more information from election officials, Gov. Ralph Northam's administration and the attorney general's office.
Barker said state courts would likely be the ones to chart the path forward, through a ruling or opinion. A spokeswoman for the attorney general's office did not respond to a request for comment, and neither did a spokeswoman for the Northam administration.
(804) 649-6254
Twitter: @MelLeonor_