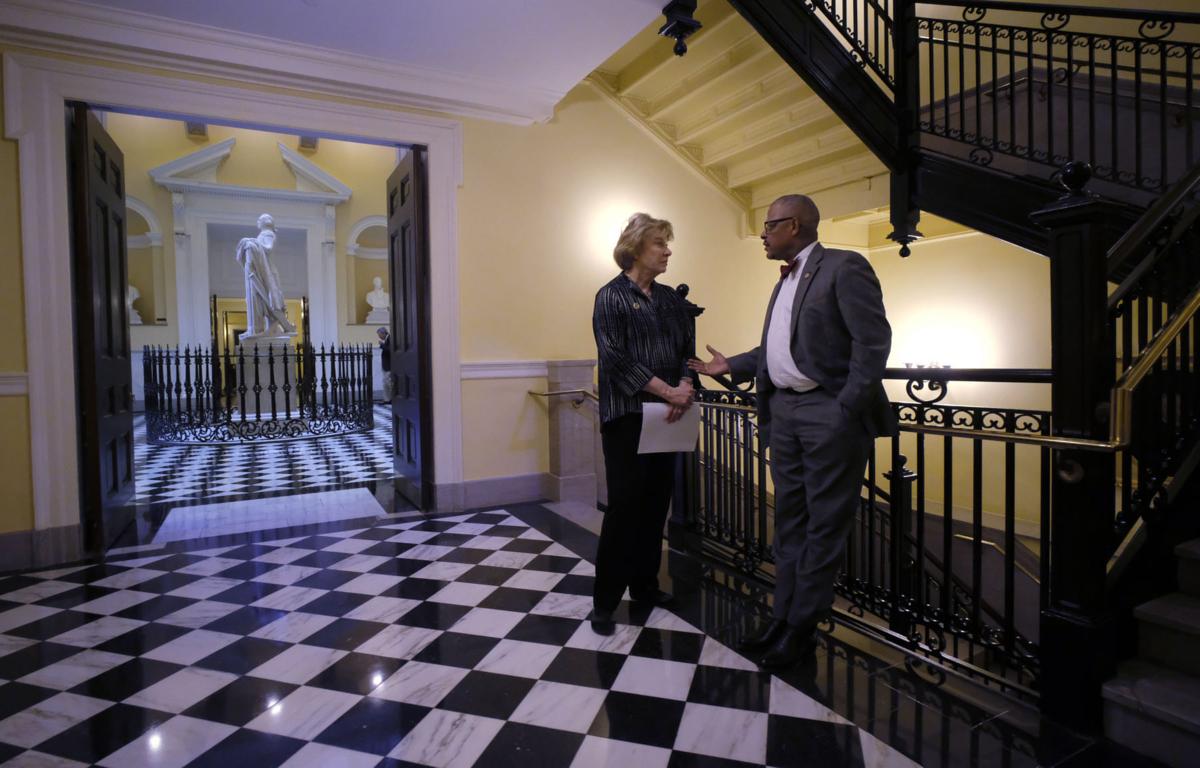 The General Assembly money committees delivered on Gov. Ralph Northam's pledge to increase teacher salaries by adopting competing budget proposals on Wednesday that would boost pay by 3% to 5% in the fiscal year that begins on July 1.
The House Appropriations and Senate Finance & Appropriations committees also proposed to give state employees and other state-supported workers the 3% raise they lost last year to the public health emergency caused by the COVID-19 pandemic — and a little more in the House spending plan, which seeks to increase pay by 3.5%.
The proposed budgets differ on what to do with the Virginia Alcoholic Beverage Control Authority property on Hermitage Road in Richmond. Virginia Commonwealth University wants to purchase it for an athletic village that would include a new baseball stadium for its program and the Richmond Flying Squirrels Double-A minor-league franchise.
The House proposes to give VCU $16 million to buy the ABC property, with the expectation that the state will get the money back in higher profits from Virginia's liquor monopoly. The Senate proposes to maintain the university's right of first refusal to buy the property at a fair market value.
The House budget also includes $12 million to buy the Commonwealth Center for Advanced Manufacturing building in Prince George County, and almost $7 million to create the Commonwealth Center for Cloud Computing in Henrico County through a higher education partnership that VCU would manage.
The final budget will be determined in the coming weeks in a special legislative session now scheduled to end on March 1. The House of Delegates and Senate are expected to vote on their budgets on Friday, and then form a conference committee to negotiate the differences in spending plans.
Those negotiations also will be shaped by a new revenue forecast expected from Northam next week. It is likely to give the assembly more money to spend in the $141 billion budget, including more than $47 billion in the general fund that uses state taxes to pay for core government services.
The House goes into the negotiations with a revenue advantage because it proposes more than $60 million less in tax relief than the Senate for businesses that received forgivable tax-exempt loans from the federal government last year to protect jobs during government restrictions imposed on many businesses to slow the spread of COVID-19.
It is the third budget the assembly has crafted in a year. It adopted the first one on March 12, 2020, the same day Northam declared a public health emergency that resulted in the suspension of more than $2 billion in proposed new spending. The assembly adopted a second one during special session last fall under the shadow of a potential multibillion-dollar revenue shortfall that hasn't been as steep as feared.
"This past year has seen untold hardships and difficulties for many as a pandemic swept across this state and this nation," Senate Finance Chair Janet Howell, D-Fairfax, said before the committee adopted its proposed budget unanimously.
"However, while there have been hardships, I have also seen resilience and adaptation to what we have faced collectively and individually," Howell said. "Putting together the Virginia budget multiple times this year has required this same adaptation and at times redirection as our economy has fluctuated."
Both chambers are counting on federal aid from a $900 billion relief package Congress adopted on Dec. 27 to replace or augment state funds that Northam had proposed in his budget before Christmas to pay for distributing COVID-19 vaccines, continue testing for the coronavirus disease and track people exposed to it, as well as other responses to the pandemic.
The House included $41.6 million in state funds and an equal amount of federal money to pay an additional stipend of $12 per day for each Medicaid patient at nursing homes in the next fiscal year to help them hire and keep staff. Northam had given them a $20 daily stipend that will expire at the end of June.
However, House Appropriations Chairman Luke Torian, D-Prince William, warned that the eventual disappearance of federal aid could threaten the state's budget in future years if the assembly commits to new spending that it won't have ongoing revenue to support.
"My concern is that the true storm will arrive next year, when the federal funds have been diminished, but the needs in our core programs like health and human resources and K-12 continue to grow," Torian said.
Consequently, the House budget would put an additional $130 million into the state's cash reserve fund — on top of the $650 million Northam proposed in his budget. If adopted in the final budget, the additional money would boost Virginia's combined reserve funds to $2 billion by the middle of next year. The Senate budget includes only the deposit Northam proposed.
The Appropriations Committee adopted the budget by a vote of 19-2, with former Speaker Kirk Cox, R-Colonial Heights, a Republican candidate for governor, and Del. Emily Brewer, R-Suffolk, voting no.
Both proposed budgets focus heavily on investing in education, especially K-12 and early childhood programs, to help Virginia's public schools recover from the trauma of closing during the pandemic and operating remotely, either fully or partially, in many school divisions across the state.
As a result, public school enrollment has fallen 3.5%, threatening a major loss of state funding for schools. Northam included $513 million in his proposed budget to hold all school divisions harmless from losing revenue because of declining enrollment. The Senate budget held the governor's position, while the House proposed to reduce the hold-harmless funding to about $430 million.
Torian and House Speaker Eileen Filler-Corn, D-Fairfax, said the House plan would spend an additional half-billion dollars on public education, including a 5% raise for teachers instead of a one-time bonus of 2% that the governor proposed.
Northam, in his speech to open the regular assembly session on Jan. 13, urged legislators to convert that bonus into a raise of at least 2%. The House plan includes $231.4 million for the 5% increase on July 1, while the Senate budget includes $139.8 million to give teachers a 3% raise on Aug. 1, if revenues are sufficient at the end of the fiscal year on June 30.
The House wants to provide extra money to help school divisions in Northern Virginia with the cost of competing for teachers in the metropolitan Washington area, and also schools on the Eastern Shore that compete against higher teacher salaries in adjoining Maryland.
The House budget also proposes to use $51 million from a new tax on electronic skill games to support local school programs to help students overcome "learning loss" during the pandemic through extended school, summer school, tutoring and other services.
The Senate plan includes almost $50 million to hire more school nurses, social workers and mental health professionals, based on pending legislation proposed by Sen. Jennifer McClellan, D-Richmond, a Democratic candidate for governor. McClellan had been seeking to fully fund the Standards of Quality at a cost of more than $462 million.
Both proposed budgets include more money for state employees, state-supported local employees and employees of public colleges and universities. The budget lawmakers adopted during a special session in October pledged $98 million toward bonuses for state and other public employees.
The House budget includes $168 million to pay for a 3.5% raise, as well as higher pay for general registrars and low-level social workers, and a $1,000 bonus for correctional officers.
The Senate plan includes $118 million for a 3% salary increase on Sept. 1 for state and state-supported local employees, contingent on sufficient revenues at the end of the fiscal year.
The Senate also includes $28.4 million for the Virginia State Police that would be raised by a $4 surcharge on vehicle registration fees to pay for a compensation plan to recruit and retain state troopers, based on legislation the Senate passed. The House budget does not address the issue.
The Virginia Division of Capitol Police, also facing potential loss of officers because of lagging pay scales, would get an additional $846,907 under the Senate budget.
Higher education would get an additional $84 million under the House budget to help colleges and universities moderate tuition to make attendance affordable. The Senate plan includes $73 million that institutions could use for financial aid, operations, or other effects of the pandemic.
"Any state support is much appreciated and will allow us to avoid a tuition increase for our undergraduate and graduate students for the third consecutive year," VCU chief financial officer Karol Gray said Wednesday.
(804) 649-6964
Staff writer Eric Kolenich contributed to this story.