Virginia Democrats appeared to flip a key state Senate seat in Virginia Beach on Tuesday night, expanding their edge in the chamber to 22-18 and making passage of new abortion curbs less likely in the session that starts Wednesday.
Democrat Aaron Rouse, a former NFL defensive back and a member of the Virginia Beach City Council, edged Republican Kevin Adams, a retired Navy lieutenant commander, in a special election for the seat of Republican Jen Kiggans, who was elected to Congress on Nov. 8, unseating U.S. Rep. Elaine Luria, D-2nd.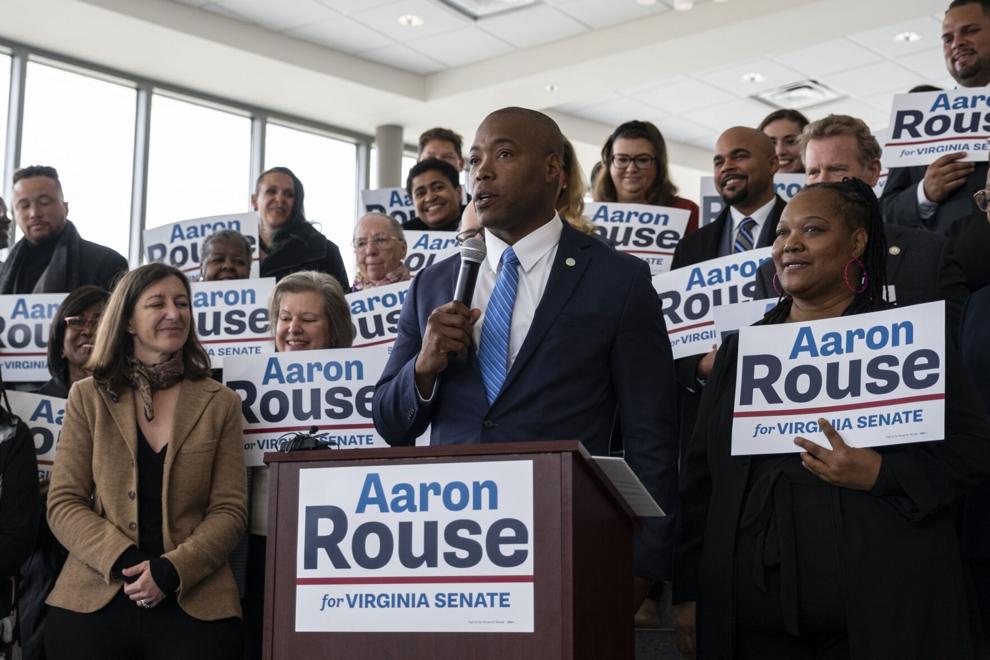 Rouse declared victory at a celebration in Virginia Beach. He said in a Twitter post: "THANK YOU! With your support, and the support of voters from across Virginia Beach and Norfolk, we have won this Special Election. No rest for the weary – tomorrow, we head to Richmond to get to work for Virginia families."
With all precincts reporting, Rouse led by 348 votes, less than 1 percentage point, with 19,430 votes to 19,082 for Adams.
The Virginia Public Access Project noted that results will not be finalized until Friday, so that election officials can consider provisional ballots and mail ballots postmarked by election day.
Adams led in the election day voting, but Rouse took the lead when Virginia Beach election officials added the early voting totals. The district also includes six Norfolk precincts.
The Virginia Senate Democratic Caucus claimed victory in a tweet, proclaiming: "WE DID IT FOLKS! @AaronRouseVaBch has flipped SD-07 and will be Virginia's next State Senator!"
Jamie Lockhart, executive director of Planned Parenthood Advocates of Virginia, said in a statement: "We are thrilled to congratulate Sen.-elect Aaron Rouse who valiantly and unapologetically made this special election about protecting abortion rights."
House Speaker Todd Gilbert, R-Shenandoah, said this week that with divided control of the House and Senate, substantive action on abortion is unlikely in this session.
Two other special elections Tuesday to fill vacant seats in the House of Delegates did not change the balance of power in that chamber, where Republicans hold 52 seats and Democrats hold 48.
Republican Ellen Campbell, the widow of Del. Ronnie Campbell, R-Rockbridge, who died of cancer Dec. 13, easily won his seat.
She received 63% of the vote in defeating Democrat Jade Harris, vice mayor of the town of Glasgow in Rockbridge County.
In Fairfax County, Democrat Holly Seibold received 67% of the vote in defeating Republican Monique Baroudi in a special election to fill the seat of former Del. Mark Keam, a Democrat who resigned in September to accept a post in the Biden administration.
Seibold, a former teacher, is founder and executive director of BRAWS: Bringing Resources to Aid Women's Shelters.
Keam, who had served in the legislature for 13 sessions, became deputy assistant secretary for travel and tourism at the International Trade Administration within the U.S. Department of Commerce.
Last summer, after the U.S. Supreme Court overturned Roe vs. Wade, Gov. Glenn Youngkin said he would push to bar most abortions after 15 weeks, with exceptions for rape, incest and when the woman's health is in jeopardy.
Some Republican senators have said that a ban of most abortions after 20 weeks could be a fallback position.
Sen. Joe Morrissey, D-Richmond, who personally opposes abortion, said in a June statement that "women should have safe access to the procedure, at the very least, up to the moment a fetus can feel pain which many agree is 20 plus weeks of a pregnancy; in cases when a mother's health or life is at risk; in cases of rape that result in a pregnancy; and in cases of incest that result in a pregnancy."
All 140 legislative seats will be up for election in November.
(804) 649-6645
Twitter: @AndrewCainRTD