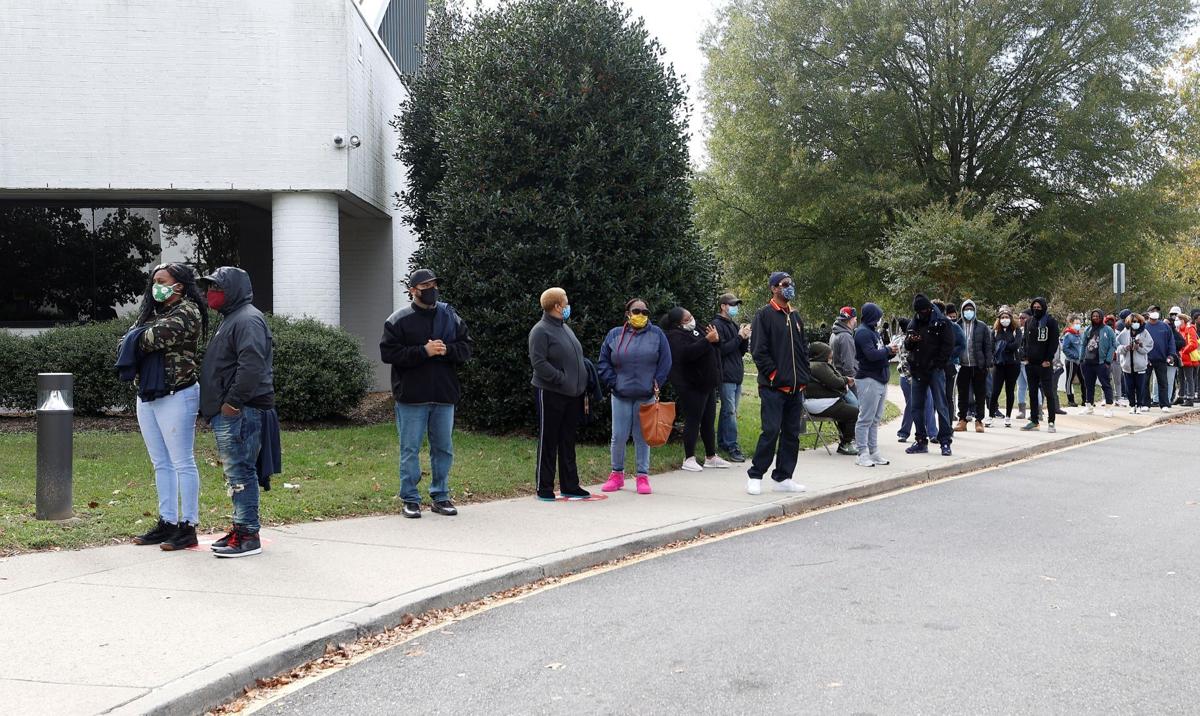 Democrats' new majority might soon deliver permanent changes to Virginia's election process — including stricter voter protection laws and expanded ways to cast ballots.
Under the Voting Rights Act of Virginia, Democrats in the General Assembly are seeking to codify protections for voters who might face discrimination based on their race or ethnicity.
Separate legislation would make permanent changes to the state's election process put in place temporarily last fall, including ballot drop boxes and prepaid postage on mail ballots.
The voting rights legislation is being championed by Del. Cia Price, D-Newport News, and Sen. Jennifer McClellan, D-Richmond, who argue that federal efforts to weaken the federal Voting Rights Act of 1965 could lead to practices or procedures that make it more difficult for voters of color to cast their ballots. The legislation would ban such a practice outright.
The bill would also require that localities give the public 30 days to comment on proposed changes to voting — including moving polling places, closing a precinct or even curtailing interpreting services. An emergency, such as inclement weather, would allow a locality to avoid this requirement.
The locality could also seek a waiver from the Attorney General's Office.
The legislation would also require localities to offer voting materials in different languages when their boundaries contain a sizable population whose primary language is not English. U.S. law requires it for federal elections, but the bill would guarantee it for local elections, too.
The results of the most recent census, which many experts expect will show growth among different minority ethnic groups in Virginia, could increase the number of localities that have to offer materials in a language other than English.
Price said the legislation would protect Virginia voters, particularly voters of color, from efforts at the federal level to undo civil rights protections.
Price pointed to the 2013 U.S. Supreme Court decision that struck down parts of the Voting Rights Act, freeing a group of states, including Virginia, to pass laws that could restrict voting without federal approval.
Under the federal Voting Rights Act, Virginia was one of the six Southern states that originally had to obtain "preclearance" from the Department of Justice or courts before making voting changes because of a history of racial discrimination.
The Virginia legislation would expand the ability of advocates to sue the state or localities for infringing on a voter's rights — allowing not just the impacted voter, but also civil rights groups, to make legal challenges. Price said voters who face disenfranchisement often don't have the means to take their cases to court to seek reprieve.
McClellan said the bill is "poetic justice" for a Southern state that was both the birthplace of American democracy and slavery.
"We've seen across the South efforts to make it harder for people to vote, and that harms people of color more than anybody," said McClellan, who is seeking the Democratic nomination for governor.
Republicans broadly opposed the legislation. Sen. Jill Holtzman Vogel, R-Fauquier, said the bill subjects localities to a "protracted," "cumbersome," "unwieldy and incredibly complicated" process to make changes to their elections.
"We just have to trust them to act with integrity, caution and care," Vogel said on the Senate floor earlier this month.
The Virginia Association of Counties also opposes the bill. Katie Boyle said it calls for "heavy oversight" over at-times administrative matters and that it exposes localities to lawsuits that can be costly.
McClellan's bill is on its way to Gov. Ralph Northam's desk after clearing the House 55-45; Northam will have seven days to sign it upon receiving it. Price's bill is still working its way through the Senate but is expected to pass since it is identical to McClellan's, which cleared that chamber 21-17.
Tram Nguyen, with the advocacy group New Virginia Majority, called the legislation historic.
"We're sending a very clear message that Virginia really is trying to protect every citizen's ability to access the ballot and hold fair and free elections," Nguyen said.
Nguyen said that message is further echoed by efforts in the legislature to make voting more accessible — a long-held cause of civil rights groups that COVID-19 put on an accelerated timeline.
Last year, Virginia lawmakers approved the use of drop boxes for absentee ballots that allowed voters to avoid standing in lines and, at times, having to enter a polling place. That change, and others, were enacted through a budget amendment, making them temporary.
Legislation introduced by Del. Schuyler VanValkenburg, D-Henrico, and Sen. Creigh Deeds, D-Bath, would make drop boxes a permanent fixture in Virginia elections. Also permanent would be prepaid postage on absentee ballots, and a requirement that localities offer voters a chance to correct their ballots if they find errors that render them invalid.
Republican lawmakers largely opposed those efforts last year and continue to do so in the current session of the General Assembly; they argue that drop boxes were more susceptible to tampering than standard voting machines.
VanValkenburg and Deeds' bills also address challenges that Virginia and other states faced in counting an unprecedented number of absentee and early ballots.
In the fall, Virginians cast 2.8 million early votes in the election — a whopping two-thirds of the state's total turnout. Many localities did not report the choices on those early ballots until late on election night, causing wide swings toward Democrats in a number of races, including the one for president.
VanValkenburg calls this the "Mark Warner" problem. Shortly after polls closed, The Associated Press declared the Democratic senator from Virginia had been re-elected based on a preliminary analysis, but late into the night, the state's reporting system showed his Republican opponent, Daniel Gade, ahead.
Rep. Don McEachin, D-4th, faced a similar situation and, in an interview with the Richmond Times-Dispatch in December, he called on the state to find a "better way" forward.
Both candidates were widely favored to win, blunting the suspense. Still, Republicans on the losing side cast doubt on the legitimacy of the election, mirroring claims by then-President Donald Trump.
"We had outlets saying, 'Mark Warner wins!' at 7 o'clock, but at 11 p.m. on election night, TV tallies say he's still losing," VanValkenburg said. "We should have results quicker on election night."
Legislation from VanValkenburg and Deeds would compel localities to begin processing absentee ballots early in order to speed up the process.
If the legislation is enacted, local registrars would be required to process early ballots cast in person separately from mailed absentee ballots, allowing localities to report those right away.
Localities would be required to start processing mailed absentee ballots a week before the election. Right now, localities are allowed to process these ballots in advance, but the state saw a patchwork effort in the November election. Mailed ballots that come in on Election Day could be processed at noon, instead of 3 p.m., as current law specifies.
The General Assembly is not poised to fix confusion about precinct-level voting data.
Because absentee and early ballots from each locality are lumped into one pool, precinct-level data used to analyze and understand voting patterns was largely useless in the fall election.
Sen. David Suetterlein, R-Roanoke County, introduced legislation that would compel the state and localities to resolve this issue by sorting absentee ballots into voters' precincts.
Suetterlein's bill cleared the Senate but was struck down in the House elections subcommittee. The panel instead opted to study the issue further in the next legislative session, adding language to that effect into Deeds' bill.
VanValkenburg, who chairs that panel, said sorting ballots to deliver the precinct-level data would likely require an overhaul of election procedure and that more information is needed about how to do it.
"We all want to do that — we want to see how precincts voted. But it's a more complicated logistical issue," he said. "Solving the 'Mark Warner' problem, which is where the average citizen's concern is, is a more easily solvable problem."
(804) 649-6254
Twitter: @MelLeonor_