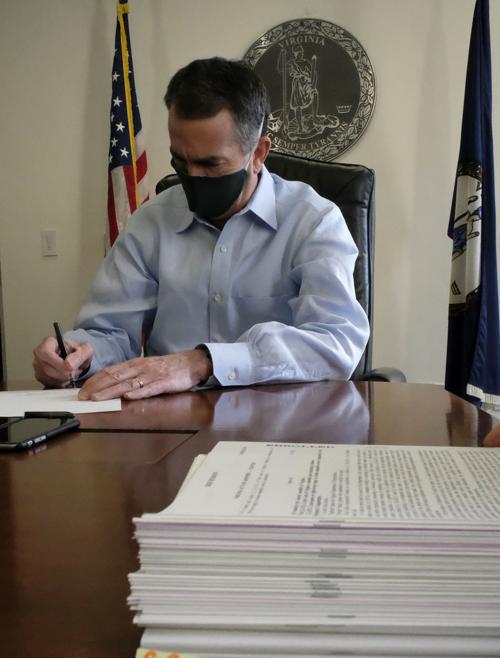 Law enforcement officers in Virginia would have the option of issuing a civil penalty for violating the governor's executive orders during a public health emergency, instead of a criminal misdemeanor charge, under legislation adopted by the state Senate on Friday.
All but one Republican voted against Senate Bill 5117, proposed by Sen. Creigh Deeds, D-Bath, primarily because they objected to the power that Gov. Ralph Northam has exercised by executive order since declaring the COVID-19 pandemic a public health emergency on March 12.
"We're not in a state of emergency right now," Sen. Mark Peake, R-Lynchburg, contended before the bill passed by a 21-17 vote.
Sen. Richard Stuart, R-King George, was the sole Republican to vote for the bill, which he called "a very reasonable, thoughtful" proposal that would prevent people from being charged criminally for refusing to wear a face mask or abide by other restrictions imposed by the governor in response to a public health emergency.
"Probably a long time ago, there was a mistake made in ceding this authority to the executive branch," Stuart said, "but it was the General Assembly that did it."
However, other Republicans decried the legislation, which would allow a civil fine of up to $500 for each violation of an emergency executive order instead of a Class 1 misdemeanor, which would carry up to 12 months in jail and a $2,500 fine.
Sen. Steve Newman, R-Lynchburg, called the bill "a step back from freedom."
"I fundamentally don't think Virginians are meant to be or should be penalized by press conference," Newman said in reference to Northam's frequent use of media briefings to announce state actions in response to the coronavirus pandemic.
Sen. Amanda Chase, R-Chesterfield, called the civil penalties "extortion" of money from people who have a medical condition that prevents them from wearing face masks, as she says she does. Sen. Ryan McDougle, R-Hanover, chairman of the Senate Republican Caucus, called the bill "dangerous for Virginians." Senate Minority Leader Tommy Norment, R-James City, said it abdicates the legislature's prerogative to determine what constitutes a crime.
Legislation to limit the duration of the governor's emergency executive orders died in committee, allowing the governor "to rule, like a king, by executive order," Peake said.
"Think about the power you have given the governor," he said.
Deeds responded that the emergency authority "gives the governor the ability to keep Virginians safe."
Sen. Barbara Favola, D-Arlington, said: "When we have a public health emergency, we can only protect ourselves when every individual abides by the rules."