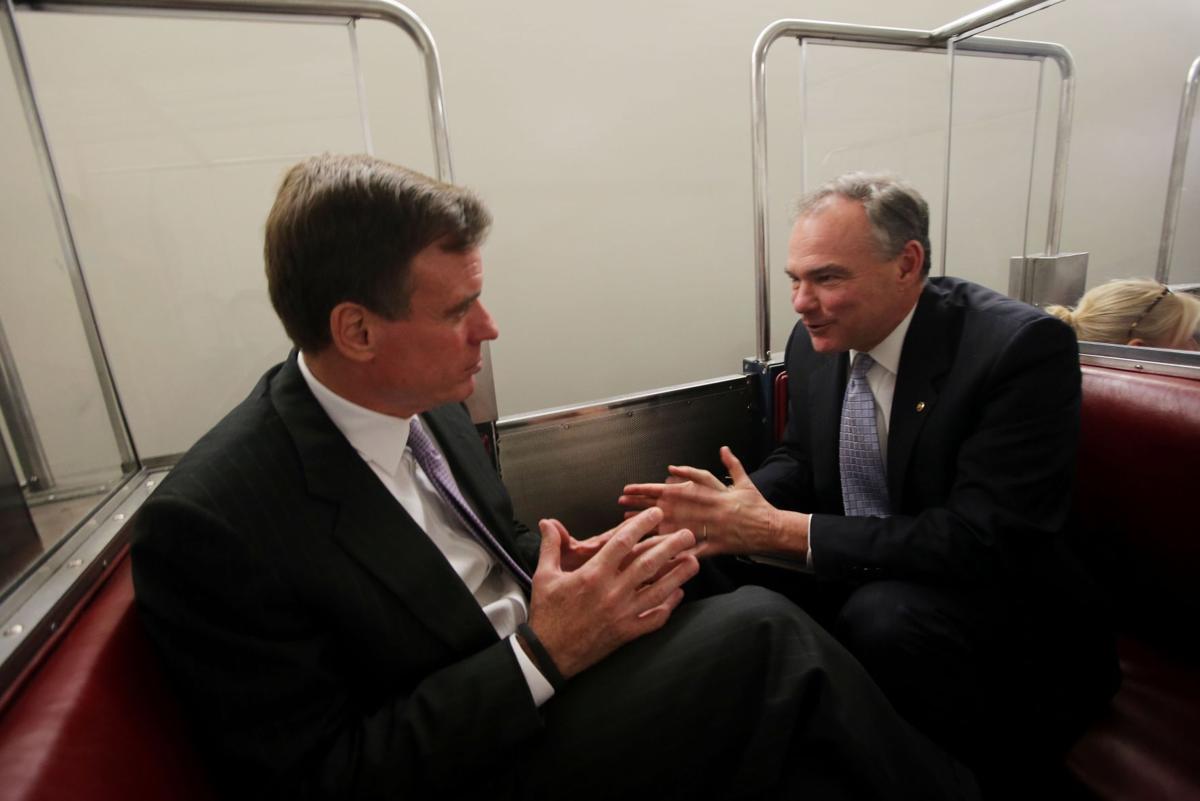 December is no holiday for Virginia's representatives in Congress.
They face potential votes before Christmas on raising the nation's debt ceiling, adopting a defense spending bill critical to a state with strong military presence and acting on President Joe Biden's third proposed spending package for rebuilding the economy, especially for families and workers.
The initial deadlines facing Congress are passage of a pending deal to raise the ceiling on debts the federal government already has incurred and a vote by the Senate on the National Defense Authorization Act, which includes a proposed 2.7% raise for members of the military and planning money for a new Army Aviation Support Facility for the Virginia National Guard in Sandston.
"We may have dodged another bullet in terms of the challenges surrounding the debt ceiling," Sen. Mark Warner, D-Va., said in a news briefing on Wednesday, in which he likened the annual debt ceiling vote to "giving a live hand grenade to irresponsible politicians."
But the timing also is crucial for the proposed extension of the child tax credit in the Build Back Better Act, which Biden initially called the American Families Plan because of its focus on child care, universal pre-kindergarten and other investments aimed at getting people, especially women, back into the work force after the COVID-19 pandemic.
The tax credit, included in the American Rescue Plan Act that congressional Democrats passed without Republican support in March, will expire at the end of this month unless Congress extends it, as proposed in the pending spending package, which could range from $1.75 trillion to as much as $2.4 trillion.
"It's extremely important that we act to enable the tax credit to continue," said Sen. Tim Kaine, D-Va., who called the measure "the most powerful thing we've ever done to combat child poverty."
Congress already has passed two big spending packages this year — the $1.9 trillion American Rescue Plan Act and the $1 trillion Infrastructure Investment and Jobs Act, which Biden signed last month. Both spending packages include big investments still to be made in Virginia, which the senators and Virginia's 11 congressional representatives discussed with Gov.-elect Glenn Youngkin at a luncheon on Tuesday at the offices of Rep. Don Beyer, D-8th.
"I think there's going to be a lot of good constructive dialogue we can have during his term about how to make sure that those resources get used in ways that best benefit Virginians," Kaine said.
Kaine, a former Virginia governor, described the luncheon meeting as "very, very gracious and fun," but he said he also made a pitch for the Build Back Better Act, which is not likely to receive any Republican support on either side of the Capitol.
"If it does pass, there will be a lot of money for Virginia," he said.
A transition aide to Youngkin said the governor-elect had "the same takeaways and enjoyed his time with the delegation."
Kaine said extending the Child Tax Credit would benefit an estimated 1.6 million children and 975,000 families in Virginia.
The tax credit increased in July to $3,600 per child under 6 years old and younger and $3,000 per child ages 6 to 17 in eligible families — those making up to $150,000 as a couple, for example. The credit is refundable as a monthly payment for families who may not owe enough in federal taxes to take full advantage of the benefit.
As a result, eligible families receive $300 per month for each younger child and $250 for each older one, but the final credits will be paid next Wednesday unless Congress extends it. A survey last summer showed that most families spent the money on food, utilities, rent and child care.
"This is a real-world challenge some of our families could face in mid-January if we don't get this done this year," Warner said.
Warner acknowledged that the Senate is still grappling not only with the total size of the spending package, but how to pay for it. He and Kaine both preferred partial rollback of cuts made in 2017 under then-President Donald Trump in taxes on corporations and capital gains, but Sen. Kyrsten Sinema, D-Ariz., whose vote is critical for passage, opposed them, so Congress is looking to enact new ways to raise money for the package.
"How to pay for it is the part I'm trying to work through some of the details," Warner said.
The Senate also is trying to complete action on the $786 billion defense bill, despite Republican objections to voting on proposed amendments, such as Kaine's effort to repeal the congressional vote in 2002 to authorize the U.S. war in Iraq.
In addition to military pay raises, the bill includes $5.8 million to plan and design a new U.S. Army aviation support facility in Sandston for the Virginia National Guard to replace a leased facility at Richmond International Airport
The lease will expire in 2032 and won't be renewed because of a plan to extend an airport runway on the site, according to Rep. Donald McEachin, D-4th, who worked to secure funding to plan and design the new facility.
"This federal funding will help ensure our state can retain its current military assets," McEachin said.
Maj. Cotton Puryear, public affairs officer for the Guard, said the planning and design money is crucial to the project, which is expected to cost $89 million.
"It will ensure a buildable site and make the bid for funding more competitive," Puryear said.
"Failure to achieve the full funding for a new facility could result in the loss of the Virginia Army National Guard's fleet of 28 aircraft that support the commonwealth during emergency situations, impact the VNG's ability to train for its federal mission and would have a negative impact on the local economy," he said.
Rep. Rob Wittman, R-1st, whose district includes parts of Hanover and New Kent counties, also called the defense spending bill a priority for Virginia that demonstrates bipartisan cooperation for the common good of the country.
"This bill does right by our military and the American people," said Wittman, ranking Republican on the Subcommittee on Seapower and Projection Forces.
"It fully funds our defense needs for the coming year, provides needed pay raises to our troops, funds additional ships for the Navy, and ensures our warfighters have the funding and assets needed to succeed on the battlefield," he said.